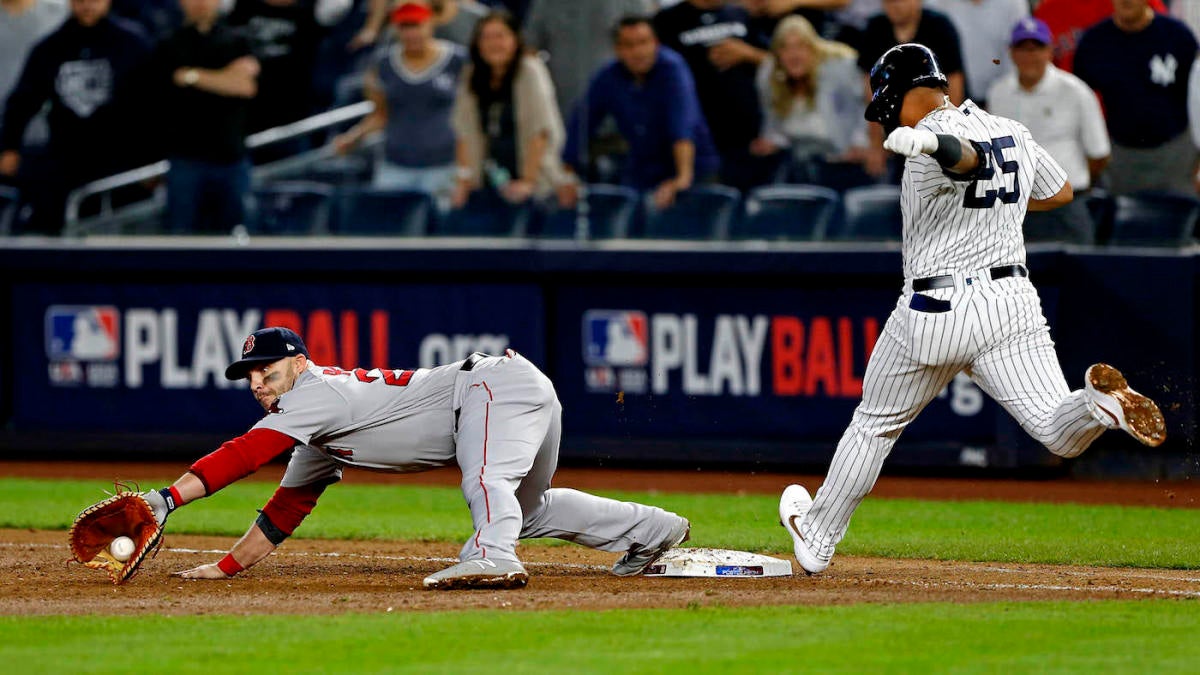 After a season of anticipation, and fourteen years of hard and bitter peace in baseball's most storied rivalry, the Boston Red Sox disposed of the New York Yankees in four games in the best-of-five American League Divisional Series. The series was not without its stresses–between David Price getting booed off the mound at Fenway in the second inning of Game 2 and Craig Kimbrel sparing me from inevitable heart attack by waiting until I was asleep to make closing out the series more interesting than it had to be–but there is more good than bad to take away from the last few days.
I fell asleep in the sixth inning, but in a 2018 update of the story I told in the link above about my experience with the Aaron Boone Game in 2003, I woke up to see a series of texts from my dad chronicling Chris Sale's smooth eighth inning and Craig Kimbrel's shaky ninth before I could see any ESPN updates, as he is on business in Pasadena and therefore still awake for the end of the game (he also sent photos of the Rose Bowl and a statue of Jackie Robinson).
Going into the series, I was wary of Alex Cora's in-game management in these high-leverage games, more because he hadn't done it before than anything else. It's one thing to manage a team to 108 regular season wins, and I don't mean to downplay that at all–I mean, the guy had the the best regular season in Red Sox history and accumulated more wins in Boston than Bobby Valentine before his first career ejection–but the playoffs are a different animal. If anything goes wrong, as things did for one game, the fans think the sky is falling, and I have seen enough baseball postseasons to see how quickly things can turn. I was freaking out along with the rest of Red Sox Nation after Game 2. Cora made changes, but did so a lot more calmly than I would have.
For Game 3, Sandy Leon, Eduardo Nunez, Ian Kinsler, and Mitch Moreland (for injury) were swapped out in favor of Christian Vazquez, Rafael Devers, Brock Holt, and Steve Pearce, and the bats were lively in Yankee Stadium that night. Brock Holt became the first player to hit for the cycle in a postseason game (and did so while being the doppelganger of one of the world's most famous Red Sox fans, which has to be mentioned along with any Brock Holt fun fact), and starting pitcher Nathan Eovaldi was dominant against his former team as the Red Sox won by a convincing score of 16-1. New York's Luis Severino apparently showed up late to the ballpark and looked overmatched and underprepared. After a performance like that, I would have gone with the same lineup again, but Cora had other ideas.
In Game 4, with Rick Porcello on the mound for Boston and C. C. Sabathia going for New York, Cora put Kinsler and Nunez back in the lineup, relegating Devers and the red hot Holt back to the bench. Those decisions, as well as the decision to stick with Vazquez behind the plate instead of Leon (while Sandy has been in a colossal hitting slump, he is regarded as the better game caller) were met with a decent amount of skepticism on Red Sox Twitter. If the bats went cold, or if Porcello got off to a shaky start throwing to Vazquez, there would be adjustments to be made, but like Game 2, it might be too little, too late.
Cora's adjustments paid off. Kinsler and Nunez both hit Sabathia, who was pulled after three innings, and what ended up being the deciding run came an inning later, when Christian Vazquez hit a bloop opposite field homer (that would only have been a home run in Yankee Stadium, provided there is not a tornado in the field of play when the ball is hit) off trade deadline acquisition Zach Britton.
Beyond the lineup changes, what I liked most about Cora's strategy in this series was his aggressive use of starters as relievers in high-leverage situations. Chris Sale and Rick Porcello were both used to augment a lesser bullpen than the one the Yankees have, taking a page out of A. J. Hinch's playbook from Houston's 2017 championship run. Now Cora's managerial skills will be tested against his former boss.
Before the ALDS, I wrote about the irrational underdog feeling that comes when the Red Sox meet the Yankees in October, rooted in the times the two teams played each other when I was an adolescent. Going into the ALCS, my sinking feeling of doom comes from just last season. The Houston Astros disposed of the Red Sox in four games, and the series never felt competitive. The Yankees and Dodgers both took the Astros to seven games, but in the end, it was Houston's players that got hit on by Leslie Jones on Weekend Update.
As good as the Astros were last year, they were better this year, having traded for Gerrit Cole from the Pittsburgh Pirates in the offseason to bolster their rotation. The Red Sox will need to get much more than an inning and two thirds out of David Price, and I am not sure how much Cora will be able to use Porcello out of the bullpen in a longer series.
The Red Sox are in an undeniably better place than they were this time a year ago, and Cora's managing has been a breath of fresh air after John Farrell's uninspiring final two postseasons. Today has to feel good for Porcello, Mookie Betts, Jackie Bradley Jr., Andrew Benintendi, and Brock Holt, who are finally getting a taste of postseason success in Boston after the failings of 2016 and 2017, but there is still a long way to go. The margin for error will be very small in the games to come, but beating the Yankees was a huge first step.