With the news that Josh Allen will be the Week 2 starting quarterback for the Buffalo Bills, the Nathan Peterman Era is likely over. Peterman's tenure as Buffalo's starter was as tumultuous as it was brief.
The 2017 5th round draft pick out of the University of Pittsburgh made two starts for the Bills last season, threw five interceptions in his first start, and had to be replaced by Tyrod Taylor. Peterman got to start in Week 14 against the Indianapolis Colts after Taylor suffered a knee injury, but got concussed in the 3rd quarter, and the Bills eventually won in overtime. The Bills made the playoffs for the first time since 1999, and Taylor got into their playoff game against the Jacksonville Jaguars after Taylor got concussed, and Peterman, of course, threw another interception. 
This offseason, the Bills the the natural thing a team that made the playoffs for the first time in forever typically does by trading veteran starter Tyrod Taylor to the Cleveland Browns, and taking a 1st round swing on a QB with a lot of question marks in Josh Allen, effectively killing any momentum from one year to the next. They also signed Cincinnati Bengals' backup and three-time National Champion with Alabama AJ McCarron. Surely Peterman would be the odd man out in a quarterback competition that included a free agent with name recognition and the supposed franchise QB of the future, right? Wrong.
The fact that Peterman won the starting job over Allen and McCarron says more about those two than it says about Peterman. McCarron was expected to be the guy–having been constantly dangled as a trade chip in Cincy when he was stuck on the bench behind Andy Dalton–but not only did he fail to separate himself from Peterman and Allen in the preseason, the Bills traded him to the Oakland Raiders before the start of the regular season. Maybe Peterman really had improved. Maybe he was able to build upon the teachable moments from his rookie season, and maybe he could be the guy to manage the games for Buffalo this season while the groom Josh Allen, but all those optimistic feelings about him went out the window in Week 1 against the Baltimore Ravens.
Peterman only threw for 24 yards, with a miserable 27.78 completion percentage. He threw two more interceptions, and once again, failed to complete a game he started. The Ravens won 47-3, but no one is 100% convinced the Ravens are good because of how bad their opponent in Buffalo was last week. His passer rating for the game was 0.0.  Peterman's professional career has been historically bad, and made me think of two other athletes, one real and one fictional.
There was once a baseball player for the Seattle Mariners named Ron Wright. Don't be embarrassed if you've never heard of him. I only learned about him for the first time a couple weeks ago when he was brought up as a fun fact on the Fangraphs podcast Effectively Wild. Lots of people get to Major League Baseball for a moment. Legendary Celtics player and Lakers coach Bill Sharman got called up by the Brooklyn Dodgers in September of 1951, and managed to get ejected from a Major League game without ever playing in one. And then there is Archibald "Moonlight" Graham, whose career was made famous by W. P. Kinsella's 1982 novel Shoeless Joe and the 1989 film adaptation Field of Dreams.  Graham played right field for the New York Giants for one game in 1905, never got a chance to step up to the plate, and became a medical doctor after his playing career. 
Wright's brief Major League Stint would make Moonlight Graham glad he never had a chance to bat. His cup of coffee in The Show, so to speak, was room temperature and sat out long enough for the cream to curdle. Wright had an eleven year career in professional baseball, almost entirely in the minors. Teams he played for include the Durham Bulls, Toledo Mud Hens, Louisville RiverBats, and Sioux City Canaries. In April of 2002, he made his Major League debut, in the unenviable position of being the Mariners' designated hitter in place of should-be Hall of Famer Edgar Martinez. In his three at bats, he struck out, hit into a double play, and hit into a triple play.
You might say that Peterman at least wasn't as bad as Ron Wright, but you have to remember how sample sizes work. Peterman achieved such futility over three starts, and three football games is the equivalent of 30 baseball games. No MLB team would have given Wright 29 more chances after that one game.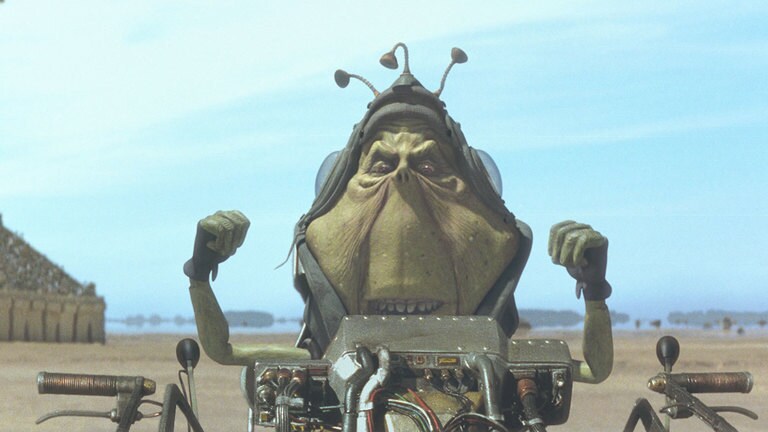 If we're being honest, the first athlete I thought of last Sunday when Nathan Peterman was struggling was Ben Quadrinaros. At this point, I should probably mention that my process last Sunday rather than watch one game was to follow all the games on my phone and laptop, with Twitter and ESPN.com, while watching Star Wars Episode I: The Phantom Menace.
I have gone through the full range of emotions regarding George Lucas' 1999 film and the Star Wars prequel trilogy as a whole. I loved The Phantom Menace unconditionally when it first came out because I was nine and I got to see a Star Wars movie in the theaters. When the subsequent prequels came out, I was 12 and 15, and I wanted them to be better than they were, but continued to defend them against the haters. When I got to college, I turned on them, and became angry with George for ruining my childhood with these garbage movies, even though he was the one who created one of the worlds that made my childhood so great in the first place. I was relieved when Lucas sold the rights to the franchise to Disney in 2012, because I thought it was time for Star Wars to be managed by a fresh set of eyes, and also I am always hungry for more Star Wars. I wrote about this a bit when Rogue One came out. Now that there have been four feature films in the Disney Era, I am as happy as I ever have been with the franchise. The new movies have given more validation to the prequels, and considering how some of the other unfinished genre franchises of the 2000s went (looking at you, Narnia and The Golden Compass), the anger and hate directed at something we love so much is something unique to Star Wars fans and Red Sox fans, of which I am both. 
Anyway, if there is any issue I have with the prequels, it's that they tried to do too many things that muddied up the main story, but could have benefited from having a Star Wars Story or two on the side. Anakin Skywalker's improbable comeback, overtaking Sebulba in the Boonta Eve Classic, and in doing so buying his freedom, had the potential to be a classic sports movie in any galaxy, near or far. Sebulba, the crafty Dug from Malistare, is basically the Tom Brady of podracing: he will do anything to win, uses unconventional methods to maintain his body (his Twi'lek masseuses are his Alex Guerrero), and love him or hate him, he is still in it in the final minute when the title is on the line, so you're guaranteed a great race. By this logic, Nick Foles will one day grow up to be Darth Vader, but I digress.
Before Tom Brady can get back to the Super Bowl, he must win the AFC East, and before Sebulba can be first over the finish line he must lap the field or get them all to crash. Tom Brady is in the AFC Championship Game every year because his division has been full of quarterbacks like Ryan Tannehill, Mark Sanchez, J. P Losman, Geno Smith, Chad Pennington, Trent Edwards, Cleo Lemon, Ryan Fitzpatrick, Matt Moore, Jay Cutler, Tyrod Taylor, and Nathan Peterman every year. Through that stretch, Brady's Patriots have owned the Buffalo Bills most consistently of all. With a spot in the Boonta Eve Classic belonging to Ben Quadinaros, it's like getting to play the Buffalo Bills twice a year every year if you're Sebulba.
Ben Quadinaros–for those who haven't seen The Phantom Menace in a while, or haven't listened to the guys from the Star Wars Minute podcast analyze, scrutinize, and celebratize the podracing sequence one minute at a time–is the Toong racer with the giant, four-engine pod that, along with Anakin's could not move forward at the start of the race, which it could be argued is the pod's one job. While Skywalker and his crew were able to fix the pod, ignite the engines, and eventually catch up with the pack, Quadinaros had no such luck that day in Mos Espa. When he tried to start up again, his engines disconnected from the cockpit and spiraled out of control. The hapless Quadinaros never made it over the starting line.
As much comedic enjoyment we get out of quarterbacks like Peterman, designated hitters who play like designated outs, and funny looking aliens that serve no purpose in the main story other than to illustrate that young Anakin Skywalker is hardly the worst racer in a sport where he broke down the species barrier for humans, it is important not to get too mean about it. Just as I could never make a movie half as good as The Phantom Menace, I would be so much worse than Nathan Peterman or Ron Wright if I ever made the NFL or MLB by accident. Being the QB at a college football program like Pitt, getting drafted into the NFL, making The Show even for a day, and qualifying for the Boonta Eve Classic are all achievements most people (or Toongs) only dream of reaching.
Bill Sharman fell back on basketball. Moonlight Graham fell back on medicine. Ron Wright fell back on pharmacy, and in a New York Times article, called his infamous cup of coffee with the Mariners the best day of his professional life. Ben Quadinaros, according to Wookieepedia, continued to race and gained much fortune and fame. Even if he never plays again, the Nathan Peterman story isn't over, but his time as and NFL starter does not have to define him.