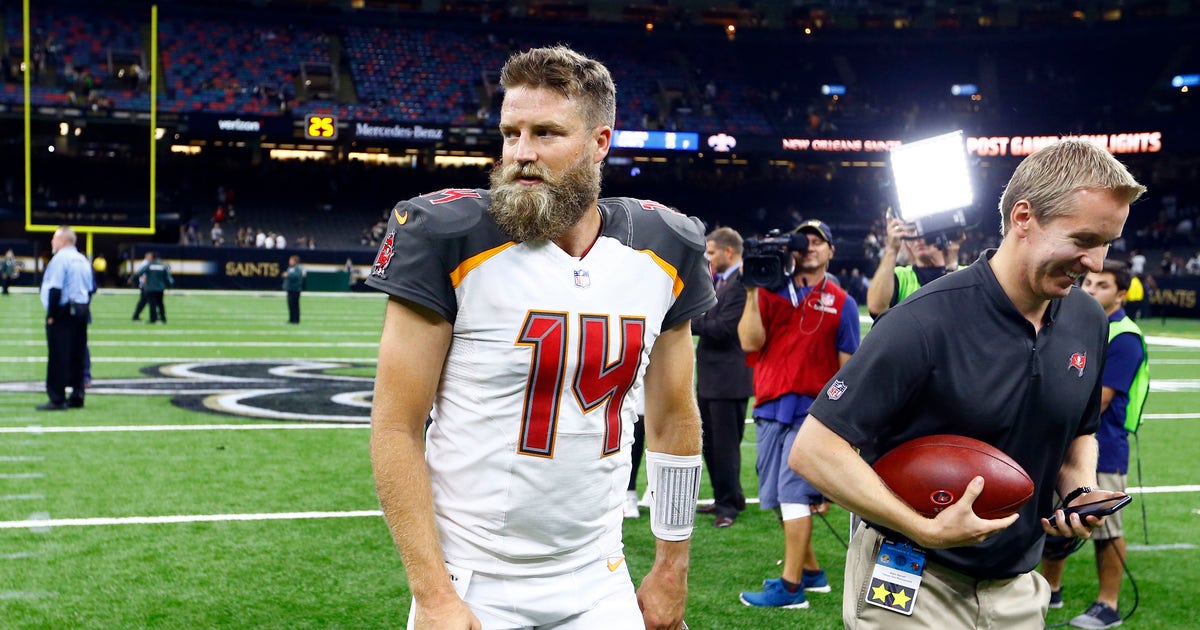 Just when we think we know something about somebody, they manage to defy any and all expectations. Such has been with case with journeyman quarterback Ryan Fitzpatrick through the first two weeks in the 2018 NFL season.
This is a storyline that did not get talked about much before the season started. Yes, Jameis Winston was suspended, and yes, the former Heisman Trophy winner and #1 overall pick has been both disappointing on the gridiron and reviled as human being off of it, but who gets excited about Ryan Fitzpatrick? He is (figuratively) the definition of a known commodity. Taken in the 7th round (250th overall, which I believe is 51 picks lower than Tom Brady in 2000) of the 2005 NFL Draft, Fitzpatrick has been very good at getting paid and staying employed in the National Football League for over a decade. He has played for the St. Louis Rams, Cincinnati Bengals, Buffalo Bills, Tennessee Titans, Houston Texans, and now the Bucs. He is halfway to becoming the Jaromir Jagr of backup QBs, if Jagr wasn't one of the ten best players in the history of his sport. Fitzpatrick is the kind of player who is reliable in a pinch, an ideal backup for a contending team, but the more of a sample size he accumulates in one place, the more glaring his limitations become.
The Bucs were written by me an others because of the way Jameis performed last season, and then not even having him to start the season. The 2017 Buccaneers impressed me on Hard Knocks, but then their 5-11 regular season made me feel so betrayed it transferred to the Browns on this season of the long-running HBO docu-series (it also didn't help that Cleveland went 1-15 and then 0-16 before appearing on a reality show, but I really felt burned by the Bucs). On top of the years of mediocrity and futility that has defined the Tampa football club since the latter years of Jon Gruden's tenure, they have the worst uniforms in the NFL right now, and that has to count for something. I had no faith in them to do anything this season, but then FitzMagic started happening.
First Tampa beat the NFC South rival New Orleans Saints. Then they knocked off the defending champion Philadelphia Eagles. It is one thing to catch a team off guard in Week 1, but to replicate that kind of success a week later against a team that I am still having nightmares about because Nick Foles managed to go toe-to-toe with Tom Brady for four quarters and come out on top. If a backup can beat the GOAT in the Super Bowl, I guess it isn't inconceivable that a 35 year old backup beats the defending champs on a Sunday in September.
Fitzpatrick has done more than just manage the game in Winston's absence. He completed 21 of 28 passes and threw for 417 yards against New Orleans, and went 27 for 33 with 402 yards against Philly. Thus far in 2018, his average yards per attempt (13.4) is almost twice his career average (6.8). At some point, one would think, he has to regress back to the Ryan Fitzpatrick we have known, but the way things are going, sticking with Fitzpatrick and moving on from Winston seems like the *most intelligent* course of action the Bucs could take.
Okay, okay. I tried to write a post about Ryan Fitzpatrick without mentioning the fact that he went to Harvard and I could only get 545 words in. I don't know this for sure, but I know in my gut that it's scientifically proven that no article has ever been written about Ryan Fitzpatrick without mentioning his Ivy League roots. The novelty of an NFL quarterback going to the same school at the same time as Mark Zuckerberg and Natalie Portman is apparently such a fun face that it has to be mentioned every time. Can you imagine if every single article about Tom Brady mentioned he played at Michigan? Of course you can't.
The Harvard thing even extends to the FitzMagic viewing experience. I remember years ago watching him when he was with Buffalo, and the Bills were playing the Patriots. My Uncle Tom–every time Fitzpatrick got hit, or threw a pick, or his receiver dropped the ball (which happened a lot because the Patriots were good and the Bills were bad)–would shout "Ha! Take that, college boy!" as if college football isn't the only pipeline for NFL talent. But he went to Harvard, so in good times and in bad, that fact cannot go unmentioned.
Ryan Fitzpatrick might be the short-term solution that can take Tampa back to the playoffs, or he might turn into a pumpkin this week just in time for Jameis Winston to get his job back, but he will always be the 2004 Ivy League Player of the Year, and no one can take that away from him.