The last couple years have been rough ones for New York football fans. To echo Pam Beasley , it's as if the Giants and Jets are playing their own separate game called "Let's  see how disappointed we can make our fans," and they were both winning.
For the Jets, it has been an ongoing struggle to climb out of the shadow of the New England Patriots since the day Bill Belichick resigned as HC of the NYJ to take the head coaching position for their AFC East rival. Since firing Rex Ryan, it has been as bad as it has ever been for the Gang Green, to the point where if I were not a Patriots fan, and my team did not play them twice a year, I may have forgotten they were in the NFL. It was bad when their hopes and dreams hinged on Mark Sanchez, but the revolving door of quarterbacks only got worse for the Jets after The Butt Fumble.
The Giants this century have also been defined by the Patriots, having beaten the Pats twice in the Super Bowl, but their work outside of those two seasons has left something to be desired. Last season was a low point for the G-Men, going 3-13, benching Eli Manning (the backlash from which got head coach Ben McAdoo run out of town before the end of the season), and seeing their nemesis Philadelphia Eagles win the Super Bowl for the first time in franchise history with a backup quarterback. 2018 began with the Giants at the bottom of the NFC East, looking up, with Eli Manning looking mortal, and with the knowledge that Nick Foles could beat Tom Brady in a Super Bowl, too. They were irrelevant, and no longer special in the history of the NFL.
Were it not for the hapless Cleveland Browns, New York would be the capital of professional football misery. While Cleveland had the top pick in the 2018 NFL Draft, the Giants had the second pick, and the Jets had the third. With an aging Eli Manning and no good answers for the Jets, both teams had a chance to turn their fortunes around by drafting a potential franchise QB. There was Sam Darnold from USC, Josh Rosen from UCLA, Josh Allen from Wyoming, Lamar Jackson from Louisville, and Baker Mayfield from Oklahoma.
The 2017 Heisman Trophy winner Mayfield was selected by Cleveland, but any of these others were all for the taking. There were debates about the merits and shortcomings of all of them–as there are every year in the weeks and months leading up to the draft–but it's a quarterback driven league, and you don't have a chance of landing a good one if you don't take one. Sure, the Giants have Eli, and sure, the Patriots didn't use a high pick for a Tom Brady backup and the New Orleans Saints didn't use a high pick on a Drew Brees backup, and both of those guys are older than Eli, but both of those guys are better than Eli. Still after all these years! Even if Eli is still the starter for a couple more years as they try to compete with the roster they have, having a young quarterback sit on the bench for a little while isn't a bad thing. Tom Brady sat for a year and two games before Drew Bledsoe got hurt. Aaron Rodgers sat in Green Bay for multiple years before the Packers made the waffling Brett Favre's mind up about retirement (and Favre at 39 went on to be one of the better quarterbacks the Jets have had this century, of course they still didn't make the playoffs that year). With all these quarterbacks and a high draft position that is important to seize upon so you don't end up drafting there every year like the Browns, the Giants punted on their quarterback evaluation challenge, and took running back Saquon Barkley out of Penn State with the #2 overall pick.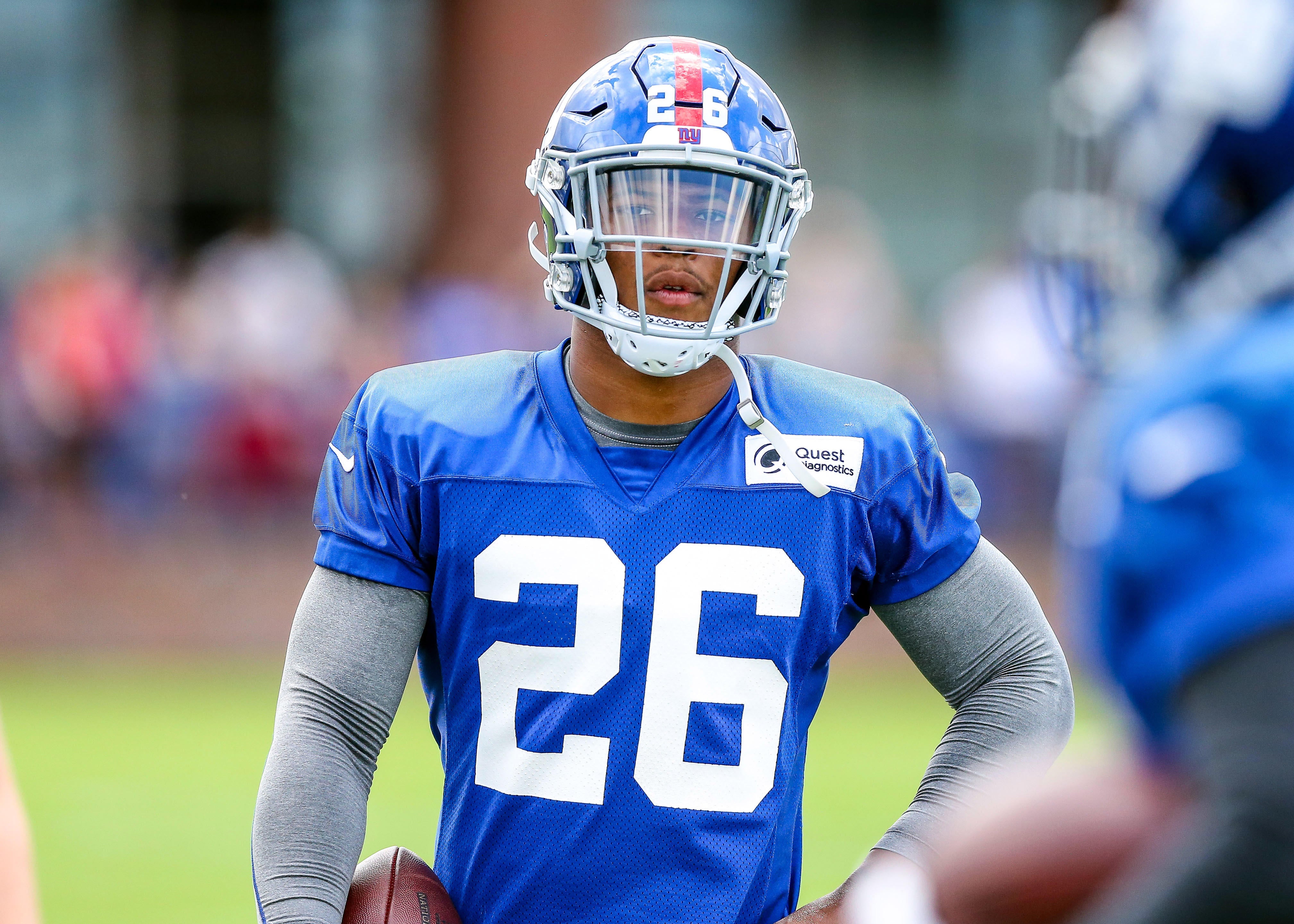 Saquon Barkley was a very, very good college running back. And I hope he has a long and productive career in the NFL. I put that disclaimer out there because I have been critical of teams that use high draft picks on running backs in the past, and I want to make it clear that I am not against good running backs (unless they beat women and/or children), and this is nothing personal against Barkley. The reality is that running backs have short careers, and it seems that for every Todd Gurley at the top of the draft there is a Trent Richardson. Using first rounder on a running back seems a little silly in a league where LeGarrette Blount and Arian Foster went undrafted. Maybe the Giants are right about how good Barkley is, and maybe he can bring a new dimension to the offense that makes Eli a viable option going forward. But the window with an aging QB and a stud running back at his apex is a short window, most of the time, even if Brady and Brees are expanding expectations for longevity in football more and more every year they play.
As optimistic as New York fans and football media have been about him so far, there is no guarantee that Darnold will be great for the Jets. They are the Jets, after all. Their best quarterback in franchise history is Joe Namath, who is in the Hall of Fame, and who is undeniably famous, but his career numbers have not held up very well. It was not that long ago that they used a high pick on a quarterback out of USC, and that ended up being Mark Sanchez. But it sure will be fun to observe the back and forth between Jets fans and Giants fans over the coming years. If Darnold throws a costly pick on the same day Barkley records 2,000 yards on the season, or if Barkley coughs up the ball on a play where he also injures his knee, the momentum will shift right back. They could both be great, the could both be busts, and a thousand complicated possibilities in between could happen, but as long as they are both in the same city–fairly or unfairly–they will be compared to one another.