Texas Rangers third baseman Adrian Beltre got his 3,000th career hit on Sunday, becoming just the 31st player in Major League Baseball to ever reach that milestone. Before the 2017 season is finished, Beltre could realistically pass Roberto Clemete (with whom he is tied at 3,000), Al Kaline (3,007), Wade Boggs (3,010), Cap Anson (3,011), Rafael Palmeiro (3,020), and Lou Brock (3,023) on the all time hits list. The 38 year old has had a great career and continues to be a productive player, though it took him a while for the general baseball viewing audience to fully appreciate how good he has been. Chief among those who overlooked Beltre are the Boston Red Sox, who had him for a year and let him walk in free agency.
Adrian Beltre signed with the Red Sox for the 2010 season, a one year, $9 million deal. That season was productive by any measure. He hit 28 home runs, led the Majors with 49 doubles, led the Red Sox with a .321 batting average, and was tied with David Ortiz for most RBI's on the team with 102. That year, the Red Sox missed the postseason for the first time since 2006, and they let Beltre walk in free agency, but that was just the beginning of Boston's relative struggles.
Beltre signed with the Texas Rangers and has been a fixture of their lineup ever since. He was a big part of the team that got back to the World Series in 2011, and came so close to winning it all before Tony La Russa performed some kind or blood magic (allegedly, and I'm the one doing the alleging) for the Cardinals to win Game 6 and finish the Rangers off in Game 7. That year, the Red Sox were eliminated on the last day of the season and the organizational over-correction that came from that collapse resulted in replacing Terry Francona with Bobby Valentine.
Beltre became a fan favorite and Internet sensation in Texas, between the nonsense about not liking his head touched (which only compelled teammates to touch his head more) and things like the exchange he had just last week with a humorless umpire over standing in the on deck circle that got him ejected. All the while, he was remarkably consistent in the field and in the batter's box (probably, in part, because of his inability to pick up and drag the actual batter's box).
Adrian Beltre was underappreciated for most of his career, playing on the Los Angeles Dodgers before they were the best team in baseball and outspending the New York Yankees, playing on the noncompetitive Seattle Mariners, and playing for the Red Sox in a rare Octoberless season in the 2000s. He was in his 30s and playing in Texas before he was on a consistently competitive team, and before he could get out of the shadow of the 48 home run 2004 season that got him a big contract with the Mariners.
I've been thinking about Adrian Beltre a lot this season, as third base has been a glaring area of need for my Red Sox in 2017. Although, it wasn't exactly a stable position before this year, either. They moved Kevin Youkilis back from first base to make room for Adrian Gonzalez, then Will Middlebrooks showed some promise, until he didn't. They moved Xander Bogaerts to third from shortstop, when they were desperately trying to make Stephen Drew happen, for reasons I never fully understood. They paid big money for Pablo Sandoval when they were better off with Brock Holt and Travis Shaw, and with Sandoval run out of town, they're scraping by with Deven Marrero and Tzu-Wei Lin. And those are just the third basemen I could name off the top of my head.
Adrian Beltre has continued to have a great career that will now certainly end with a plaque in Cooperstown, and you can't tell me the Red Sox were better off moving on from him seven years ago. They could have used him in 2011. They could still use him today.
The Boston Red Sox formally closed the door on the David Ortiz Era this weekend by retiring. No Red Sox player will ever again wear #34. Maybe JetBlue overdid it by dedicating Gate 34 at Terminal C of Logan Airport for him, and maybe the City of Boston overdid it by also renaming part of Yawkey Way "David Ortiz Drive," and maybe they rushed into things by waiting less than a year after Big Papi played his last game before retiring his number–they waited until induction into the Baseball Hall of Fame to honor Carlton Fisk, Jim Rice, Pedro Martinez in this way–but there is no one like David Ortiz in Red Sox history. The team's and the city's reaction was to be expected.
From a numbers standpoint, David Ortiz was not the best player in Red Sox history. For position players, Ted Williams, Wade Boggs, Carl Yastrzemski, and Carlton Fisk all had more career WAR by the Baseball Reference calculation (Ortiz is #231 all time, which is still impressive for a guy who was mostly a designated hitter and could not contribute in the field), and Williams and Yaz racked up all their Major League numbers with the Red Sox. But before David Ortiz, every great Red Sox player post-Babe Ruth was defined, fairly or unfairly, by not getting it done in October. Ted Williams was one of the greatest hitters ever, but only made the postseason once in his career. The signature moment of Carlton Fisk's career was his walk-off home run off Fenway's left field foul pole in the 1975 World Series… but that was in Game 6, and Cincinnati's Big Red Machine won Game 7.
David Ortiz was one of many stars on the 2004 team, but it always seemed like he was in the batter's box when it mattered most. Cast off by the Minnesota Twins, it's almost as if David Ortiz' MLB career did not really begin until he joined the Red Sox in 2003, one of the first of many moves that gave Theo Epstein the baseball genius reputation he enjoys today. Ortiz was the only member of the 2004 World Series Champions who was also on the team when they won it all in 2013, and he was the World Series MVP.
Ortiz had too many clutch moments for their to be a singular career defining moment. I keep going back and forth between his walk-off against the New York Yankees in the 2004 ALCS and his grand slam that turned the Fenway Park bullpen cop into a folk hero in the 2013 ALCS against the Detroit Tigers. Then again, there is also his "This is our f*cking city" moment after the Boston Marathon bombing. On and off the field, no player meant more to Boston than David Ortiz.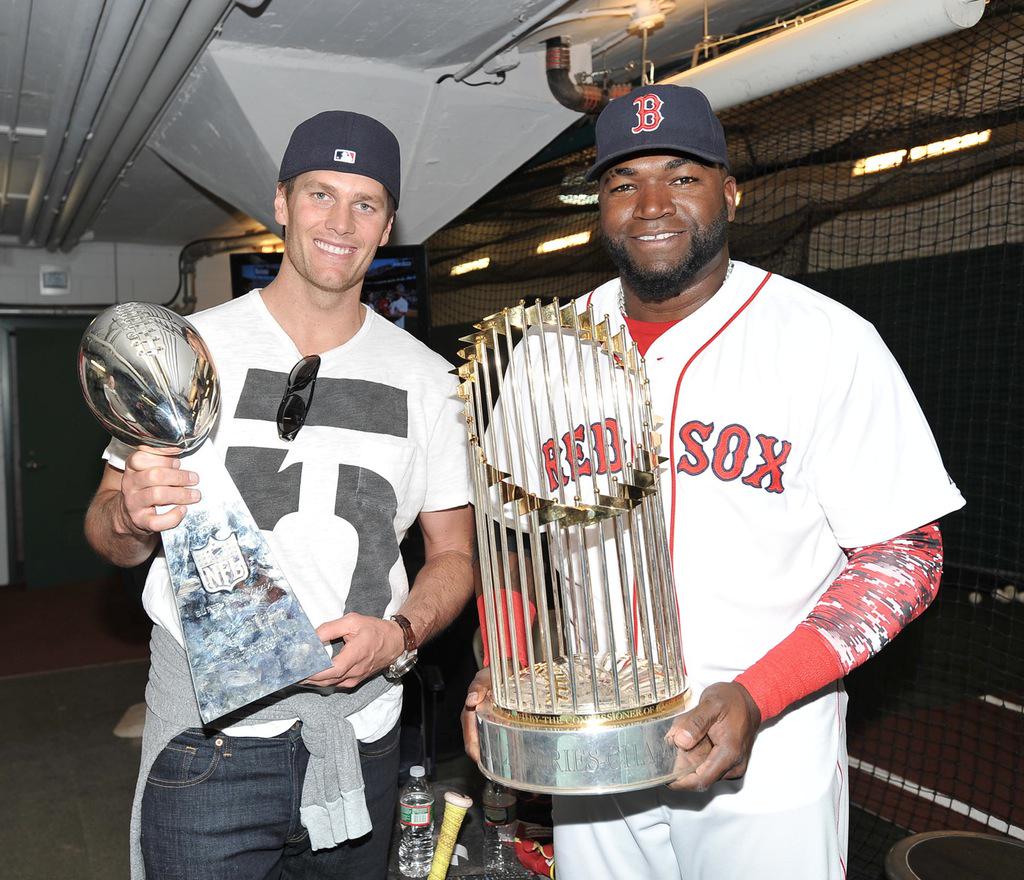 Ortiz' accomplishments in Boston sports this century are matched only by Tom Brady. Like Ortiz, Brady turned the fortunes of a long-downtrodden franchise almost as soon as he arrived. Together, they transformed the Boston teams from ones devoid of titles to ones defined by them. The success of the Red Sox and Patriots was so infectious that even the post-Larry Bird Celtics and Jeremy Jacobs-owned Bruins followed suit.
Like Ortiz, Brady is as good as ever as he enters his 40s. He was already firmly in the Greatest Of All Time discussion before he won two of the last three Super Bowls. The comeback he orchestrated against the Falcons this February is one I still stop and think about in semi-disbelief that it really happened, and may be the best game he's ever played. Both Ortiz and Brady proved themselves time and again after most had written them off. Obviously–purely based on the impact of an NFL quarterback compared to that of a MLB designated hitter–Brady is the more important player in the overall history of his sport, but given the historical importance of the Red Sox in Boston (their World Series drought predated the Patriots' inaugural season by 42 years) makes the Ortiz vs. Brady discussion a debate.
As crazy as the David Ortiz farewell tour of 2016 that spilled into 2017 may have been, don't be surprised if it's even crazier if Brady ever retires. Then again, Brady's end might come in another Super Bowl, which was the only thing missing from the end of the Ortiz Era. The 2016 World Series was the Series That Boston Built. It validated so much of what I have believed about baseball for years. If I wanted to build a title contender from scratch, I would want Theo Epstein running my front office. Even though his team lost, Terry Francona out-managed Joe Maddon, and Tito is the guy I would want managing my team. I would want Jon Lester starting the biggest game of the year, and Andrew Miller pitching the innings of highest leverage. The Red Sox had all of those guys on the payroll as recently as 2011. If that wasn't enough, former Boston World Series champions John Lackey, David Ross, Mike Napoli, and Coco Crisp also played in the World Series.
David Ortiz went into his last postseason with a cast that was not good enough, and got swept in the ALDS Francona's Cleveland Indians. The only thing missing from the Series That Boston Built was Boston, and by extension, David Ortiz. David Ortiz was Boston baseball. Boston celebrated him the way they did because he was the best we ever had when the games mattered most.