One of my biggest regrets as a writer is the two years or so I took off from writing about sports on the Internet from the spring of 2011 to the spring of 2013. On the one hand, I absolutely needed to reset and refocus as a writer, and I had other things going on and some perspective would have done me a lot of good. If I continued writing the way I had been, in the style I had been, on the blog I had been, I would have burnt out sooner or later, and I would not be writing here for you today in 2017. On the other hand, there is no written evidence, no previous article I wrote that I can link to, that can prove how right I was about Kirk Cousins.
We sports writers, amateur and professional alike, we sports enthusiasts who call and email talk radio shows and fill Reddit threads with opinions and analysis, we love making predictions, and we love being able to go back and prove we were right when our opinion in the moment was not the consensus or the prevailing opinion. Now that Washington Redskins quarterback Kirk Cousins has been franchised for the second straight year, and now that he is set to be one of the most interesting and in-demand assets in the NFL, I wish I had been maintaining a blog in the spring of 2012, when the Redskins took two quarterbacks, so I could have written that Cousins was a real NFL QB, that having a guy like Cousins drafted alongside Robert Griffin III would not end well for Washington, and the overlooked Cousins would be itching to prove himself. Five years later, the Washington football team that had two rookie quarterbacks may very well lose them both, with nothing but a couple of one-and-done playoff appearances to show for it.
Last offseason, the Redskins placed the franchise tag on Kirk Cousins, rather than signing him to a contract extension, after a 2015 season in which he won the starting job away from Griffin for good and led Washington to an NFC East division title. The Skins cut RGIII (who signed with the Cleveland Browns and subsequently got injured in the first game of the regular season), but were not ready to commit to Cousins long-term. That line of thinking is entirely defensible on its own. Cousins had one good season as a starter under his belt, and it would be reasonable for a team to want to see more before committing top dollar and many years to a relatively unproven player, but then Cousins had another good season in 2016. Sure, the Redskins struggled down the stretch and missed the playoffs, but they had also not put in place a backup plan.
The only quarterback to play on the franchise tag twice was Drew Brees with the San Diego Chargers, who eventually walked in free agency and signed with the New Orleans Saints, where he has been such a great face of the franchise that I often forget he was in San Diego and get caught off guard when scrolling through Google Images for pictures for articles I am writing. The difference between what the Chargers were doing a decade ago with Brees and what the Redskins are doing now with Cousins is that San Diego drafted Philip Rivers during that time (well, actually they drafted Eli Manning, but traded him for Rivers when the Mannings made it clear Eli did not want to be in San Diego), and gave Rivers a couple years in the system to develop before Brees left to go get paid by the Saints. I thought back in 2012 that Cousins, like Brees, would leave Washington to go get paid by another franchise, and eventually be synonymous with that second franchise the way Brees is with New Orleans, but I thought that would be because of the flashes he showed backing up RGIII, not because he proved himself as the starter in Washington like he ended up doing.
Rather than sign him to an extension, the Redskins placed a second franchise tag on Cousins. If they do not sign him to an extension, Cousins will most certainly leave Washington. Why would he stay with an organization that has been so hesitant to believe in him? That has forced him to bet on himself season after season? Cousins has been well compensated by the Redskins, thanks to the franchise tag, yet they are still finding ways to alienate their franchise QB. Why would he stay in Washington when there are two NFL franchises now coached by former offensive coordinators of his (Kyle Shanahan in San Francisco, and Sean McVay in Los Angeles), who would take him over their current quarterback situations, even if it means waiting another year.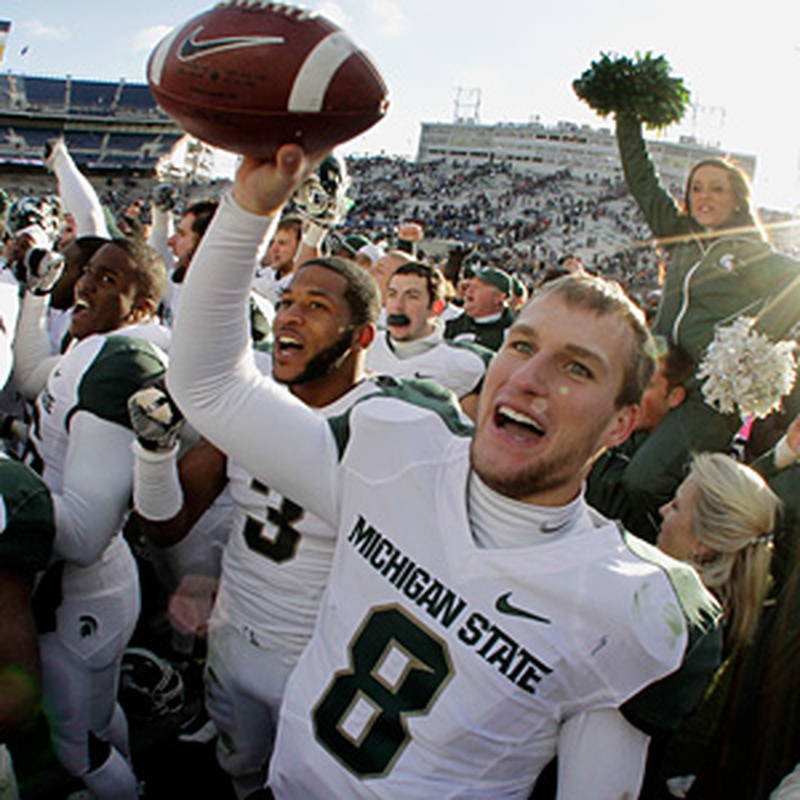 The Rams and 49ers should not be the only teams interested in Cousins' services. He has a lot going for him, even compared to the other highly regarded NFL quarterbacks being talked about as trade chips right now. Cousins is eight years younger, and far less injury-prone, than Dallas Cowboys quarterback Tony Romo, and has a far greater sample size for teams to look at than New England Patriots backup QB Jimmy Garoppolo (who started five quarters during Tom Brady's suspension before getting hurt), but no matter what happens, I cannot shake the feeling that the Redskins will mess this up. That's what they are known for in the Dan Snyder Era.
Since Snyder bought the team in 1999, the Redskins have had a high amount of turnover at the head coach and quarterback positions, not as high as the Cleveland Browns, but certainly not a model for consistency and continuity in professional sports, either. Head coach Jay Gruden is going into his fourth year of a five year contract the same year that Kirk Cousins is poised to play on a second straight franchise season. Why would Cousins want to sign an extension with a team that might be on the verge of turning over its coaching staff yet again? By Snyder's own reputation, they are due.
When they quarterback draft class of 2012 was in college, Cousins was the one I saw the most on TV. I knew about Andrew Luck at Stanford and Robert Griffin III at Baylor, as they were the Heisman favorites all season, but for whatever reason, Cousins' Michigan State team was on TV all the time in Massachusetts, it seemed, and I was in the habit of watching a lot more college football than I have in the years since (spoiler alert: I was in college, living in the dorms), so I was impressed with Cousins' play at the time, and was particularly baffled when Washington decided to trade up in the draft to #2 overall to take Griffin, and then also take Cousins in the 4th round. How could that possibly end well?
While I prided myself on picking up on Cousins getting overlooked, and that driving him to improve the way he did, I was, of course, also guilty of overlooking Wisconsin's Russell Wilson, who was taken by the Seattle Seahawks the round before Cousins, and who has played in two Super Bowls and has had the best career of the four quarterbacks to this point. As disappointed as I am in not having proof that I was bullish on Cousins in 2012, I am also thankful I don't have written proof like that about how wrong I was about Russell Wilson. I guess it was all for the best I took those two years off and I am here now to write about it.
The Denver Broncos are not going back to the playoffs this January after they kicked off 2016 by winning Super Bowl 50. Looking back on the Golden Anniversary Super Bowl not even a full year later, the Big Game of 2016, much like everything about that year, already feels really weird and out of character with the rest of reality. That Super Bowl was the Super Weird Bowl. The Carolina Panthers got there after going 15-1 in the regular season, and Cam Newton was the league's MVP, and they lost. I would say Peyton Manning was a shell of his former self, but that would be unfair to other shells of former selves. In an era when offense reigns supreme and scoring records are broken they way every meaningful baseball was getting broken in the late 1990s and early 2000s, it was a stifling defense that ruled the day, in spite of Manning's poor play. Perhaps the weirdest about this Super Bowl is the fact that neither the Carolina Panthers nor the Denver Broncos made the playoffs the following year.
Carolina's struggles can be explained a little more easily. The defense took some steps backward with Jared Allen retiring, Josh Norman signing with Washington, and Luke Kuechly missing time due to injury. Also, Cam Newton gets hit like no other quarterback does. People seem to think that since he is so big and so strong that he can get wrecked like QBs did before the NFL cared about player safety. Repeating the kind of results the Panthers got in 2015 was never going to be easy, but I am not ready to write them off for the rest of the decade.
The Broncos' struggles in 2016 can also be easily identified, but are harder to justify when you realize that they could have been avoided. Denver was lucky to get as far as they did–not just lucky to win the Super Bowl, but lucky to beat the Patriots in the AFC Championship Game, and lucky to beat the Steelers in the Divisional Round–with a so-far-past-his-prime-he-should-have-changed-his-name-to-not-confuse-people-Peyton Manning under center and shouting "Omaha," but incapable of throwing the ball downfield at all. Attempting to do the same thing a second straight year, not measurably upgrading a quarterback position that could not get much worse, and expecting to get the same kind of game in and game out dominating defensive performance in an offense-driven modern NFL is playing with some serious fire. But that's exactly what the Broncos did.
Broncos president John Elway has earned a significant amount of trust with Broncos fans, having led the team to seven Super Bowls (five as a quarterback, two as an executive), and winning a championship can buy you goodwill for at least a year or two, no matter how badly the year that follow go (the only time I know of when a fan base turned on a team's management less than a year after winning a title was the Red Sox in 2014, and some of my posts on this blog are reflective of that), but he is pushing it with the way the Broncos went into the 2016 season. By replacing the retired Manning not with Brock Osweiler (who signed a free agent contract with the Houston Texans), but with Trevor Siemian, a 2015 7th round draft pick out of Northwestern, Elway placed lofty expectations on a Denver defense. The 2016 NFL Draft produced multiple quarterbacks that won games as rookies despite being picked outside the top two. I cannot help but wonder what Denver's record would have been had Elway taken a chance on Dak Prescott or Jacoby Brissett, who appear poised to be the replacements to Tony Romo in Dallas and Tom Brady in New England, respectively.
While able to throw out incredible talent in pass rushers DeMarcus Ware and Von Miller, as well as with Chris Harris Jr. and Aqib Talib in the defensive backfield, that defense deserves a better offense. The Broncos have been irresponsible in the way they built their offense, particularly the quarterback position, the same way the New Orleans Saints have squandered Drew Brees' offensive brilliance for most of his prime by not building a good defense for him. That said, if for some stupid reason, the NFL decided to cut down to 31 franchises and merge two existing teams for the 2017 season, if the Saints' offense merged with the Broncos' defense, they would be the prohibitive favorites to win Super Bowl LII in Minneapolis.
The Broncos need to do something about the QB position, but right now, that is not even their most pressing matter. This week, head coach Gary Kubiak resigned due to health concerns after just two years on the job. Kubiak played his entire NFL career for the Broncos, as Elway's backup, and served as quarterbacks coach and offensive coordinator for Denver when they won those two Super Bowls in the late 1990s. In his first year back in Denver, he led the Broncos to their third Super Bowl victory, and less than a year later he is retiring. Denver should, in theory, have no trouble finding a replacement, given how good their defense is and the fact that there should be more NFL quarterbacks available this offseason than most years, from Romo to Jimmy Garoppolo to Tyrod Taylor to Sam Bradford to Kirk Cousins. 
The issue with Denver as a coaching spot may very well be John Elway's ego. He is a top five or top ten quarterback in the Super Bowl Era and has enjoyed a good deal of success as an executive, but he is also the guy who ran Tim Tebow out of Denver when after getting the Broncos to the playoffs, and clashed with John Fox, who like Kubiak, left the Broncos a year after getting them to the Super Bowl, but not for health reasons. Sure, he brought in Peyton Manning, one of the handful of quarterbacks higher up than him on the all time list, but when Manning was at a point of desperation in his career, coming off a potentially career ending neck injury, and the coach he brought in to replace Fox was literally his former backup. I would not be surprised if Elway went with either defensive coordinator Wade Phillips, who was previously Denver's head coach in 1993 and 1994, or one of the Shanahans, whom Elway has a working relationship with from his playing days, but I do not know how many coaching prospects from outside Elway's past work history would want to take this job. One person who will not be considered is New England offensive coordinator Josh McDaniels, this year's most sought after offensive-minded coach, whose only head coaching job was in Denver, and who was run out of town in his second season.
Regardless of what happens with the coaching vacancy, the Broncos need a quarterback, and if they do not get one, John Elway could be torn down as a fool just as quickly as he was built up as a genius.