The Boston Celtics are playing their best basketball since the days of Paul Pierce, Kevin Garnett, and (yes, even) Ray Allen. They currently sit second in the Eastern conference, tthree games behind the Cleveland Cavaliers, with Kevin Love out with an injury and LeBron James logging more minutes than he should at age 32, and Brad Stevens is going to coach the Eastern Conference All-Stars for the first time in his career. Perhaps most impressive about what they have done is that they are winning games with regularity in spite of their significant lack of health, with the longest tenured current Celtic Avery Bradley and 2016 free agent acquisition Al Horford both missing extended periods due to injury.
The success of the Celtics two and a half years removed from being in the draft lottery themselves (as opposed to living vicariously though the Brooklyn Nets' miserable season) to being a top-five team in the NBA, despite Danny Ainge's inability to find suitors in this decade's version of the Allen and Garnett trades that the fan base so desperately wanted, is a testament to the coaching staff and the smaller moves Ainge has been able to make, but the biggest story for the Celtics has been the NBA's smallest blossoming superstar.
Isaiah Thomas stands 5'9″, two inches shorter than I am, and my always unrealistic dream of playing on a school basketball team, let alone in the NBA ended around sixth grade when I realized I'd never be tall enough to make up for my inherent lack of skill. Despite a good college career (two time 1st Team All-Pac-10, two time Pac-10 Tournament MVP at Washington), Thomas was overlooked by NBA teams for his height, and he was taken with the 60th and final pick of the 2011 NBA Draft by the Sacramento Kings.
What is amazing about players taken in the 2nd round of the NBA Draft is that the ones that make it as stars, make it with a vengeance. Draymond Green fell to the second round, is now the NBA's best defender, the most polarizing player on the NBA's best team, and has developed this revisionist history around his draft status where several teams claim they were about to take him even though they all had a chance at him. Manu Ginobili being selected by the San Antonio Spurs with the 57th overall pick in 1999 and forging a Hall of Fame career out of obscurity in Argentina is an even greater component to the mystique and the greatness of Gregg Popovich and the Spurs than lucking into Tim Duncan at #1 in 1997.
In Isaiah's case, though, the Kings do not get the credit for finding a diamond in the rough of a superstar because they let him go before his full potential was realized–same goes for the Phoenix Suns–but the chip on his shoulder is just as big as Draymond's. Thanks to another great trade by Danny Ainge (a three team trade with Phoenix and Detroit where the Celtics gave away Marcus Thornton, Tayshaun Prince, and a late 2016 1st round pick, and came away with Gigi Datome, Jonas Jerebko, and IT), Thomas arrived in Boston at the 2015 trade deadline.
The Boston teams are in the midst of an under-six-feet renaissance between Julian Edelman (5'10"), Dion Lewis (5'8″), Malcolm Butler (5'11"), Danny Amendola (5'11"), Dustin Pedroia (5'9″), Mookie Betts (5'9″), Andrew Benintendi (5'10"), Jackie Bradley Jr. (5'10"), Brad Marchand (5'9″), and Torey Krug (5'9″), but Isaiah Thomas is the ultimate example because of the emphasis on height in who plays basketball at the professional level. While the Red Sox and Patriots gain acclaim for taking a chance on shorter outfield prospects and surrounding Tom Brady with a bunch of quick and shifty little guys, the Celtics have turned into a borderline contender built around a little guy in a big guy's sport. This is almost unprecedented.
My two favorite basketball players who never played for the Celtics are Tim Duncan and Allen Iverson. I have written plenty about Duncan over the years, given that he was an active player this time last year, and he and Pop have been the Brady and Belichick of basketball. I wanted to write my ode to AI in September when he was enshrined in the Hall of Fame in September, but it was my last college semester, I was working full time, and my buddy Murf's bachelor party was that same weekend. Life got in the way, but I am here now.
I attended my first Celtics game in 2001, weeks after Rick Pitino skipped town. The Philadelphia 76ers were in town in a year when they eventually reached the Finals and Iverson was the MVP. To this day, I believe he is the best athlete I have ever seen in person (Honorable mentions Sidney Crosby and Evgeni Malkin. The interesting thing is that Malkin actually stands out more than Crosby in person because of his size.). By my memory, he systematically picked apart a Celtics team that had Pierce and Antoine Walker and was finally showing signs of a competitive pulse at the start of the Jim O'Brien Era almost entirely by himself. It was amazing.
Iverson was officially listed at 6'0″, but even as a kid, I never really believed that number. AI was fearless and played like he was six inches taller than his actual height, making him one of the most intimidating people in the history of the NBA. He played hard and lived hard, and his career ended much more abruptly than many of his contemporaries as a result, but in his heyday, there were few players more compelling for someone flipping through the channels and stopping on a neutral site basketball game.
AI never won a title, and was labeled as a selfish player. Some of that was fair, but also a lot of that was the lack of quality talent that surrounded him in his prime. Unlike other elite point guards of his era like John Stockton, Gary Payton, and Steve Nash, AI never had a Karl Malone, or a Shawn Kemp, or a Dirk Nowitzki, or even an Amar'e Stoudemire to give the ball to. AI had Keith Van Horn and a past-his-prime Dikembe Mutombo. Iverson tried to do everything on offense by himself because that really was the best option in most years. This is the thing that has me worried about IT in Boston, but also not really. Sure, Al Horford is not the elite offensive threat that Karl Malone is. Sure, Kelly Olynyk is the victim of early Dirk comparisons. Sure, Jaylen Brown is an unproven rookie with some trouble finishing at the rim. But the Celtics are still building. Isaiah already does not have to do it all himself, even if he is consistently lighting it up in the fourth quarter, but they are still getting better.
What I really like about Isaiah Thomas the more I have learned about him is his self-awareness. In listening to recent podcasts where his sat down with Kevin O'Connor of The Ringer and Adrian Wojnarowski of The Vertical, he has it all in perspective. He was the last pick in the draft. He was 27 and on his third team by the time he became an All-Star, and he's just now getting recognized as a legitimate superstar at 28. It's like an actor or musician who did not achieve success or fame until after he or she learned how to be an adult. In the NBA, we are at the point where we are surprised when someone drafted as a teenager like Kevin Garnett or LeBron James turns into a well-adjusted human being. Isaiah spent his basketball career being doubted, being overlooked, and has proven people wrong at every turn, so now that he's arrived, he's not about to let it get to his head.
This week, Thomas broke a 45 year old Celtics franchise record set by the great John Havlicek of 40 consecutive games scoring 20 points or more, with game 41 being Boston's last-minute loss to the Chicago Bulls the other night. IT is making his way into the history books in the NBA's most storied franchise, but this story is still in its early stages.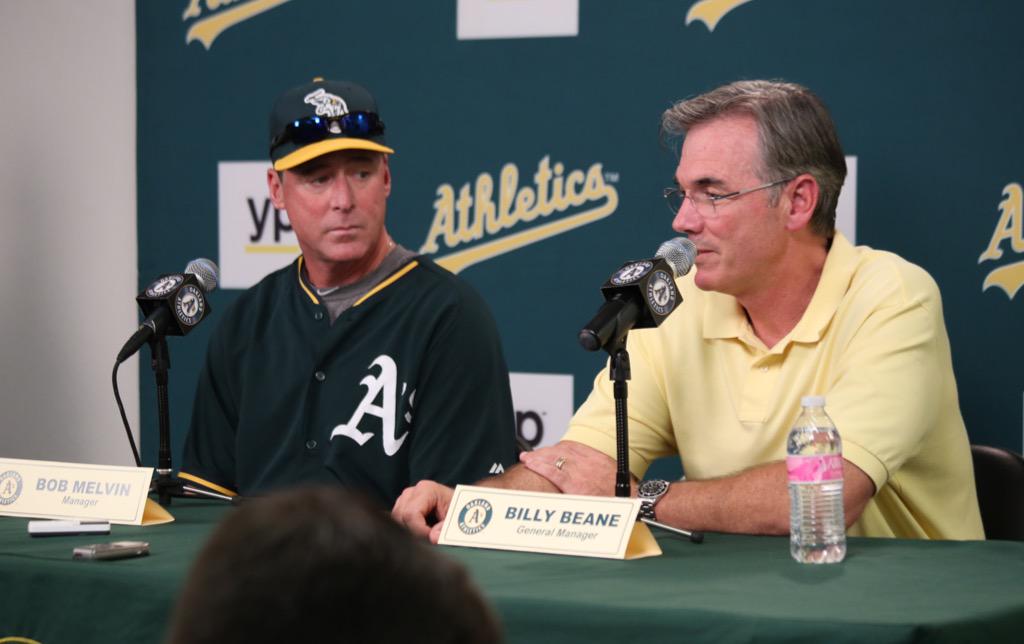 In the late 1990s and early 2000s, the Oakland Athletics earned critical acclaim and notoriety for fielding competitive baseball teams in spite of their noncompetitive payrolls. The success with the deck stacked against them made Billy Beane the poster boy of the baseball analytics movement and Michael Lewis' 2003 book Moneyball: The Art of Winning an Unfair Game spawned a genre of outside-the-box-front-office-strategy books from Jonah Keri's The Extra 2% about the Tampa Bay Rays, to Molly Knight's The Best Team Money Can Buy about the Los Angeles Dodgers, to Travis Sawchik's Big Data Baseball about the Pittsburgh Pirates, to Steve Kettmann's Baseball Maverick about Beane's mentor Sandy Alderson and the job he rebuilding the New York Mets into a contender. Fast-forward to 2016, and the A's still have not reached the World Series since 1990, yet they still have the reputation of baseball intellect that has carried them through the lean years as The Ringer's Claire McNear so aptly pointed out earlier this week.
The landscape of Major League Baseball has changed since 2002, with revenue sharing and even a change in ownership in Oakland, yet the A's are still content to act poor to show the world how smart they are. They found themselves as sellers at the trade deadline for the second straight year, which to be fair, is something big budget teams like the Red Sox are more than capable of doing as well, and there are more than a couple of former Oakland A's making meaningful contributions to contenders in 2016. A popular move in the Billy Beane playbook has been to trade away a star player for prospects before he has to pay them like a star. Josh Donaldson being dealt to the Toronto Blue Jays the winter before his 2015 American League MVP season was just the most recent in a long line of stars Oakland fans got attached to even though they knew they should not have. In 2014, they traded Yoenis Cespedes to the Red Sox at the deadline for Jon Lester, who was set to become a free agent at the end of the season. Before them, it was Mark Mulder, Tim Hudson, Barry Zito, Nick Swisher, Johnny Damon and Jason Giambi. In Oakland, there will always be good players, but the front office does not want to invest enough in them for fans to justify investing in that specific star's jersey.
In my opinion, the Lester/Cespedes Trade was the one the A's missed on the most, even more than the Donaldson Trade. As a Red Sox fan, it's not like I'm over the moon about the way that whole situation played out (The Sox had low-balled Lester in contract extension negotiations after he had led them to the 2013 World Series, then traded him and John Lackey away at the deadline with no immediate solution to replace them. They ended up flipping Cespedes that winter to Detroit for Rick Porcello, and while Porcello has been Boston's most consistent pitcher this year, he's no Jon Lester.), the A's gutted the heart of their lineup during a pennant race for a pitcher they were not going to be able to re-sign. Had they stood pat with Cespedes, their rotation was already pretty good with Sonny Gray, Jeff Samardzija, and Scott Kazmir. Maybe they aren't playing in the play-in Wild Card game against Kansas City, and their postseason doesn't end after one game. The failure of the 2014 Jon Lester Era A's ultimately led to Beane blowing up the team with the Donaldson Trade. Sure, Toronto gave up a fan favorite in the form of Brett Lawrie, but like everyone else, Lawrie did not stick in Oakland, while Donaldson has thrived with the Blue Jays. Not only was he the 2015 American League MVP, but he helped end a playoff drought that had been going on since the Jays won the 1993 World Series. If the result of the Lester/Cespedes Trade was a wash, the Donaldson/Lawrie Trade was a clear win for Toronto.
There is something to be said about being on the cutting edge of your industry. There are different metrics to measure success. Is it better to be more popular, or be recognized for doing what you do smarter? Jay Leno consistently had higher ratings, but David Letterman made a bigger cultural impact. Billy Beane and the Oakland A's fancy themselves as Letterman, if Letterman was doing his show in his mom's basement on a cable access channel like Wayne Campbell, when the reality is he's on CBS. Other small market teams have broken through and won the World Series, with the 2015 Kansas City Royals being the most recent example. Other executives have applied analytical practices and won at a high level, perhaps most notably Theo Epstein with the Red Sox and Cubs, and yet a common perception that analytics are synonymous with Beane and the Athletics still persists. Billy Beane does not have a monopoly on smart ideas in baseball, and his teams have not even won an American League Pennant, but he's the one who gets to be played by Brad Pitt in an Oscar-nominated movie. How is that fair?
I subscribe to the idea of critically acclaimed teams. When people look back at the champions in any sport fifty years from now, that will not tell the whole story. The Steve Nash Era Phoenix Suns, for example, never won a title, or even made the NBA Finals, but they were a fun and exciting foil to the Lakers and Spurs of the mid-2000s, and paved the way for a team like the Golden State Warriors of the last two years to exist and thrive. They never won themselves, but they were a game changer. The A's of the early 2000s were a game changer, but they're still clinging onto an identity that made them innovative over a decade ago, but now they're just another team that hasn't won anything while others have.
No baseball fan sheds a tear for Brian Cashman, the GM of the New York Yankees who inherited a team that already had the infrastructure of Joe Torre, Derek Jeter, Andy Pettite, Mariano Rivera, Jorge Posada, and Bernie Williams when he got the job in 1998, and kept that train rolling for a solid fifteen years with the benefit of one of the most free-spending ownership groups in all of baseball. Cashman's Yankees were sellers at the deadline for the first time in his tenure, and while it was very strange, he will not get the amount of credit he deserves for the haul he got back for the players he traded away, and the praise for inevitably turning the Yankees around will be muted compared to other teams. On the other side of that coin, nobody should shed a tear for Billy Beane and his predicament in Oakland at this point. He doesn't have the spending power of the Yankees or the Red Sox or the Dodgers, but he likes the position he's in. If he wins, he's a genius. If he loses, he's a genius in a really tough situation. He cannot lose. It's good to be smart, but it's better to win, and if I were a fan of the A's, I'd be tired of the Moneyball routine by now. It never ends, does it?