The following post contains spoilers from fifth season of Orange Is the New Black.
My Netflix viewing habits are weird. When I first subscribed, I was fully subscribed to the idea of "binge watching" that has been made popular by the increased accessibility of TV shows in the Internet Age, but I drifted away from that method and made a conscious effort to savor watch shows more often. Save some for later, I thought. I did not want to burn through a season in a weekend and then have to wait a year for more.
In the age of Peak TV, or more aptly, the Age of So Much TV Compared to So Few Hours in the Day, there is no right or wrong way to watch. The shows you like will always be there, unless they leave your preferred platform and you find yourself racing against the clock like I currently am with Futurama. Last year, I had a bachelor party to go to in Maine the weekend Netflix dropped Season Four of Orange Is the New Black, so the pressure to finish it was off to finish it right away, and I took my time with the season.
I did not end up finishing Season Four of OITNB until the week before the fifth season dropped on Netflix, and I am glad I did not have to wait a year based on the way the fourth season ended. After the COs, under the command of captain of the guard Desi Piscatella (played by former Denver Broncos defensive lineman Brad William Henke), reacted violently to a peaceful protest, and killing Poussey Washington (played by Samira Wiley), a nonviolent and universally liked inmate, in the process. Had I binged Season Four, I would be waiting a year with the prison on the verge of riot, with an inmate pointing a gun at a corrections officer.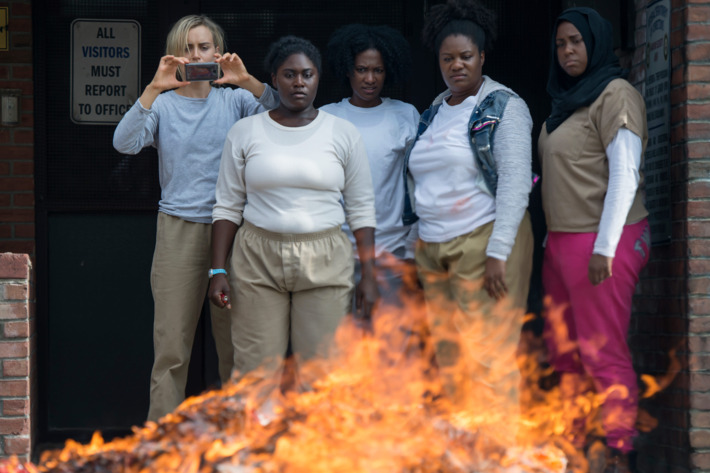 The events that concluded Season Four set up a Season Five that spanned only a couple of days, as the inmates rose up, took the COs as their hostages and in an effort led by Tasha "Taystee" Jefferson (Danielle Brooks), attempted to negotiate for justice and better living conditions at Litchfield. After eight or nine episodes, I had a warm fuzzy feeling that change might actually get accomplished. Things were looking up, but then I remembered: Wait, there are still five episodes left. This won't end well. There was too much time left on the clock and Taystee was playing the negotiations as aggressively as the Atlanta Falcons in the second half of Super Bowl LI. Also this show is grounded in reality, and in this reality, there has never been a prison riot that changed the world for the better.
One peculiar thing about the way we watch TV these days is that it's hard to tell when to talk about it. When there were only three networks, everyone was watching at the same time. In my early college years, you had to give 12 hours to allow people to catch up on Hulu in case they went out the night before and missed Community, or The Office, or 30 Rock, or Parks and Recreation (RIP NBC's last great Thursday night comedy lineup). My friends and I would usually make a point to watch the Thursday night NBC shows online between classes Friday morning so we could talk about them at lunch. Now, it's chaos. There are network shows, cable shows, Netflix, Hulu, Amazon Prime, Seeso, and probably a dozen other platforms I've never heard of. All of it is available at the same time, and if you do have friends or co-workers who watch the same shows as you, they're probably not on the same viewing schedule as you. Stay off Twitter. Stay off Reddit. Stay off everything until you finish.
My favorite dramatic television series of all time is HBO's The Wire. For better or for worse, I use The Wire as context in my head for pretty much any drama show I watch. Game of Thrones is basically The Wire, but in a realm with dragons and magic. The moral ambiguity and lack of a true protagonist also helps my case against accusations of oversimplification. OITNB is a lot closer to The Wire because it takes place in the present in the United States of America, was inspired by a bestselling work of nonfiction, and both shows say a lot about the country as a whole, not just one prison or city. What The Wire did for illustrating the problems with the War on Drugs from all the points of view involved, OITNB is doing now for one of its byproducts, the Prison Industrial Complex. 
What impressed me about The Wire is that there were no wasted characters, and at the end of the final season, the viewer had closure–not satisfaction, but closure–with every interesting personality who came on screen, and it felt like a good stopping place, even though the world did not end and nothing really got fixed. It all came full circle, and that was the point. 
As I was watching Season Five, I was talking about it with my friend Ally via Facebook Chat. We went back and forth exchanging comments about the show, frequently announcing how many episodes we had seen, in an attempt to not spoil anything. At one point, Ally expressed how upsetting it was that Poussey was the one to die. Why couldn't it have been Brooke? Poussey was a universally liked character within the walls of the prison, and made a star out of Samira Wiley. Even characters like Kate Mulgrew's Galina "Red" Reznikov and Dale Soules' Frieda Berlin, two of the toughest, most cunning inmates on the show, were visually broken up about Poussey's death. That was the point.
Unlike Game of Thrones, OITNB does not kill of most of its characters–at least not yet–but the system of narrative justice is every bit as cruel as what George R.R. Martin might have written. While not as heavy-handed as valuing honor more than life itself, compromising honor to save your daughter's life, only to be executed with your own sword for confessing to a crime you did not commit, Poussey's story is written in a similar spirit. Any inmate could have been killed in the peaceful protest, but the fact that it was Poussey made it particularly tragic. She was too violent for West Point, yet too peaceful for prison. On top of all that, Poussey was the prison's librarian. Nobody would have gotten a bigger kick out of this terrible tragedy than Poussey Washington the literary buff.
On the other side of the coin, the brand of justice that is served to Piscatella is not nearly as satisfying as I would have hoped. It seemed that the same judicial system that came down hard on the inmates would also go out of its way to protect Piscatella. He was protected by his uniform, but he was just as bad as, if not worse than, any inmate in that prison. Instead, before he could be investigated, before he had to answer for the revelations of torture and draconian disciplinary measures, he was shot by a trigger-happy squad clearing out the prison at the end of the riot. It goes both ways. I wanted justice for the inmates, but I also wanted Piscatella to get what was coming to him, but the irony of reality would not allow for it, and that was the point.
I don't know what the show does going forward. I am sure Season Six will be really good, but I don't know how it can top what happened in Season Five. This was the most impressive season of Netflix-original television, and I did not think I would feel that way about a fifth season of any show. Now the long wait begins.
Good football teams lose their coaching talent as the seasons go on. It's a part of life. But the New England Patriots are able to hold things together remarkably well despite winning two of the last three Super Bowls. And even when they do lose their assistants to greener pastures of head coaching jobs elsewhere, the infrastructure with Bill Belichick at the top of the football operation must be trusted until further notice.
Before the Super Bowl was even played and regardless of the big game's outcome Atlanta Falcons offensive coordinator Kyle Shanahan was going to be the next head coach of the San Francisco 49ers, and even though the hire was not officially announced, everybody knew it. Kyle is Mike Shanahan's son, he is 39 years old, and he has been one of the rising coaching stars on the offensive side of the ball. In his various stops, he has gotten quarterbacks of varying talent levels to realize their potential. Working under his dad in Washington, Robert Griffin III was the rookie of the year ahead of Andrew Luck and Russell Wilson, in Cleveland, former Tom Brady backup Brian Hoyer looked like a competent NFL starter before getting hurt, and in Atlanta, Pro Bowl QB Matt Ryan won the MVP and did not trail in the Super Bowl until the moment the game ended. Given his reputation, it is fair to assume that San Francisco's next starting QB whether they stick with Colin Kaepernick, or they trade for Jimmy Garoppolo, Kirk Cousins, or they make a less exciting stopgap signing like Matt Schaub or Brian Hoyer, or start from scratch with a kid from the draft, that QB will enjoy an uptick in production from this past year.
Regardless of the second guessing of Shanahan's overly aggressive play calling in the second half that gave the Patriots enough clock to work with to make their historic comeback, there is a lot of hope surrounding the downtrodden 49ers and also a lot of uncertainty for the Falcons because of Shanahan. Before Kyle Shanahan, the Falcons were a good offense and Matt Ryan was a good quarterback, but with him they were a great offense with an MVP quarterback. When the Patriots experienced a period of significant turnover after their Super Bowl XXXIX win over the Philadelphia Eagles, when offensive coordinator Charlie Weis took the head coaching job at Notre Dame and defensive coordinator Romeo Crennel left New England to be the head coach of the Cleveland Browns, Belichick promoted from within, making Eric Mangini the defensive coordinator and assuming the offensive coordinator duties himself, even though he is best known as a defensive mastermind, before eventually handing over the keys to Brady's offense to Josh McDaniels when McDaniels was ready for the responsibility. Years later, when Dean Pees left the Patriots, Belichick assumed defensive coordinator duties until he felt Matt Patricia was ready for it.
Most coaches are not Bill Belichick, however, and Falcons head coach Dan Quinn, a defensive coach, did not go this way. Instead the Falcons hired former Washington and USC head coach Steve Sarkisian to run their offense in 2017. Sarkisian was most recently the offensive coordinator at the University of Alabama for one game, replacing Lane Kiffin for the National Championship Game against Clemson, which Alabama lost. Sark may not be the best college head coach ever, but he does have a good reputation as an offensive play caller. The problem for Atlanta is that they are bringing in a new voice with a new philosophy when they thing they were doing was working perfectly fine. It is hard to come back from losing the Super Bowl. Most teams struggle in the following year, and the 2016 Carolina Panthers are a perfect example, and changing more than you have to certainly cannot help.
The Patriots could have just as easily been the team that lost the Super Bowl instead of the Falcons, and the last two years both offensive coordinator Josh McDaniels and defensive coordinator Matt Patricia have gotten head coaching interviews. McDaniels, in fact, was in direct competition with Shanahan for the Niners job. McDaniels, who first joined the Patriots as a personnel assistant in 2001, left to become head coach of the Denver Broncos in 2009, got fired, worked for the St. Louis Rams for a season before getting his old job back in New England when offensive coordinator Bill O'Brien left to take the head coaching job at Penn State in 2012, has been careful in his pursuit for his second head coaching job to say the least. Many coaches get a second chance if they fail as a head coach once, but if you fail twice, the odds of a third head coaching job are very slim.
Two years ago, Chip Kelly was still believed to be a football genius, but a bad third season in Philadelphia followed by the awful football situation he inherited in San Francisco leaves his future as an NFL head coach very much in doubt. McDaniels wants both a good quarterback situation and a good ownership situation, as those are the two factors the best determine head coaching success. If the Colts job opened up, Andrew Luck is a very good quarterback, but Jim Irsay is not a great owner to work for. Bill Belichick even failed on the first try in Cleveland, and when he was given a second chance with the New York Jets, he famously resigned as "HC of the NYJ" after a day when the more appealing offer came from the New England Patriots. McDaniels has the luxury of waiting, as he is still only 40, and being Tom Brady's offensive coordinator and working for Bill Belichick is by no means a bad gig.
The Patriots did lose a key member of the coaching staff, as tight ends coach Brian Daboll was hired by Nick Saban to replace Sarkisian as offensive coordinator at Alabama, of all things. Daboll, like McDaniels, left New England before, but they were the only two prominent assistants to come back for a second stint, unlike Weis, Crennel, Pees, O'Brien, or Rob Ryan. With McDaniels staying put in New England, Bama was Daboll's best opportunity to be an offensive coordinator again, and it's a winning program. The more head coaching jobs McDaniels turns down, the more likely it seems that he sees himself as Belichick's eventual successor as HC of NE.
When McDaniels first came back to the Patriots, I wanted nothing to do with him as a candidate to be the Pats' next head coach. His terrible two seasons in Denver that included the (even then) head-scratching decision to draft Tim Tebow in the 1st round was still fresh in my memory, and I thought he was just another Belichick assistant who was doomed to be a bad head coach. But as the years go by, and it becomes more and more apparent that the operation Bill Belichick has built is superior to every other in the game of football (I mean, seriously, the Pittsburgh Steelers are a model of consistency and continuity and have had the same number of head coaches since Watergate as the 49ers had in Barack Obama's second term, and even they are nothing more than the Generals to New England's Globetrotters, going 0-3 in AFC Championship Games against Belichick and Brady with none of those games being particularly competitive.), and the list of coaches I would rather have than Josh McDaniels to come in and try to tinker with it dwindles every year. At this point, I would have to think about Michigan head coach Jim Harbaugh, and that's about it. I would rather have McDaniels than just about anyone else.
For now, the Patriots are going about their business, doing their jobs, but Brady will be 40 next season, and Belichick is probably closer to his last game as a head coach than his first, so as effective Belichick and Brady still are, a little continuity on the coaching staff certainly goes a long way.
I was prepared to write about the New England Patriots' disappointing seventh trip to the Super Bowl in the Belichick and Brady Era. I was prepared to apologize to Patriots fans for the blog post I wrote about Matt Ryan a few weeks ago, when the not yet crowned MVP was going to face off against Aaron Rodgers and the Green Bay Packers in the NFC Championship game, and I used this opportunity to take some less than subtle jabs against Boston College football, New England's most prominent college football program that nobody cares about unless they went there. I was prepared to write about how the Atlanta Falcons not only deserved to win because they played against the Patriots the way the Patriots normally play against everyone else, not making mistakes and making their opponent pay for any mistake they might make, but also because it was the will of the country, as comedians and fans all across social media framed this games as "Trump's America vs. Black America." The angle in which I was mentally approaching writing about Super Bowl LI changed more dramatically and more times than any other game I have ever written about including the Bruins thrilling Game 7 comeback against the Maple Leafs in 2013. The second half of this game threw superstition out the window, and it took a few days to fully process what happened.
I watched the game with my dad and my brother, and by the middle of the third quarter, the hope was that they could just make the score respectable, as it was 28-3 with the Patriots slowly driving down the field. This part of the game was not even tense anymore. That's how far out of it the Patriots seemed to be. We instead turned to the 2017 season, talking about key free agents: Dont'a Hightower, Martellus Bennett, Logan Ryan, and Malcolm Butler topping that list. We talked about the possibility of trading backup quarterback Jimmy Garoppolo, to load up on draft picks for Brady's final years and focus on coaching up Jacoby Brissett.
I floated out the idea that Bill Simmons mentioned in a column a couple weeks ago about the possibility of Belichick trading Rob Gronkowski before Gronk's body breaks down for good, and about the Belichick dream scenario of sending Gronk and Jimmy G both to the Cleveland Browns for the 2017 #1, #2, and a boatload of 3rd and 4th round picks. My dad had not heard that theory before, and said throughout the rest of the game and (spoiler alert) trophy presentation that he really hopes they keep Gronk. As someone who has spent money on exactly one athlete's jersey for himself, and that athlete is Rob Gronkowski, I agreed, but am also well aware of Belichick's history or trading or cutting star players a year too early rather than a year too late from Drew Bledsoe to Lawyer Milloy to Willie McGinest to Mike Vrablel to Richard Seymour to Randy Moss to Logan Mankins to Vince Wilfork. That strategy, while painful in the short term for sentimental fans like us, is undeniably a key part of why the Patriots have been so consistently competitive this century, so you take the good with the bad.
Next thing we knew, the Patriots were right back in it. Hightower had a key strip sack, the Patriots made up for a missed extra point and a botched onside kick by scoring two more touchdowns and making two straight two-point conversions. The Falcons defense was gassed, and their offense was cold, with the exception of Julio Jones, who was inexplicably only targeted four times in the games, catching it all four times, each time more impressive than the one before. Atlanta's aggressive offensive strategy, allowing Ryan to get sacked for big losses without eating away enough at the play clock or the game clock certainly played into their demise, but when the narrative becomes solely that the Falcons choked, the level at which the Patriots executed gets lost.
On Hightower's strip sack, for instance, he was able to get to Ryan because Atlanta running back Devonta Freeman blew his blocking assignment. On any given play in a football game there are 22 players with an assignment, and success or failure is determined not only by the obvious variables like the quality of the quarterback's throw or the hand and footwork of the intended receiver, but also the defensive coverage assignments and offensive blocking assignments. In the second half down by a lot, the Patriots were still playing like they thought they could win, and Hightower, who is older than me by a month and has two BCS National Championship rings with Alabama and two Super Bowl rings with New England to show off as he heads into free agency, executed on every play waiting for someone on Atlanta to slip up, and capitalized when Freeman did.
It really was a tale of two halves, because in the first half, the Falcons were the ones taking advantage when the Patriots slipped up. The first quarter ended scoreless, but New England's offense seemed to be moving the ball better than Atlanta's, and were marching toward what looked like the first score of the game early in the second quarter when LeGarrette Blount fumbled the football, and the Falcons recovered, and quickly marched the other way to score. It was Atlanta that recorded a pick-six on Brady, and went up 21-3 at the half. The Falcons had adopted the DNA of the Patriots, which made sense considering the presence of longtime Belichick underlings Thomas Dimitroff and Scott Pioli in their front office. This was a new kind of Super Bowl experience for a Patriots fan who has seen his team play in the Super Bowl eight times since first grade. I had seen thrilling victories and devastating defeats, but never a blowout. I was not born yet when the Pats got destroyed by the iconic 1985 Chicago Bears team in Super Bowl XX, and every Patriots Super Bowl since had been at least competitive at the half, regardless of the eventual outcome. I honestly had not even considered the possibility of getting blown out by Atlanta, but could not help but respect the way they were doing it, as I would have been rooting for the Falcons in the Super Bowl against any other AFC team this year.
After trading possessions to start the third quarter, the Falcons scored another TD, making it 28-3, and I Facebook messaged my friend "At least Gaga was good" as if Lady Gaga's halftime performance would be the only redeeming thing about this Super Bowl. It would be a solid hour before Hightower's strip sack, and a little longer before it really felt like the Patriots were actually back in it, but that whole time, the Patriots were still executing like they had a chance to win, which is a credit to the players and the coaching staff. Peyton Manning would not have orchestrated a comeback like this, and I can say that with confidence because of the way he folded in 2014 in the Super Bowl against the Seahawks. Moments like this are what have always separated Tom Brady from his peers, and put him alone with Joe Montana in the GOAT discussion. 
By the time the game made it to overtime, there was no way the Patriots would lose. Special teams captain called "heads" for the coin toss, as he always does, but unless Falcons offensive coordinator Kyle Shanahan (who has since been hired as the new head coach of the San Francisco 49ers) finally figured out to just feed the ball to Julio Jones like he's LeBron in crunch time, which he did not do all game, the Patriots would have stopped a cold, suddenly not ready for the moment offense and gotten the ball back and scored. Even if the Falcons managed to stop the Pats on 4th and Goal, they would have had to take the ball out from the one, and the Pats defense would have gotten the ball back and only needed a field goal to win.
For years, I have been saying that I would love to see a Super Bowl go into overtime, just not in a year when the Patriots are in it for stress management purposes. But when it got to the point that my team was in the first ever overtime Super Bowl, all the stress was gone. They had all the momentum, and they were the team that had been there before. Instead it became a question of who would be the one to make the Super Bowl ending score. It was almost Martellus Bennett, who got interfered with near the goal line on one play and was targeted with a end zone throw that could have been Atlanta's version of the Malcolm Butler interception at the end of Super Bowl XLIX. Instead it was James White, who did not have a rushing touchdown in the regular season, and who was inactive for the Super Bowl against Seattle two years ago who punched it in, breaking the plane of the end zone just enough to end the game, putting the Patriots ahead in a game they never led.
This game also proved the validity of some of the other football philosophies Bill Belichick & Co. have employed for years. The Falcons had greater elite, high-end talent, while the Patriots place a greater value on depth. While both teams have elite QBs, Matt Ryan has more elite weapons at his disposal in Jones, Freeman, Taylor Gabriel and Mohamed Sanu. Brady has Rob Gronkowski, the greatest player in the history of the tight end position, but did not have him most of the season, including the playoffs, and the Patriots went undefeated without him because Brady makes guys like Julian Edelman (whose insane late-game catch was indefensibly not mentioned until now), Danny Amendola, Chris Hogan, and Martellus Bennett. Patriots players are notoriously frustrating to use in fantasy football because you never know, for example, which running back will be getting the bulk of the carries. If LeGarrette Blount struggles early (as he did), then Dion Lewis or James White could have a big game, and game to game, that is tough to predict. The same is true on defense, where Belichick traded Chandler Jones to the Cardinals in the offseason and Jamie Collins to the Browns during the season, and got better. Belichick and defensive coordinator Matt Patricia would rather have a deep rotation of guys who can play than a small handful of elite players, who could just as easily get hurt or get tired (the way Atlanta's defense had to play twice as many snaps as their offense did in the Super Bowl) and not be there for them when they are needed most. It's frustrating to watch your team consistently trade down at the draft, going for quantity over quality, but it is hard to argue with that method when they are in seven of the last 16 Super Bowls.
Ultimately, coming back from 28-3, and winning the first OT Super Bowl was the perfect way to end the nonsense of the last two years with Deflategate. The thing I am most excited about is that the Patriots were accused of a stupid thing that should not have been a big deal at all, and they reacted by winning two of the last three Super Bowls, the commissioner tried to bury them like he did the New Orleans Saints by fining the team, taking away draft picks, and suspending the greatest player of this generation for twice as many games as he suspended a guy who knocked his fiance unconscious on camera, and the team responded by winning everything anyway. There is nothing better than that. Nothing.