A year ago, I wrote about how weird it was to have the New York Yankees, the historical power and biggest spender in Major League Baseball, playing the role of seller at the trade deadline. They seemed poised for a rebuild, and I was confident Brian Cashman was smart enough to see that through, but it did not feel right. 2016 was a weird year, and the Yankees bracing to rebuild does not even come close to the top fifty strangest things that happened last year, but 2017 appears to be reverting to what we know as normal, at least in a baseball sense. The Yankees are back, and for some reason, I'm okay with it.
After dealing Andrew Miller to the Cleveland Indians and Aroldis Chapman to the Chicago Cubs, setting up the crucial late inning match-ups the World Series, there was the rise of Gary Sanchez. Sanchez, a catcher, batted .299 and hit 20 home runs in just 53 games, and finished second in the American League Rookie of the Year voting. Two great months from a rookie catcher do not immediately make a team a contender, and the expectations for New York were still that of a team building through the farm system to be great in a couple years heading into 2017. Then Aaron Judge happened.
If you told me the next great Yankee was an outfielder as big as Rob Gronkowski, who hits the ball harder than Giancarlo Stanton, and who is so humble he's more likable than Derek Jeter and Mariano River combined, I would have thought you were crazy. There could not be a human like that. Aaron Judge is such human. Last year, he was a strikeout machine, and this year he has transformed himself into a baseball crushing machine who is quickly becoming one of the faces of baseball. It was only a matter of time before the Yankees had another transcendent icon of the game. They always land on their feet in that regard, but who would have thought it would be one like this? Baseball players aren't supposed to be that big, and if they are, they become pitchers. All I can do is sit back and be amazed.
With their rebuild fast-tracked by a baseball unicorn, the Yankees resumed their normal role of buyers at the trade deadline, and they bought, and bought, and bought. They acquired third baseman Todd Frazier, starting pitcher Tommy Kahnle, and relief pitcher David Robertson from the Chicago White Sox, relief pitcher Jaime Garcia from the Minnesota Twins, and capped it all off by acquiring right handed ace Sonny Gray from the Oakland Athletics. The Yankees did not get the biggest names that moved this trade season, as the Texas Rangers sent Yu Darvish to the Los Angeles Dodgers and the White Sox sent Jose Quintana across town to the Cubs, but they acquired quality in volume and filled the most needs of any postseason contender. It also helped their cause that they made trades to bolster third base and the bullpen, taking players off the market in the most glaring places of need for their forever rival Boston Red Sox.
These are the Yankees I remember.
As much as I hate to admit, the Yankees being good is good for baseball. They are the lightning rod for the hate of the other 29 fan bases. The villain role in sports is something that should be embraced. As a Patriots fan, I embrace it. The Yankees are better at being the bad guy than anyone else in Major League Baseball. In the years since they last won the World Series in 2009, several teams have had the chance to take the Iron Throne of Evil from the Yankees, but the fit has never been quite right. The Red Sox, in spite of their three World Series titles since they last met the Yankees in the postseason, cannot get out of their own way year to year. The San Francisco Giants won three World Series titles in five years, but were irrelevant in the off years. The Dodgers, for all their regular season success and high payroll, have not won the National League Pennant since 1988. The Cubs only got good in the last two years and before 2016, the last president to be alive for a Cubs championship team was Lyndon Johnson, who was born two months earlier in 1908. They are not ready for that kind of role. The Red Sox are 13 years removed from becoming winners, and they aren't even ready for it.
The team that came the closest was the St. Louis Cardinals. They have won the most titles of any team in the National League, they rub other fan bases the wrong way with their "best fans in baseball" mentality, and their was an actual FBI investigation into front office members hacking the Houston Astros (and somehow Deflategate got more coverage?). They should have become the most hated team in baseball, but animosity towards the Cardinals translated more into Cardinal fatigue more than Cardinal hate for me. It just wasn't the same.
The Yankees are the Alabama football or Duke basketball of Major League Baseball. Nobody is indifferent to these teams. If you follow that respective sport, you have strong feelings one way or the other, and that keeps you engaged even if your own team is not a contender. I should be upset that the Yankees were not bad for a longer period of time, but hating a middling team or a team with a losing record is just not as much fun.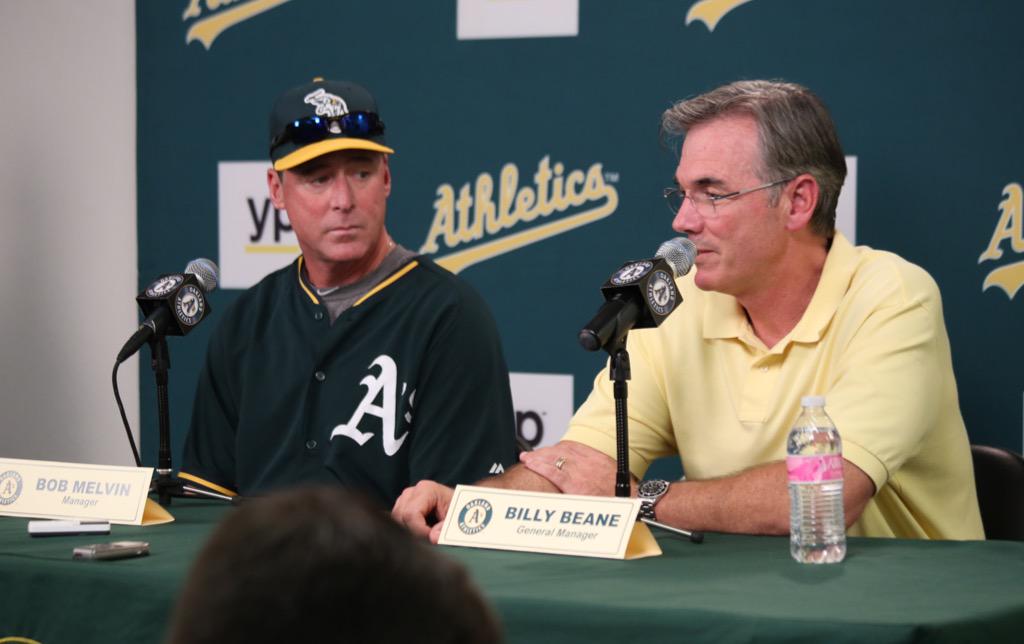 In the late 1990s and early 2000s, the Oakland Athletics earned critical acclaim and notoriety for fielding competitive baseball teams in spite of their noncompetitive payrolls. The success with the deck stacked against them made Billy Beane the poster boy of the baseball analytics movement and Michael Lewis' 2003 book Moneyball: The Art of Winning an Unfair Game spawned a genre of outside-the-box-front-office-strategy books from Jonah Keri's The Extra 2% about the Tampa Bay Rays, to Molly Knight's The Best Team Money Can Buy about the Los Angeles Dodgers, to Travis Sawchik's Big Data Baseball about the Pittsburgh Pirates, to Steve Kettmann's Baseball Maverick about Beane's mentor Sandy Alderson and the job he rebuilding the New York Mets into a contender. Fast-forward to 2016, and the A's still have not reached the World Series since 1990, yet they still have the reputation of baseball intellect that has carried them through the lean years as The Ringer's Claire McNear so aptly pointed out earlier this week.
The landscape of Major League Baseball has changed since 2002, with revenue sharing and even a change in ownership in Oakland, yet the A's are still content to act poor to show the world how smart they are. They found themselves as sellers at the trade deadline for the second straight year, which to be fair, is something big budget teams like the Red Sox are more than capable of doing as well, and there are more than a couple of former Oakland A's making meaningful contributions to contenders in 2016. A popular move in the Billy Beane playbook has been to trade away a star player for prospects before he has to pay them like a star. Josh Donaldson being dealt to the Toronto Blue Jays the winter before his 2015 American League MVP season was just the most recent in a long line of stars Oakland fans got attached to even though they knew they should not have. In 2014, they traded Yoenis Cespedes to the Red Sox at the deadline for Jon Lester, who was set to become a free agent at the end of the season. Before them, it was Mark Mulder, Tim Hudson, Barry Zito, Nick Swisher, Johnny Damon and Jason Giambi. In Oakland, there will always be good players, but the front office does not want to invest enough in them for fans to justify investing in that specific star's jersey.
In my opinion, the Lester/Cespedes Trade was the one the A's missed on the most, even more than the Donaldson Trade. As a Red Sox fan, it's not like I'm over the moon about the way that whole situation played out (The Sox had low-balled Lester in contract extension negotiations after he had led them to the 2013 World Series, then traded him and John Lackey away at the deadline with no immediate solution to replace them. They ended up flipping Cespedes that winter to Detroit for Rick Porcello, and while Porcello has been Boston's most consistent pitcher this year, he's no Jon Lester.), the A's gutted the heart of their lineup during a pennant race for a pitcher they were not going to be able to re-sign. Had they stood pat with Cespedes, their rotation was already pretty good with Sonny Gray, Jeff Samardzija, and Scott Kazmir. Maybe they aren't playing in the play-in Wild Card game against Kansas City, and their postseason doesn't end after one game. The failure of the 2014 Jon Lester Era A's ultimately led to Beane blowing up the team with the Donaldson Trade. Sure, Toronto gave up a fan favorite in the form of Brett Lawrie, but like everyone else, Lawrie did not stick in Oakland, while Donaldson has thrived with the Blue Jays. Not only was he the 2015 American League MVP, but he helped end a playoff drought that had been going on since the Jays won the 1993 World Series. If the result of the Lester/Cespedes Trade was a wash, the Donaldson/Lawrie Trade was a clear win for Toronto.
There is something to be said about being on the cutting edge of your industry. There are different metrics to measure success. Is it better to be more popular, or be recognized for doing what you do smarter? Jay Leno consistently had higher ratings, but David Letterman made a bigger cultural impact. Billy Beane and the Oakland A's fancy themselves as Letterman, if Letterman was doing his show in his mom's basement on a cable access channel like Wayne Campbell, when the reality is he's on CBS. Other small market teams have broken through and won the World Series, with the 2015 Kansas City Royals being the most recent example. Other executives have applied analytical practices and won at a high level, perhaps most notably Theo Epstein with the Red Sox and Cubs, and yet a common perception that analytics are synonymous with Beane and the Athletics still persists. Billy Beane does not have a monopoly on smart ideas in baseball, and his teams have not even won an American League Pennant, but he's the one who gets to be played by Brad Pitt in an Oscar-nominated movie. How is that fair?
I subscribe to the idea of critically acclaimed teams. When people look back at the champions in any sport fifty years from now, that will not tell the whole story. The Steve Nash Era Phoenix Suns, for example, never won a title, or even made the NBA Finals, but they were a fun and exciting foil to the Lakers and Spurs of the mid-2000s, and paved the way for a team like the Golden State Warriors of the last two years to exist and thrive. They never won themselves, but they were a game changer. The A's of the early 2000s were a game changer, but they're still clinging onto an identity that made them innovative over a decade ago, but now they're just another team that hasn't won anything while others have.
No baseball fan sheds a tear for Brian Cashman, the GM of the New York Yankees who inherited a team that already had the infrastructure of Joe Torre, Derek Jeter, Andy Pettite, Mariano Rivera, Jorge Posada, and Bernie Williams when he got the job in 1998, and kept that train rolling for a solid fifteen years with the benefit of one of the most free-spending ownership groups in all of baseball. Cashman's Yankees were sellers at the deadline for the first time in his tenure, and while it was very strange, he will not get the amount of credit he deserves for the haul he got back for the players he traded away, and the praise for inevitably turning the Yankees around will be muted compared to other teams. On the other side of that coin, nobody should shed a tear for Billy Beane and his predicament in Oakland at this point. He doesn't have the spending power of the Yankees or the Red Sox or the Dodgers, but he likes the position he's in. If he wins, he's a genius. If he loses, he's a genius in a really tough situation. He cannot lose. It's good to be smart, but it's better to win, and if I were a fan of the A's, I'd be tired of the Moneyball routine by now. It never ends, does it?
It's amazing how quickly a team that has fallen out of favor with its loyal fans can win them over again by winning. What's even more amazing, however, is how quickly a championship team like the 2013 Boston Red Sox can fade away again. This time a year ago, it looked like the beginning of a new era in Red Sox baseball where they would be contenders year in and year out again, like they were from 2003 to 2009. David Ortiz was the only mainstay from the 2004 team, but Dustin Pedroia and Jon Lester would be the leaders of Boston's next World Series run. This time a year ago, Jon Lester wanted to stay in Boston. This time a year ago, nobody wanted him to leave. Now, Jon Lester is a member of the Chicago Cubs, and the Red Sox front office has only themselves to blame, if they even wanted him back.
The Red Sox are run by very smart people. I'm convinced of that, even when I don't like the decisions they make. You can win a World Series by accident, I suppose, but not three in a ten year span. They know what they're doing, but sometimes it seems like they buy into their own reputations a little too much. They approached Jon Lester's contract extension negotiations like the Boston Red Sox were the ones who taught him how to throw a baseball and gave him his natural talent. They thought they could put his loyalty to the organization that drafted him to the ultimate test, and that would be enough to keep him in Boston.
In the 2014 spring training, the Red Sox offered Lester the hometown discount to end all hometown discounts: a five year, $70 million deal. Including the club option for a seventh year that the Cubs gave Lester a few days ago, that's $100 million less than he got on the open market. Lester's camp was insulted by the offer and did not want to negotiate with the Sox again until after the season.Along the way, Lester had a career year and put himself right up there with Detroit's Max Scherzer at the top of the list of soon to be free agent pitchers (For the record, I'd rather have Lester than Scherzer. Lester has been a top of the rotation pitcher longer, is left handed, and was not represented by Scott Boras). With the 2014 regular season all but a lost cause by the end of July, the Red Sox traded Lester (along with Jonny Gomes) to the Oakland Athletics for Cuban-born power hitting outfielder and back-to-back Home Run Derby champion Yoenis Cespedes. Any chance of getting hometown preference in the offseason went away for the Res Sox when they traded Lester to Oakland.
What is most frustrating, as a Red Sox fan, about the way the team handled Jon Lester's future in Boston was that this was absolutely the kind of player worth extending themselves to keep around. He was the the #57 overall pick in the 2002 Major League Baseball Draft, the first draft after John Henry and Tom Werner bought the storied championship-starved baseball club. Before being traded to Oakland, he was the only player in the Red Sox organization who had been with the franchise longer than David Ortiz (who was acquired in 2003). He was a three time All-Star in Boston, who managed to take his game to an even higher level when the games mattered most, despite almost always going up against the other team's ace. He was the best homegrown pitching talent the Red Sox had developed since some guy named Roger Clemens. He has no history of baseball related injuries that could lead to a decline in his early thirties. The Red Sox took a pitcher who was drafted and developed in Boston, who won two World Series titles in Boston, who beat cancer early in his career in Boston, who would have been an ideal leader and example for Anthony Ranaudo and Henry Owens in Boston, and approached his contract extension like he was some 35 year old reliever with a history of breaking down. It was insulting to Lester, and a slap in the face to Red Sox Nation, who was just starting to feel good about the team again (winning the World Series certainly as that effect) after Fried Chicken and Beer, and the Bobby Valentine season.
I was stunned that the Red Sox were able to acquire Cespedes from Oakland at the trade deadline, and I wrote more than one article in reaction to it (also, before I forget, here is my plea to the Red Sox front office to not trade Lester and to pay him what he's worth from last summer). Nobody trades their cleanup hitter in the middle of a pennant race, especially when you already have three quality starters like the A's did (Sonny Gray, Jeff Samardzija, and Scott Kazmir), especially not someone as smart as Brad Pitt's character from that Aaron Sorkin baseball movie. Billy Beane's bod plan backfired and the A's lost the AL West to the Los Angeles Angels of Anaheim (Seriously, when are we going to go back to calling them just the "Anaheim" or "California" Angels again? This is ridiculous!), even though Lester did his job every fifth day, and the Oakland bullpen blew the lead from Lester's solid Wild Card Game start, inadvertently kicking off the incredible playoff run for the Kansas City Royals that will one day make a much better baseball movie than Moneyball. Cespedes impressed Red Sox fans in his short time in Boston. He hits the ball with real power (something the Red Sox have never been able to develop through their own farm system), and he has a cannon for an arm (something we've come to appreciate after years of seeing Johnny Damon and Jacoby Ellsbury struggle to get the ball to the cutoff man at second base from center field), but if anyone was naiive enough to get attached to Cespedes, they were doubly disappointed by the Red Sox this week.
Red Sox fans haven't been blaming Lester. In fact, many of us were worried that the Sox would try to smear him after he signed with Chicago, and decided to get out in front of it with a Twitter campaign. #SmearCampaign was a rousing success, and if you're looking for a few laughs from this bummer of a situation, you should check it out (also two of my Tweets made it into this Yahoo Sports article).
The day after Lester signed with the Cubs, the Sox traded Cespedes to Detroit for starting pitcher Rick Porcello. Ultimately, the Red Sox traded Jon Lester for Rick Porcello, even if they were two separate trades a few months apart. The Red Sox also traded pitching prospects Alan Webster and Rubby De La Rosa to the Arizona Diamondbacks for 28 year old left-hander Wade Miley, and signed former Red Sox prospect Justin Masterson (traded to the Cleveland Indians in 2009 for Victor Martinez) to a one year deal after splitting time in 2014 between Cleveland and the St. Louis Cardinals. Right now, the Red Sox appear headed into the season with Clay Buchholz as the ace of the pitching staff… yes, that Clay Buchholz. The guy who makes J.D. Drew look like Cal Ripken Jr. is the best starter we have. The good news is that Porcello has a chance to take a big step forward this season (and I think/hope he will). Porcello has been in the Majors since 2009, but will turn 26 later this month. He was the fourth best starter in a rotation that had the 2011, 2012, and 2013 American Leaue Cy Young Award winners (Justin Verlander, David Price, and Scherzer), and he's in a contract year. If Porcello becomes the pitcher I think he can be, and the Red Sox lock him up, then the Lester deal will not seem so bad. For now, though, it still hurts that an organization so smart can be so stupid with a pitcher any baseball fan could tell you was a perfect fit for them.
Lester is in a pretty good situation now in Chicago, reunited with Theo Epstein, who was the GM of the Red Sox when they drafted him, and they have a chance to make history. The downtrodden Cubs last won the World Series in 1908, and Lester and Theo have a chance to end more than a century of futility. More than anything, I'm thankful that this well done Photoshop job didn't end up coming true. I guess it could always be worse.