A year ago, the Oklahoma City Thunder were reeling from the loss of Kevin Durant. Russell Westbrook turned his feelings of anger and betrayal into an MVP season, and the Thunder won 48 games without KD. As great was Russ was in his revenge tour, the Thunder were only good enough for a first round exit at the hands of the Houston Rockets when the playoffs started, and the narrative quickly shifted, to "will Westbrook leave, too?" After trades for Paul George and Carmelo Anthony this summer, that is no longer a question.
This week, Westbrook signed a five year, $205 million contract extension to stay in Oklahoma City through 2023. There is still no guarantee the Thunder will be able to keep George or Anthony in the long run, but their presence in the short run proved to Westbrook that the franchise is committed to competing, and that was enough to keep him around. I have been critical of Thunder general manager Sam Presti in the past, but what he did this summer was very impressive, and is changing the way I think about his handling of James Harden and Kevin Durant.
One of the major critical sticking points of Presti's tenure was trading James Harden to the Houston Rockets when they did. The Thunder were a young and exciting team coming off a trip to the 2012 NBA Finals. They lost to the LeBron James-Dwyane Wade-Chris Bosh Miami Heat, but showed themselves to be a team on the rise that could potentially dominate the rest of the decade. Then Presti traded Harden to the Rockets.
In Houston, Harden became a starter, a franchise player, and a perennial MVP candidate on par with KD and Russ. Meanwhile in OKC, the combination of bad injury luck, the rise of the Golden State Warriors, and the resurgence of the San Antonio Spurs kept the Thunder out of the Finals in the years that followed. Right before Durant's free agency, the Thunder blew a 3-1 series lead in the Western Conference Finals, paving the way for KD's exit. Fans and media personalities alike were right to question if the Thunder had done enough to keep KD. They could have been more aggressive in improving the roster post-Harden Trade, and a small market like Oklahoma City needed to be the best possible basketball situation if they wanted to keep their stars. This time around, Presti threw caution to the wind, learning from his earlier mistakes.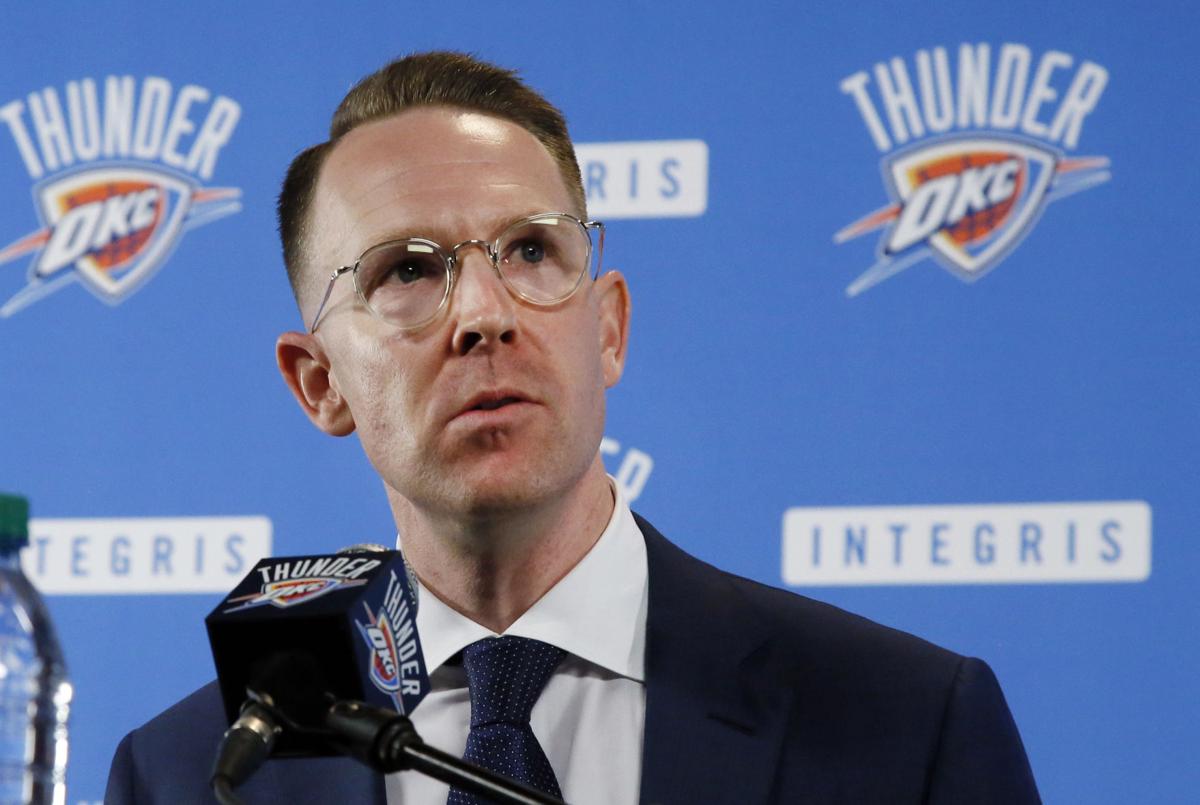 One one hand, I want to categorize this summer as Presti learning from the mistakes made with Harden and Durant, but it might not be that simple. Perhaps–and I have no inside information to back this up–Presti didn't extend himself too far with Durant because Durant was the one more likely to leave. Perhaps Presti knew that Durant and Westbrook, two incredible talents who are wired very differently as people, were not compatible, and keeping them together for the duration of their careers was not a sustainable venture.
Perhaps Presti knew Westbrook–the maniacal cyborg programmed to play every possession like his life depended on it–was programmed for loyalty as well. The Boston Celtics may have reminded us this summer when they traded Isaiah Thomas that loyalty in sports is merely a public relations tool designed to sell jerseys, and that we should not hold a lack of loyalty against players who leave in free agency because teams can just as easily flip a loyal star for a younger, shinier model, but maybe Westbrook is different. Why wouldn't Westbrook be different? He is already a very different kind of player from anyone else in the NBA, so the idea that he wants to live and play in Oklahoma City for his entire career might not be all that far-fetched. This is a guy who waited until Durant's birthday to sign the extension, so the themes of betrayal, loyalty, and revenge appear to be at the front of Westbrook's thoughts on and off the court.
Perhaps Presti was not convinced enough of Durant staying that he was not about to go all in when he was there. Sure, it looked bad at first. Sure, Durant went to the conference rival Warriors, won a title in his first year, and they look poised to dominate the NBA for years to come, but perhaps Presti did not lose sleep over Durant because he had a better idea about Westbrook's intentions.
Thinking back to the summer of 2015, when the Portland Trail Blazers lost LaMarcus Aldridge, I thought it was a can't miss signing for the Spurs, and a bad loss for a Portland team that fell apart due to injury and never got it together. It was a lesser example of a situation similar to Durant leaving OKC–Aldridge was inferior to Durant, the Spurs team Aldridge joined was inferior to the Warriors team Durant joined, and the Blazers team Aldridge left accomplished less than the Thunder team Durant left–but the Blazers did not fall as far as anyone thought when they lost Aldridge. In fact, in rebuilding on the fly around Damian Lillard, the Blazers were better in 2016 than they were in 2015. It also helped that even though the Spurs were still a very good team, Aldridge has been mostly disappointing since leaving Portland. Presti deserves credit for building around Russ, regardless of what happened with Durant.
Going forward, the Thunder not only have a good team for 2017-18, they have a star player committed to the franchise who can be used to recruit more stars to OKC if George and Melo move on. The NBA is a star's league, and it takes stars to get more stars. The Thunder have recovered better from losing Durant in a much better way than I thought they would or could.
With the Heat and Spurs moving on for their Finals rematch, the Indiana Pacers and Oklahoma City Thunder are going home disappointed once again. Both teams had high hopes for the year, but fell short. I expect there to be changes made in both franchises, since neither team is in a market that can really compete with New York or Los Angeles or Chicago. Both teams are close, but neither team can afford to stand pat this summer.
The Indiana Pacers went into the season talking about the need for the home court advantage in an inevitable playoff rematch with the Miami Heat. They exploded out the gate and earned that advantage, with the best regular season record in the Eastern Conference, despite struggling the last couple months of the season, but were nearly eliminated by the lowly Atlanta Hawks in the first round. After taking seven games to dispose of Atlanta, the Pacers had their hands full with the young and fearless Washington Wizards. Indiana made it past Washington, but there was no reason to be confident in the team heading into their showdown with Miami. They were in the Eastern Conference Finals, but it didn't feel like this team belonged there. Miami disposed of the Pacers in six games, one game less than it took last year.
The Pacers have a good collection of talent, but it hasn't translated into being a great team in the playoffs yet. It's unclear who the leader of the team is and who the star is. There is a lot to like about Roy Hibbert, David West, George Hill, and Paul George, and I'm not ready to give up on Lance Stephenson just yet, despite his antics, but there is no one on that roster comparable to a LeBron or a Durant or a Garnett or a Pierce or a Duncan or a Nowitzki that history shows you need win a championship in the NBA (the Detroit Pistons team headlined by Chauncey Billups and Ben Wallace, two very good players who belong in the Hall of Fame but are not quite on that level is the exception to that rule). The Pacers have already announced that head coach Frank Vogel is keeping his job, but that is far from the only tough decision that Pacers team president Larry Bird will have to make this summer.
Basketball is to Indiana what football is to Texas and hockey is to Canada, but the passion and appreciation for the game at the high school and college levels has yet to translate to championship glory in the NBA. Larry Bird is perhaps an even more revered figure in his home state of Indiana than for his playing days at Indiana State than he is in Massachusetts for his legendary NBA career with the Boston Celtics, but if he can succeed in leading the Pacers to a championship, he might get elected governor on a write-in campaign without even trying. Larry has his work cut out for him.
The Oklahoma City Thunder, on the other hand, have the elite talent already. Kevin Durant and Russell Westbrook are among the best players in the NBA, with Durant winning the MVP for the first time in his career a couple of weeks ago. While they are both very good players, as long as they do not win a championship, questions will be asked about their compatibility. Perhaps OKC could benefit from a shakeup. Perhaps Durant can better maximize his potential with a more pure, pass-first point guard rather than the high-scoring Westbrook. Perhaps Rajon Rondo would be the perfect guy to dish the ball to Durant, and perhaps Rondo would love the idea of reuniting with his old buddy Kendrick Perkins in OKC. Perhaps a trade between the Thunder and Boston Celtics that would bring Rondo and Durant together and make Westbrook the centerpiece of the next great Celtics team is the best thing for all parties involved. Is it wishful thinking as a Celtics fan? Absolutely, but stranger things have happened. The more I think about it, the more I would love for it to happen.
Neither the Pacers nor the Thunder had what it took to reach the Finals in a season dominated by the two remaining teams from a year ago, and while both teams were close last year, they can't afford to hold steady for another one. Time waits for no team, and these opportunities don't just grow on trees. Just ask the Utah Jazz of the late 1990s or the New Jersey Nets of the early 2000s. Those were really good teams that came away from it without championship banners when they were playing their best basketball. John Stockton and Karl Malone top-ten players of all time at their respective positions, but are always mentioned with the qualifier of being one of the best never to win a championship. I'd hate to see that happen to these teams and these players that are so fun to watch, but it could very well happen of they don't make the right moves this summer.