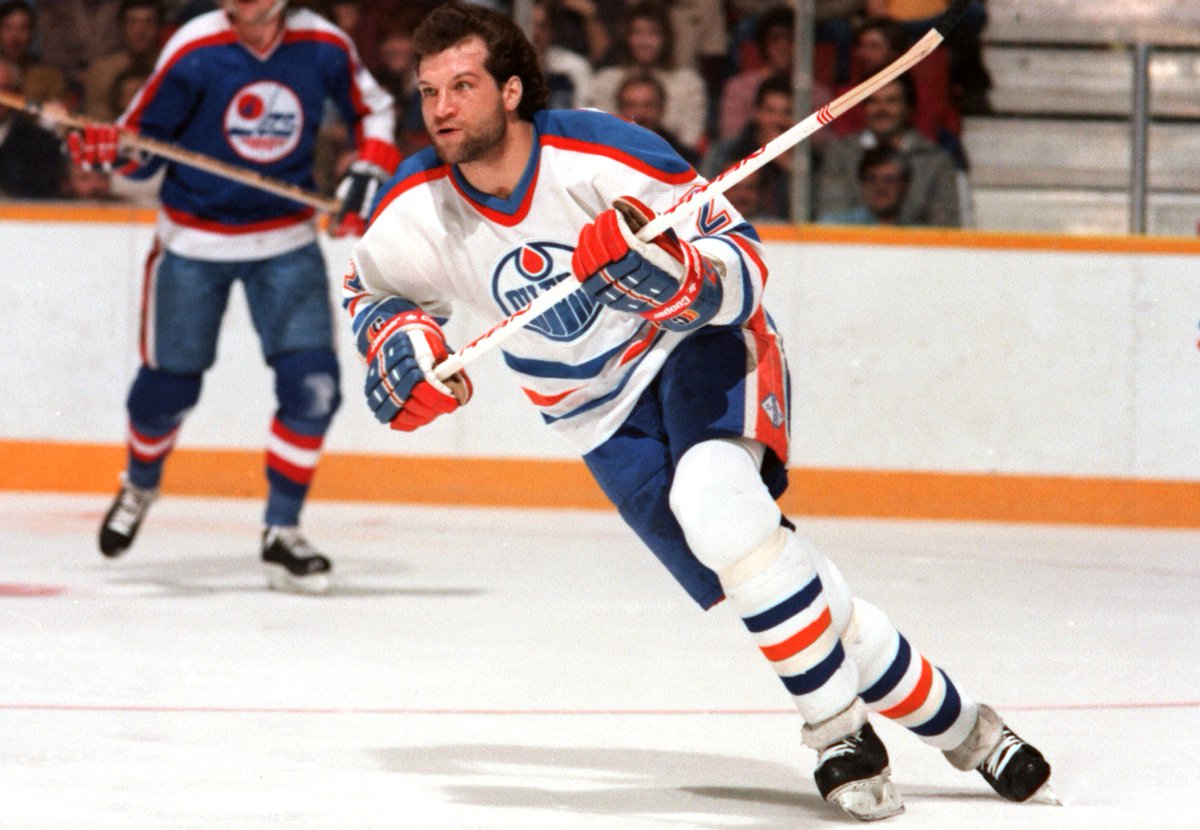 Edmonton Oilers great Dave Semenko passed away last week after a battle with pancreatic and liver cancer. Semenko was not the best player of his era, but he was one of the most memorable. He was the enforcer for the legendary Oilers teams of the 1980s, a team that was before my time but lives on forever on YouTube. He was Wayne Gretzky's bodyguard on the ice, giving The Great One the security he needed to put up offensive numbers that are unfathomable 30 years later. He was such a star as an enforcer, he even had the opportunity to get in the ring and fight Muhammad Ali for charity.
Perhaps the most touching tribute to Semenko came from Gretzky himself at Semenko's funeral. Wayne got it. He was maybe the most supremely skilled player ever to lace up skates, but the way he talks about his former teammate and dear friend shows that hockey, even at its highest level, is a blue collar sport where the tough guys are just as appreciated as the high-end finesse players. That Oilers team was loaded, and Semenko was their heart and soul.
There was a time when every team had a guy like Dave Semenko on their roster. Fighting was just part of the game, and as hard as it sometimes was to defend the tradition of fighting in hockey to non-hockey fans, I'd be lying if I said I didn't miss the importance of fighting in the game.
I believe that if hockey had been invented as a new sport in the 2010s, and the leaders of this upstart National Hockey League trying to make their new game as appealing and sustainable as possible, fighting would never in a million years make the cut. That being said, to keep going with this thought experiment, hockey as we know it would have a much better chance of being invented in 2017 than football as we know it. The pace of play and high floor of acceptable skill required for entry into the NHL plays in hockey's favor.
As long as there has been hockey there have also been great players who were also good to great fighters from Eddie Shore to Maurice Richard to Gordie Howe to Bobby Orr to Larry Robinson to Mark Messier to Scott Stevens to Cam Neely to Jarome Iginla to to mike Richards to Zdeno Chara. Even guys like Semenko or Terry O'Reilly or Shawn Thornton could probably get minutes in a post-fighting NHL. They would not be stars, and their careers would not have been as long, but in their primes, they could play well enough to make the cut even if they could not or did not fight. The players who lose out in the modern NHL are the guys who can only fight, the John Scotts of the world, or late career Shawn Thornton and George Parros.
According to Hockeyfights.com, a great website I do not check nearly as often as I used to for some reason, there were 372 total fights in 2016-17, which is up from 344 the previous season, but probably not enough to reverse the downward trend of fighting in the NHL. There were 734 in 2008-09, the highest since the 2004-05 lockout, but since the 2012-13 lockout, no season has cracked 500 fights, and the 347 fights in the abbreviated 2013 season feels like something from a different era.
Those are just numbers on a chart, but a clearer illustration came in the 2014 Stanley Cup Playoffs. My Boston Bruins won the President's Trophy that season, but had their hands full with their most hated rival, the Montreal Canadiens in the second round. Ultimately, the Bruins fell to the Habs in seven games. Montreal was the faster, more skilled team, while Boston prided itself on strength and toughness. That's the rivalry in a nutshell. One key difference in the two teams was the use of the enforcer. Boston had Shawn Thornton, and Montreal had George Parros. The two were friends, and won the Stanley Cup together as members of the Anaheim Ducks in 2007. While Parros spent the playoffs in the press box, scratched from the lineup, the Bruins played Thornton. That philosophical difference was not on its own what put the Habs ahead of the Bruins that season, but it showed how much the game had changed.
In 2011, inserting Thornton into the lineup in the Cup Final against the Vancouver Canucks after Nathan Horton got hurt gave the Bruins an edge. They pushed the Canucks around after that, and won their first Stanley Cup since 1972. Thornton alone did not put them over the top, but his presence could not be discounted. Three years later, he was a liability in the playoffs for the Bruins.
The decline of the enforcer has been talked about for years. Before Dave Semenko's passing, it was John Scott's inclusion in the All-Star Game that caused a mass-reflection on the legacy of the role in hockey. Before that it was the deaths of Derek Boogaard, Wade Belak, Bob Probert, and others. Every time, the same sentiments are expressed: fighting in hockey is hard to defend to non-hockey fans, and the role of fighting means less now than it did even five years ago, but nonetheless, without it, the game is missing something, and the guys who do that dirty work are some of the most appreciated in the dressing room as well as with the most hardcore of hockey fans.
If there were ever an opening for fighting to gain a more prominent role in the NHL again, we may have it with the addition of the Vegas Golden Knights to the league. With a 31st team, there are now more NHL playing jobs than ever before, and the talent pool is even further diluted. Teams may place a greater emphasis on protecting their most skilled players, and there may be more roster spots available for guys who can fight better than they can score. Then again, if the next couple years do not bring fighting back to where it was as recently as 2013, it might be gone for good in 20 years.
Warning: this column contains spoilers from all three seasons of the Netflix original series Bojack Horseman, though I did try my best not to give away too much, as I would like for more people to see it if they haven't already.
I love TV, and I think this is the best time in the history of the medium to be a TV viewer, but I thought I was done having a favorite show that I was obsessed with on the level that I was when I was a little younger. It's a similar kind of identity crisis I have written about with being a Red Sox fan post-2004. After a certain point in life, no new show can hold my attention and my obsession the way Community did or the way The Wire did and no late night talk show will ever be such a singular source for news satire the way The Daily Show with Jon Stewart was in 2008 and 2009. There is more TV in 2016 than there ever has been before, and shows from decades ago are more accessible than ever before, and while that is a good thing, it's also overwhelming to try and keep up with it all. When Community wrapped their sixth, Yahoo!-revived, and final season (still waiting on the movie) a few months after Parks and Recreation's series finale aired on NBC, I thought I was done having a favorite show in the traditional sense. I thought I was passed being obsessed with Easter eggs and episode-by-episode Reddit threads. Like having the Red Sox win the World Series when I was fourteen, while older New Englanders said things like "now I can die in peace" and absolutely mean it, I was ready to transition into this next phase of watching TV without getting too invested… then Bojack Horseman happened.
As I've written about before, Community was the right show at the right moment for me in 2009, as I was transferring to a new college and there was this new show starring comedy legend Chevy Chase and That British Guy From The Daily Show (this was a good five years before John Oliver was a household name). The pilot episode aired a couple weeks after John Hughes died, and coincidentally, was loaded with references to The Breakfast Club, and it resonated so well with my own sense of humor that I started to think Dan Harmon created the show just for me. It was exactly what I needed out of a network sitcom at that point in my life, and I got to see a bunch of rising stars (Oliver, Joel McHale, Alison Brie, Gillian Jacobs, Donald Glover, and Ken Jeong) rise over the seasons that followed. With Bojack, the stars were more established (Will Arnett from Arrested Development, Alison Brie from Community and Mad Men, Aaron Paul from Breaking Bad, etc.), but it was the perfect show for where I was in 2014. Netflix dropped the first season into the world the summer before I went back to college after a year and a half hiatus, and right after Robin Williams killed himself. I know television production doesn't work this way, but it almost felt like the universe knew the world would need this show in the summer of 2014 before the summer of 2014 even happened.
On the surface, Bojack Horseman is a ridiculous premise that is really hard to explain to people at parties the way my friends would talk about Breaking Bad or Orange Is the New Black or Silicon Valley. Yes, it's an animated show about a world where there are talking animals who interact with people and nobody really questions it, but that's not the point. Yes, it's too clever for it's own good, and in every scene there are going to be a few things you miss the first time around. Yes, it looks like The Simpsons and SpongeBob Squarepants merged cinematic universes, but at the same time it's more grounded than any animated show in history. At times I'm not sure it's a comedy, like when shows like M*A*S*H and Cheers would go minutes at a time without making a joke, because at the end of the day, they were shows about characters the audience cared about and that mattered more than the beats and patterns of jokes leading to a commercial break to sell the ad space that kept the show on the air. Netflix shows have the luxury of not cutting to commercial, but unlike House of Cards, Bojack does not feel like it was created in a lab, based on an algorithm to bring fans of early 90s BBC drama, David Fincher, and Kevin Spacey together in one cynical, nihilistic juggernaut.
What I thought was going to be a fun show full of animal puns and show business references, like some sort of Arthur/30 Rock hybrid, ended up being an Arthur/30 Rock hybrid that also expressed the way we as a society view celebrities, success, and happiness in a very believable and insightful way. The show is centered around Bojack Horseman, a has-been sitcom dad from the 80s and 90s (think Ray Romano or Bob Saget) who was financially successful, but was perceived as a failure for years for not being constantly on TV since his show ended. When he does achieve critical acclaim, whether for his bestselling memoir in the first season, or for his portrayal of Secretiariat in the definitive biopic of the Steve Prefontaine/Muhammad Ali/Carl Lewis type star athlete of that universe, it doesn't make him any happier. If anything, he's more depressed the more the public thinks he's great. When Robin Williams died, I wrote that while I would have loved to have the creative genius of someone like Robin, or Hunter S. Thompson, or David Foster Wallace, I would have to think twice about the personal demons that come with such greatness. Seeing Bojack struggle when the world seems to think he has it made was refreshing in the way it was portrayed.
On the other end of the spectrum, we see a foil to Bojack's misery in the form of a talking dog named Mr. Peanutbutter, voiced by the great Paul F. Tompkins. While Bojack is known for an old sitcom called Horsin' Around about a bachelor horse who adopts three human orphan children, Mr. Peanutbutter starred in a weirdly similar sitcom about a bachelor dog who adopts orphan humans called Mr. Peanutbutter's House, that was created by David Chase and Steven Bochco, and a really catchy theme song. While Bojack wallows in self pity, constantly insecure with himself and his fame, Mr. Peanutbutter is happy-go-lucky and well adjusted, and Bojack resents him for it. For the audience, whenever things get too dark for Bojack, Mr. Peanutbutter is there to lighten things up and remind us that we clicked on this animated show to be able to laugh in the first place, but his antics are not presented in a tacky way.
The show boasts a recurring voice cast that's as strong as any animated show out there. Stenley Tucci voices Herb Kazzaz, the creator of Horsin' Around and Bojack's former mentor and best friend. Stephen Colbert voices a talking frog who owns the Hollywoo talent agency that represents both Bojack and Mr. Peanutbutter. Kristen Schaal voices Sarah Lynn, Bojack's TV daughter whose career took a Miley Cyrus-like trajectory from child star to pop sensation. Keith Olbermann voices Tom Jumbo-Grumbo, the bombastic cable news anchor who happens to be a whale, in a hilariously self-deprecating, self-aware performance that fundamentally changes the way I see Keith Olbermann. Just to name a few.
My favorite episode so far came in Season Three, entitled "Fish Out of Water," when Bojack went to a film festival in an underwater city. There is almost no dialogue, and the underwater aesthetic looks very different from anything else the show has done to this point. The story of the episode is a bit of Lost in Translation meets SpongeBob Squarepants with the episode of Arthur when Arthur missed his bus stop mixed in. Without giving too much away, that episode showed all of the things that makes this show great while simultaneously being completely different from everything the show has done before or since. It's just another misadventure in the human (or horse?) experience, and we are nothing more than the things we do and the connections we make. Every day, people try, but even if they succeed, happiness is no guarantee, but you still should try.
I've only scratched the surface on my thoughts on this, weird, quirky, clever, wonderful show, and it's weird to me that even though I finished the most recent season a few weeks ago, I'm still thinking about it all the time. That's unusual for a Netflix show, and it's unusual for any show these days. I have to give credit to Raphael Bob-Waksberg for creating something like this. I didn't know this was something I wanted, and now I'm not sure where I'd be without it. Then again, what do I know? Do I know things? Let's find out.