Tagged:
LaMarcus Aldridge
A year ago, the Oklahoma City Thunder were reeling from the loss of Kevin Durant. Russell Westbrook turned his feelings of anger and betrayal into an MVP season, and the Thunder won 48 games without KD. As great was Russ was in his revenge tour, the Thunder were only good enough for a first round exit at the hands of the Houston Rockets when the playoffs started, and the narrative quickly shifted, to "will Westbrook leave, too?" After trades for Paul George and Carmelo Anthony this summer, that is no longer a question.
This week, Westbrook signed a five year, $205 million contract extension to stay in Oklahoma City through 2023. There is still no guarantee the Thunder will be able to keep George or Anthony in the long run, but their presence in the short run proved to Westbrook that the franchise is committed to competing, and that was enough to keep him around. I have been critical of Thunder general manager Sam Presti in the past, but what he did this summer was very impressive, and is changing the way I think about his handling of James Harden and Kevin Durant.
One of the major critical sticking points of Presti's tenure was trading James Harden to the Houston Rockets when they did. The Thunder were a young and exciting team coming off a trip to the 2012 NBA Finals. They lost to the LeBron James-Dwyane Wade-Chris Bosh Miami Heat, but showed themselves to be a team on the rise that could potentially dominate the rest of the decade. Then Presti traded Harden to the Rockets.
In Houston, Harden became a starter, a franchise player, and a perennial MVP candidate on par with KD and Russ. Meanwhile in OKC, the combination of bad injury luck, the rise of the Golden State Warriors, and the resurgence of the San Antonio Spurs kept the Thunder out of the Finals in the years that followed. Right before Durant's free agency, the Thunder blew a 3-1 series lead in the Western Conference Finals, paving the way for KD's exit. Fans and media personalities alike were right to question if the Thunder had done enough to keep KD. They could have been more aggressive in improving the roster post-Harden Trade, and a small market like Oklahoma City needed to be the best possible basketball situation if they wanted to keep their stars. This time around, Presti threw caution to the wind, learning from his earlier mistakes.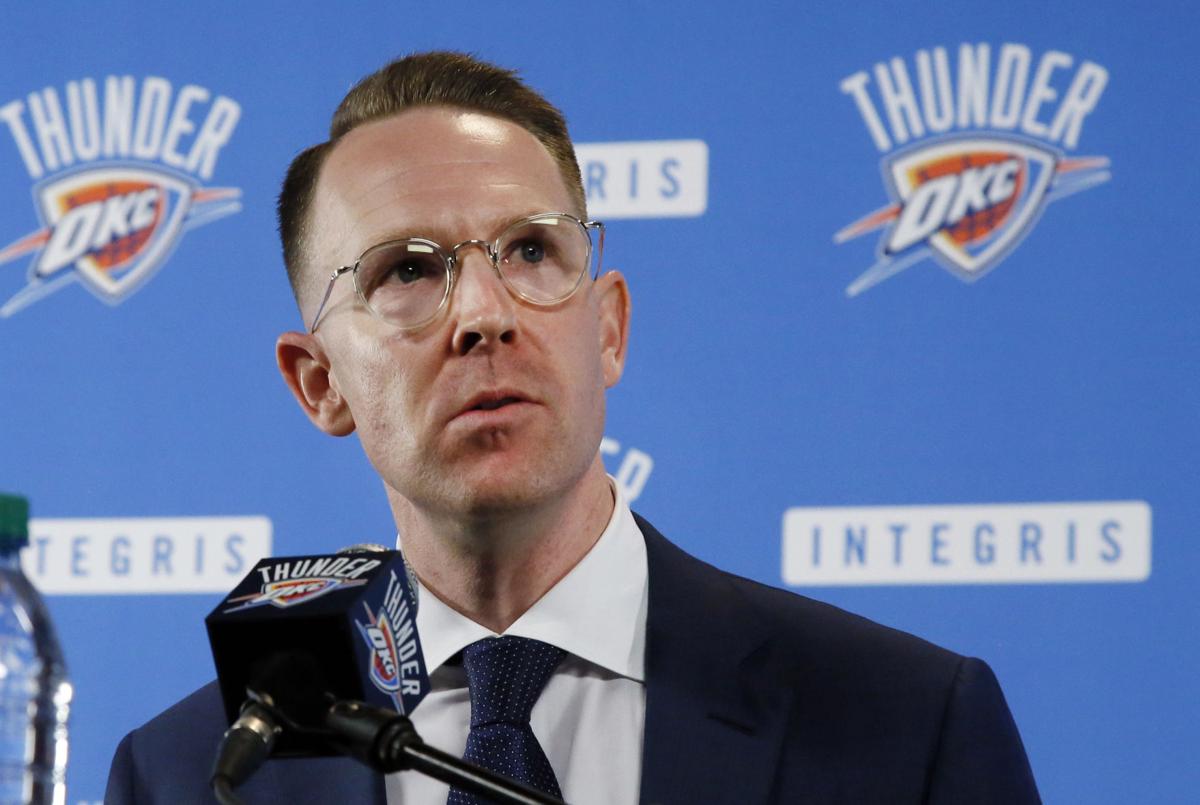 One one hand, I want to categorize this summer as Presti learning from the mistakes made with Harden and Durant, but it might not be that simple. Perhaps–and I have no inside information to back this up–Presti didn't extend himself too far with Durant because Durant was the one more likely to leave. Perhaps Presti knew that Durant and Westbrook, two incredible talents who are wired very differently as people, were not compatible, and keeping them together for the duration of their careers was not a sustainable venture.
Perhaps Presti knew Westbrook–the maniacal cyborg programmed to play every possession like his life depended on it–was programmed for loyalty as well. The Boston Celtics may have reminded us this summer when they traded Isaiah Thomas that loyalty in sports is merely a public relations tool designed to sell jerseys, and that we should not hold a lack of loyalty against players who leave in free agency because teams can just as easily flip a loyal star for a younger, shinier model, but maybe Westbrook is different. Why wouldn't Westbrook be different? He is already a very different kind of player from anyone else in the NBA, so the idea that he wants to live and play in Oklahoma City for his entire career might not be all that far-fetched. This is a guy who waited until Durant's birthday to sign the extension, so the themes of betrayal, loyalty, and revenge appear to be at the front of Westbrook's thoughts on and off the court.
Perhaps Presti was not convinced enough of Durant staying that he was not about to go all in when he was there. Sure, it looked bad at first. Sure, Durant went to the conference rival Warriors, won a title in his first year, and they look poised to dominate the NBA for years to come, but perhaps Presti did not lose sleep over Durant because he had a better idea about Westbrook's intentions.
Thinking back to the summer of 2015, when the Portland Trail Blazers lost LaMarcus Aldridge, I thought it was a can't miss signing for the Spurs, and a bad loss for a Portland team that fell apart due to injury and never got it together. It was a lesser example of a situation similar to Durant leaving OKC–Aldridge was inferior to Durant, the Spurs team Aldridge joined was inferior to the Warriors team Durant joined, and the Blazers team Aldridge left accomplished less than the Thunder team Durant left–but the Blazers did not fall as far as anyone thought when they lost Aldridge. In fact, in rebuilding on the fly around Damian Lillard, the Blazers were better in 2016 than they were in 2015. It also helped that even though the Spurs were still a very good team, Aldridge has been mostly disappointing since leaving Portland. Presti deserves credit for building around Russ, regardless of what happened with Durant.
Going forward, the Thunder not only have a good team for 2017-18, they have a star player committed to the franchise who can be used to recruit more stars to OKC if George and Melo move on. The NBA is a star's league, and it takes stars to get more stars. The Thunder have recovered better from losing Durant in a much better way than I thought they would or could.
With free agent forward LaMarcus Aldridge agreeing to a four year, $80 million contract with the San Antonio Spurs after playing the first nine years of his NBA career with the Portland Trail Blazers, the biggest question of the summer in the NBA has been answered. Historically, the Spurs have not been the biggest players in this month of the NBA calendar, but this year, they hit a home run where the Lakers, Knicks, Bulls, and Heat struck out.
The Spurs are still the best. Generally speaking, if the Spurs do it, it's probably the right move. Even in a year when they didn't make it out of the first round of the playoffs, they're winners, with former Popovich assistant Mike Budenholzer won the Coach of the Year Award as head coach of the Atlanta Hawks and former Spurs player Steve Kerr led the Golden State Warriors to their first NBA Title in 40 years. They haven't missed the playoffs since drafting Tim Duncan in 1997, and by adding Aldridge, their future looks as bright as ever with Duncan heading into his 19th NBA season.
I love that Aldridge apparently met with the Los Angeles Lakers, the Lakers thought they nailed their pitch to LMA, while Aldridge left the meeting no longer interested on the Lakers. Aldridge isn't interested in the showbiz aspect LA has to offer. He's not interested in being anyone's co-pilot or getting tripped by a billionaire TV writer sitting courtside. He wants to win, and if going home to Texas wasn't enough incentive, getting to play for the best coach in basketball (and one of the five best of all time), helping to put the Spurs over the top in their quest for a sixth championship, and being the eventual replacement for Duncan certainly was. I love everything about this move. The Spurs have never been big players in free agency because they haven't needed to be.They drafted David Robinson with the #1 overall pick in 1988 (despite the fact that he wouldn't be able to play for at least two years to fulfill his military service requirement) and Duncan with the #1 overall pick in 1997. They have been the masters of finding great value late in the first round (or the second round, in the case of Manu Ginobili, who was taken with the #57 overall pick in 1999), and Popovich and R.C. Buford have been great at finding key role players through trades.This year's two top free agents (excluding LeBron James and Dwayne Wade, who opted out of their contracts, but are in all likelihood staying with their respective teams, but leveraging as much money as they can as the salary cap goes up), Aldridge and Marc Gasol (all signs point to Gasol staying in Memphis, and if he moves, that will be the biggest shock of the summer) are both star players that would make great Spurs. They are versatile, unselfish, ringless, experienced, and hungry. It has never been a better time for San Antonio to dabble in the free agency game.
Duncan turned 39 in April, and Ginobili will turn 38 later this month. The window is closing for those guys, but the outlook for the Spurs is as strong as ever with Aldridge, Danny Green, and Kawhi Leonard, who just turned 24 and already has a Finals MVP on his mantle at home. The key to Red Auerbach's Celtics was always finding the next guys. Havlicek came after Cousy, Cowens came after Russell, and there was one year that Bird and Cowens spent together before Cowens retired and Robert Parish and Kevin McHale showed up. The other recent dominant teams in the NBA, the Chicago Bulls and LA Lakers, blew things up before they got better. The Bulls especially, by letting Scottie Pippin walk in free agency and pushing Phil Jackson out, it made Michael Jordan's decision to retire that much easier. San Antonio didn't let that happen. Duncan and Ginobili aren't even gone yet (although Manu hasn't officially committed to next season yet), and they're already building for the future while competing in the moment. It's not easy to pull off, but it looks like it has.
Portland dies of dysentery. As exciting as LMA joining forces with Duncan and Coach Pop is, this summer is devastating for Blazers fans. They signed point guard Damian Lillard to a contract extension, but their other four starters, Aldridge (signed with San Antonio), Wesley Matthews (signed with the Dallas Mavericks), Robin Lopez (signed with the New York Knicks), and Nicolas Batum (traded to the Charlotte Hornets), are gone. It was fun while it lasted. This team looked like a legit championship contender six months ago, and has now been dismantled. The injury to Wesley Matthews might go down as one of the biggest "what ifs" in the history of sports. They were holding their own in a tough Western Conference, but one injury to a starter showed the world just how fragile ecosystem of their rotation really was. A year ago, it felt like a long shot to for Aldridge to leave Portland, but the way things fell apart showed him and his teammates just how far off they really were. They have some rebuilding to do, but they're not the only ones in the NBA in that boat right now.
Right now, the San Antonio Spurs are the model franchise in North American professional sports. The New England Patriots are defending Super Bowl Champions, but are in the midst of a phony controversy in their joke of a league.My Patriots fan bias is outweighed by the incompetence of the NFL's commissioner, and they're not on the level of the Spurs. Neither are the Lakers. Neither are the Canadiens. Neither are the Red Wings. Neither are the Yankees. Neither are the St. Louis Cardinals, who find themselves being investigated by the FBI. The San Francisco Giants and Chicago Blackhawks have emerged as dynasties in their respective sports after ending championship droughts in 2010, but neither has done it for as long as the Spurs have. Tim Duncan, Manu Ginobili, Tony Parker, and Coach Pop have accomplished something truly special, as the greatest team in the post-Jordan NBA, and with the signing of Aldridge this summer, there is no reason why it should end any time soon.
Edit: I wrote this post before David West also agreed to join the Spurs. Another good veteran player who wants to win, and based on reputation, is a great fit in San Antonio. The Spurs are the best, but we already knew that.
It was fun while it lasted, but it was really sad to see how the 2014-15 season unfolded for the Portland Trail Blazers. Almost overnight, they transformed into a title contender after years of mediocrity, but their fall back to earth was as fast as their rise. A year removed from Damian Lillard's Game 6 buzzer-beater against the Houston Rockets, their season ended in the form of a five game rout at the hands of the Memphis Grizzlies, and the path ahead for the Blazers appears to be as clear as mud.
Maybe we overrated them. Maybe they were never as good as we thought. I wanted to see Portland become a powerhouse, and after their appearance on Portlandia (Blazers owner Paul Allen and general manager Neil Olshey were also featured in sketches from that episode), they were the suddenly coolest team in the NBA outside of the work of art that is the San Antonio Spurs. They had a lot of great personalities from the fearless little point guard that could in Lillard, to the perennially underrated veteran superstar LaMarcus Aldridge (Seriously, this guy hasn't been talked about enough until recently in the discussion for best forwards in the NBA. It is tough that he plays in the same era as LeBron James, Tim Duincan, Dirk Nowitzki, Kevin Durant, Blake Griffin, and Anthony Davis.), to Robin Lopez, who looks like Brooklyn Nets center Brook Lopez' evil twin because he his(I don't know that he's literally evil, but the fact that he let his hair go all Sideshow Bob on us while Brook kept his tight makes me suspicious), to tough guy Wesley Matthews. Also, they have great fans. One thing the NBA has really gotten right over the years has been putting teams in cities that are that don't have a major league team in football, hockey, or baseball, which breeds a rabid fanbase like you see at the collegiate level or like the following hockey has in Canada. Portland is one of those cities just like San Antonio, Oklahoma City (sorry, Seattle), Memphis, Salt Lake City, and Sacramento, and Blazers fans, along with Portlandia has made me want to live there at some point. At the trade deadline, the Trail Blazers added shooting guard Arron Afflalo from the Denver Nuggets, a former UCLA standout so good that Kendrick Lamar he's mentioned and praised in a Kendrick Lamar song, and they appeared poised for a deep playoff run. Then Matthews got hurt.
The injury to Wesley Matthews exposed just how vulnerable any NBA team is to collapse. The Blazers were a tight knit roster, artfully constructed with players in their prime (aside from Lillard, who still has a high ceiling, but his defensive shortcomings currently hold the 24 year old back from true super-stardom. They have an experienced coach in Terry Stotts, who won a championship as an assistant under Rick Carlisle in Dallas, and who has implemented a great offense in Portland. All of that is great, but the injury to Matthews, one of those hard working Marquette basketball players like Jae Crowder or Kenneth Faried, was a huge loss. Matthews was the tough guy that helped the skill guys shine, like what David West does for Indiana or Draymond Green does for Golden State.
The 2015 Trail Blazer are hardly the first championship contender to have a season and possibly a legacy derailed by injuries, and they certainly won't be the last. My Celtics won a title in 2008 (the only one of their 17 that happened in my lifetime), had an even hotter start in 2008-09 before Kevin Garnett wrecked his knee and fell in seven games to the Dwight Howard and Stan Van Gundy-led Orlando Magic in the conference semifinals, came back older and slower the following year, but made the 2010 NBA Finals anyway before a knee injury to Kendrick Perkins in Game 6 left them with no answer for Pau Gasol or Andrew Bynum. In 2011, they traded Perkins away, and had to rely on Shaq's pushing 40 year old body, which inevitably did not hold up. In 2012, it was young Avery Bradley whose injury combined with LeBron's arrival as a champion that derailed their last attempt at the illusive second title for that Celtics team. In the summer of 2012, Ray Allen signed with the Miami Heat, and the era was over. In Portland's own history, injuries to Bill Walton, and more recently Greg Oden (who was drafted #1 overall, ahead of Kevin Durant in 2007) and Brandon Roy (drafted #6 overall in 2006, the same year the Trail Blazers also picked LaMarcus Aldridge at #2) have left fans and pundits alike wondering what might have been. I'm sure Blazers fans would love for a run like what the Celtics enjoyed, or even one like the Oklahoma City Thunder, who are in danger of losing Kevin Durant and Russell Westbrook to free agency, injury, or both, have had, but their window with this roster appears to be even smaller than it was even a couple of months ago. It's amazing and frightening how quickly things can change.
The dark cloud looming over Portland's summer is the impending free agency of LaMarcus Aldridge. LMA has the feel of a franchise superstar, and before a couple months ago, he was a consensus favorite to play in Portland for the rest of his career and retire as a Blazer.This is a franchise that has had a lot of talented players go through the organization, but few, if any stayed there forever, much like the Atlanta Braves. Even Hall of Famers Bill Walton (who was the MVP of the 1977 NBA Finals, Portland's only championship) and Clyde Drexler (who helped bring Portland to the NBA Finals before losing to some guy named Michael Jordan and the Chicago Bulls) eventually found greener championship pastures in Boston and Houston. People had hoped that Aldridge would be the Trail Blazers' Chipper Jones in that regard, but the way this season ended makes it a lot harder for Portland to bring him back. Greg Maddux, Tom Glavine, John Smoltz, and even Hank Aaron played for other teams, but Chipper was only ever a Brave. Bill Simmons wrote in one of his recent mailbag columns that Aldridge could stay in Portland out of loyalty, but as he enters his second decade in the NBA, it likely wouldn't be the best basketball decision for a good to very good player who needs a ring to be remembered as a great player.
There are homecoming options for the Texas native if he signs with the Dallas Mavericks, San Antonio Spurs, or Houston Rockets. Dallas has an aging superstar in Dirk Nowitzki, and a roster in flux after the disaster that was trading for Rajon Rondo this season. They've been a consistent contender outside of their lockout-shortened 2012 championship hangover, but in the short term, they do not seem like a better basketball situation than Portland. San Antonio just lost a thrilling seven game series to the Los Angeles Clippers, after winning their fifth title in fifteen years. They have the best coach in the NBA (and the second best to build a franchise around in the history of the game after Red Auerbach, with all due respect to Phil Jackson and Pat Riley) in Gregg Popovich, they're the only game in town the way the Trail Blazers are in Portland, they have a great mix of young and veteran talent, and he has the chance to be the "next guy" when Tim Duncan eventually retires. The burden of being the next guy is not for everyone. For every Dave Cowens to follow Bill Russell, there are a dozen discouraging examples like the revolving doors at the quarterback position the Miami Dolphins and Denver Broncos experienced after Dan Marino and John Elway retired. That's why the Houston Rockets, who have not won a title since the mid 90s with a completely different roster, and are still looking for a third All-Star caliber player to go with Dwight Howard and James Harden, might be the best place for Aldridge to land. There are also young teams in the East like Boston and Orlando that LMA could make into something exciting.
The future is murky, but it is hard to believe the Trail Blazers will be better next year than they were the last two. We will see, but there isn't much to feel good about in Portland right now if you're a basketball fan.