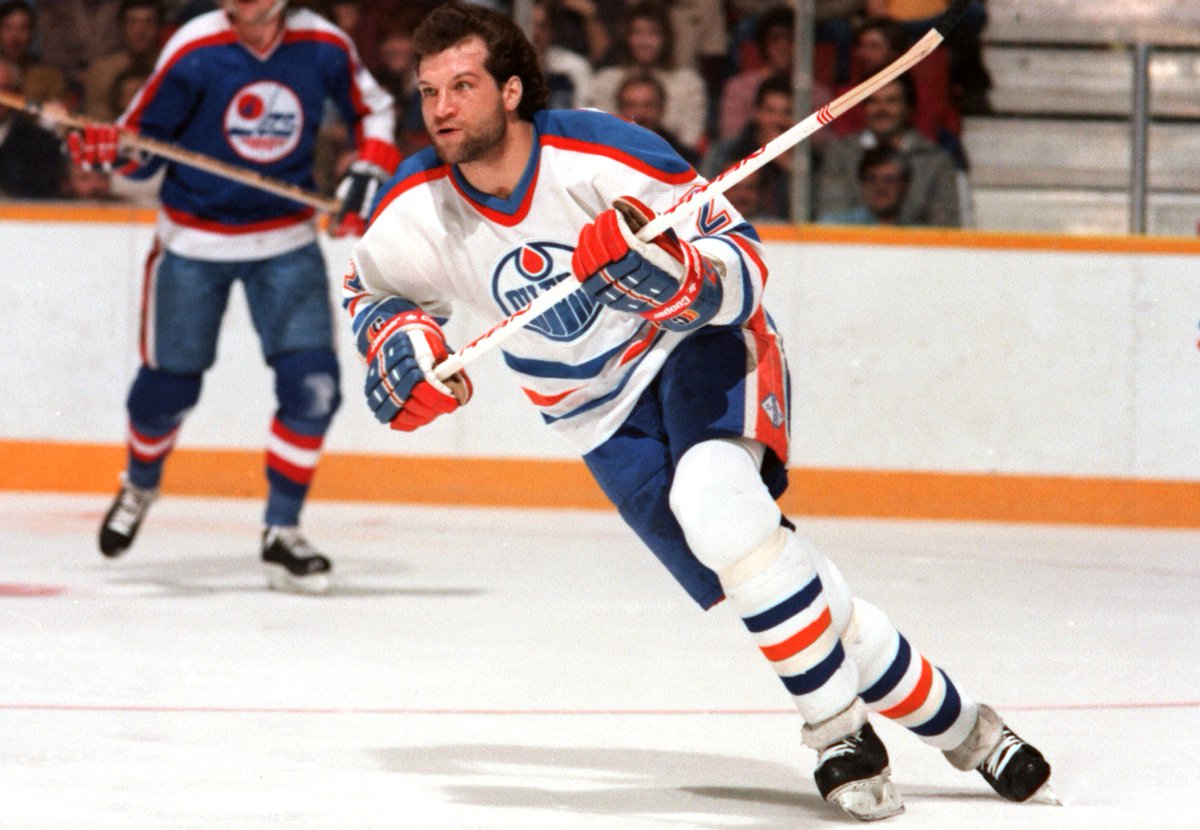 Edmonton Oilers great Dave Semenko passed away last week after a battle with pancreatic and liver cancer. Semenko was not the best player of his era, but he was one of the most memorable. He was the enforcer for the legendary Oilers teams of the 1980s, a team that was before my time but lives on forever on YouTube. He was Wayne Gretzky's bodyguard on the ice, giving The Great One the security he needed to put up offensive numbers that are unfathomable 30 years later. He was such a star as an enforcer, he even had the opportunity to get in the ring and fight Muhammad Ali for charity.
Perhaps the most touching tribute to Semenko came from Gretzky himself at Semenko's funeral. Wayne got it. He was maybe the most supremely skilled player ever to lace up skates, but the way he talks about his former teammate and dear friend shows that hockey, even at its highest level, is a blue collar sport where the tough guys are just as appreciated as the high-end finesse players. That Oilers team was loaded, and Semenko was their heart and soul.
There was a time when every team had a guy like Dave Semenko on their roster. Fighting was just part of the game, and as hard as it sometimes was to defend the tradition of fighting in hockey to non-hockey fans, I'd be lying if I said I didn't miss the importance of fighting in the game.
I believe that if hockey had been invented as a new sport in the 2010s, and the leaders of this upstart National Hockey League trying to make their new game as appealing and sustainable as possible, fighting would never in a million years make the cut. That being said, to keep going with this thought experiment, hockey as we know it would have a much better chance of being invented in 2017 than football as we know it. The pace of play and high floor of acceptable skill required for entry into the NHL plays in hockey's favor.
As long as there has been hockey there have also been great players who were also good to great fighters from Eddie Shore to Maurice Richard to Gordie Howe to Bobby Orr to Larry Robinson to Mark Messier to Scott Stevens to Cam Neely to Jarome Iginla to to mike Richards to Zdeno Chara. Even guys like Semenko or Terry O'Reilly or Shawn Thornton could probably get minutes in a post-fighting NHL. They would not be stars, and their careers would not have been as long, but in their primes, they could play well enough to make the cut even if they could not or did not fight. The players who lose out in the modern NHL are the guys who can only fight, the John Scotts of the world, or late career Shawn Thornton and George Parros.
According to Hockeyfights.com, a great website I do not check nearly as often as I used to for some reason, there were 372 total fights in 2016-17, which is up from 344 the previous season, but probably not enough to reverse the downward trend of fighting in the NHL. There were 734 in 2008-09, the highest since the 2004-05 lockout, but since the 2012-13 lockout, no season has cracked 500 fights, and the 347 fights in the abbreviated 2013 season feels like something from a different era.
Those are just numbers on a chart, but a clearer illustration came in the 2014 Stanley Cup Playoffs. My Boston Bruins won the President's Trophy that season, but had their hands full with their most hated rival, the Montreal Canadiens in the second round. Ultimately, the Bruins fell to the Habs in seven games. Montreal was the faster, more skilled team, while Boston prided itself on strength and toughness. That's the rivalry in a nutshell. One key difference in the two teams was the use of the enforcer. Boston had Shawn Thornton, and Montreal had George Parros. The two were friends, and won the Stanley Cup together as members of the Anaheim Ducks in 2007. While Parros spent the playoffs in the press box, scratched from the lineup, the Bruins played Thornton. That philosophical difference was not on its own what put the Habs ahead of the Bruins that season, but it showed how much the game had changed.
In 2011, inserting Thornton into the lineup in the Cup Final against the Vancouver Canucks after Nathan Horton got hurt gave the Bruins an edge. They pushed the Canucks around after that, and won their first Stanley Cup since 1972. Thornton alone did not put them over the top, but his presence could not be discounted. Three years later, he was a liability in the playoffs for the Bruins.
The decline of the enforcer has been talked about for years. Before Dave Semenko's passing, it was John Scott's inclusion in the All-Star Game that caused a mass-reflection on the legacy of the role in hockey. Before that it was the deaths of Derek Boogaard, Wade Belak, Bob Probert, and others. Every time, the same sentiments are expressed: fighting in hockey is hard to defend to non-hockey fans, and the role of fighting means less now than it did even five years ago, but nonetheless, without it, the game is missing something, and the guys who do that dirty work are some of the most appreciated in the dressing room as well as with the most hardcore of hockey fans.
If there were ever an opening for fighting to gain a more prominent role in the NHL again, we may have it with the addition of the Vegas Golden Knights to the league. With a 31st team, there are now more NHL playing jobs than ever before, and the talent pool is even further diluted. Teams may place a greater emphasis on protecting their most skilled players, and there may be more roster spots available for guys who can fight better than they can score. Then again, if the next couple years do not bring fighting back to where it was as recently as 2013, it might be gone for good in 20 years.
I wrote a few months ago about the underwhelming to disappointing summer the Boston Bruins were having, just a few years after winning the Stanley Cup, and just one year after adding perennial 30 goal scorer Jarome Iginla to a roster that was 17 seconds away from forcing a Game 7 against the Chicago Blackhawks in the Stanley Cup Finals. That was before the B's traded Johnny Boychuk for nothing that could help them this season, and that was before the injuries and excuses began. This Bruins team is bad. It's the worst I've felt as a fan about the team since the 2009-10 season, but even then, a young Tuukka Rask had given us a reason for hope. This team isn't tough, can't score, and has deficiencies on defense that make the goaltending look bad. How did it happen this way to a team that won the second President's Trophy in franchise history last spring? What has to happen for things to get better?
The highlight for the Bruins in the summer of 2013 was the acquisition of Jarome Iginla in free agency, after the B's had failed to complete a trade with the Calgary Flames during the season. Iginla instead was dealt to the Pittsburgh Penguins, whom the Bruins swept on their way to their second Stanley Cup Finals appearance in three years. Unfortunately, Iggy's stay in Boston ended with a second round playoff exit at the hands of the Montreal Canadiens (who lost in the Eastern Conference Finals to the New York Rangers, who lost in the Los Angeles Kings in the Stanley Cup Finals, meaning the B's didn't even come close to being beaten by the best team in the tournament). Once again a free agent, Iginla took his talents to Denver to join the Colorado Avalanche in the summer of 2014.
Players come and go. That's the nature of professional sports, but Bruins general manager Peter Chiarelli did not bring in anyone to replace Iginla. Iggy was brought in to replace the production on the top line that Nathan Horton had contributed from 2010 to 2013 (Iginla was more productive than Horton in the regular season, but lacked Horty's playoff scoring touch that defined his tenure in Boston), and without a player of that caliber drawing coverage and creating space, the production of Milan Lucic and David Krejci has also suffered this season.The Bruins offense is the worst it has been since 2009-10, the year before they traded for Horton (as well as Gregory Campbell, when the Bruins traded Dennis Wideman to Florida), when 4th liner Daniel Paille had to play significant minutes on the top line alongside Krejci and Lucic. The team has restrictions with the salary cap, but they have been doing a lot more subtraction than addition to this once great roster in recent years, and not just with the 1st line right wing position.
The Bruins lost some major pieces of their identity be choosing to move on from defenseman Andrew Ference (now living in hockey hell as captain of the lowly Edmonton Oilers) in 2013 and enforcer Shawn Thornton (now with the Florida Panthers) in 2014. The Bruins team that won the Stanley Cup in 2011 was not the fastest, not the most prolific offense, and not the most talented team in the NHL by any stretch of the imagination. They won with grit, hard work, physicality, and otherworldly performance in net after otherworldly performance in net by Tim Thomas. Guys like Ference and Thornton were quintessential Bruins in that regard. They were the glue guys in the dressing room who brought a physical edge on the ice. Ference was the guy who started the "Starter Jacket" tradition during the 2011 playoffs, awarding a vintage Bruins jacket he found in a thrift shop to the player of the game (and eventually giving it to the retiring Mark Recchi in the banner raising ceremony), and continuing similar rituals during other playoff runs. Thornton added a certain energy to the game, even if he wasn't dropping the gloves, and adding Thorty to the lineup against the Vancouver Canucks allowed for the Bruins to play with an edge they did not have when he was in the press box.
At least when they let Ference walk in free agency, there was confidence that young defensemen Torey Krug and Dougie Hamilton could step up and take on more responsibility on the blue line, but with the departure of Thornton this summer, it was a shift in philosophy as much as a change in personnel, and it has not worked thus far. The Bruins reacted their playoff loss to Montreal by thinking they needed to get faster and more skilled to be able to go toe to toe with Montreal in the future. That may not be wrong. The Habs had a player (who has since retired) very similar to Thornton in the form of Princeton grad George Parros. Parros is another old school tough guy, and has a mustache that never got the memo that the 70s ended, and was teammates with Thornton on the Stanley Cup winning 2007 Anaheim Ducks, but the biggest difference between the two players was that Thornton was playing significant minutes for the Bruins, while Parros sat in the press box during the playoffs for the Canadiens. The Bruins called up from Providence an enforcer named Bobby Robbins, a UMass Lowell grad who had never played in the NHL before this season, but had a little bit of Hanson Brother in his game and brought energy and toughness to every shift. He was sent back down shortly thereafter, and the Bruins are left with a little bit of skill, and not enough toughness on their roster. They did not necessarily need Shawn Thornton, but they do need a tough guy.
I was wrong about the Seguin Trade. I've admitted it, and I would be more insistent that the Bruins admitted it if it would change the fact that the trade happened and that Tyler Seguin is never coming back (at least not in his prime). I wrote in the summer of 2013 (on the day the trade happened if I remember correctly) that Seguin was a disappointment, and that Loui Eriksson was a better fit for the Bruins, and he has been nothing to write home about until very recently. Reilly Smith has exceeded my expectations, but that was only because I didn't know who he was before the Bruins acquired him from Dallas. At any rate, the Bruins gave up on Tyler Seguin too early, and Seguin might score 50 goals for the Dallas Stars this year. It could be argued that Taylor Hall would have been a better fit for the Bruins, but he was off the board when they drafter at #2 in 2010. With talent like that, the Bruins should have been more patient, and should have allowed him to flourish in the offensive zone rather than harp on his defensive shortcomings. Seguin is still only 22, and has found a home in Dallas. Meanwhile the Bruins are struggling to score just as badly as the year before they drafted him.
Peter Chiarelli was enough in Boston's defensive depth at the beginning of the season to trade Johnny Boychuk to the New York Islanders during the preseason. Boychuk, like Ference and Thornton, was a big part of the Bruins' physical identity during both Cup runs, and had only gotten better since his first significant ice time during the 2009-10 season. After Dennis Seidenberg went down with a knee injury last season, Boychuk stepped up and established himself as the team's second best defenseman after captain Zdeno Chara. In return, the Bruins got two second round picks, and a conditional third rounder, which felt like a bad return on a good player who is only 30. The trade looked even worse as Chara, Adam McQuaid, and Torey Krug have all missed significant time with injuries this season while Boychuk is making a great impact for the suddenly competitive Isles.
The Bruins have mismanaged the roster when it comes to the salary cap. I understand wanting to keep a good team together, but the Bruins overpaid players they should not have, and the salary cap has not gone up the way Chiarelli may have thought it would. The Bruins owe Chris Kelly $3 million this season and next season. They owe Loui Eriksson $4.25 million this season and next season. They owe Milan Lucic $6 million this season and next season, and his price is likely to go up if he becomes an unrestricted free agent as scheduled. The Bruins will also have to pay more for impending young free agents Reilly Smith, Matt Fraser, Craig Cunningham, Torey Krug, Dougie Hamilton (all restricted), Matt Bartkowski, and Carl Soderberg (unrestricted) after this season, not to mention veterans Gregory Campbell and Daniel Paille, whom the Bruins seem more and more unlikely to bring back, given the circumstances. That's a lot of uncertainty, and a lot of variables keeping the Bruins where they are. A trade or two needs to be made to make the picture clearer.
If it were up to me (which is it not), almost everyone on the roster would be on the table for trade talks. The only players I would not trade under any circumstances at this point are Zdeno Chara, Patrice Bergeron, and Dougie Hamilton: the Norris Trophy winning captain, Selke Trophy winning alternate captain, and the promising young defenseman. The Bruins sold too low on Seguin, and after the Boychuk trade, my lack of faith in their ability to get a proper return on Hamilton has only been reaffirmed. David Krejci should not be traded under any circumstances, for all intents and purposes, but I left him off the list because of the long shot possibility of packaging him up to get a Jeff Carter, or an Anze Kopitar, or a Jonathan Toews, or a Ryan Getzlaf, but that will never happen. I love Tuukka Rask, but the Bruins drafted goalie prospect Malcolm Subban (P.K.'s brother), and the years the Bruins would spend developing him into a franchise goaltender are years that Tuukka is under contract. Going forward, they will only be able to keep Rask or Subban long term, so both should be on the trade block now. Loui Eriksson and Chris Kelly are two players I would trade (for the right return, obviously) without feeling bad about it, and while I like them, Brad Marchand, Milan Lucic, Dennis Seidenberg, Gregory Campbell, Daniel Paille, Reilly Smith, Carl Soderberg, and Torey Krug are all players they could move and teams would be willing to give up substantial assets to acquire if the Bruins become sellers at the trade deadline.
I would be more confident in the Bruins' ability to build through the draft and the farm system if Chiarelli was any good at drafting. Much like Theo Epstein with the Red Sox, much of his championship roster was put together by his predecessor, with key acquisitions like Patrice Bergeron, David Krejci, and Tim Thomas being made my former GM Mike O'Connell (now the Director of Pro Development for the LA Kings), and the trade to acquire Rask on Draft Day from Toronto happening while Chiarelli was still under contract with the Ottawa Senators (was it Chiarelli? was it O'Connell's people? was it Harry Sinden? My guess is Harry, but that's another column for another day). Chiarelli's greatest drafting successes came early in his tenure when he selected Phil Kessel (#5), Milan Lucic (#50), and Brad Marchand (#71) in 2006 (in 2009, Kessel was traded to the Maple Leafs for the draft picks that became Tyler Seguin, Jared Knight, and Dougie Hamilton), but he's gone cold since then. His best recent draft selections were Seguin (#2, 2010) and Hamilton (#9, 2011), but that was because those were picks acquired from the Toronto Maple Leafs so high it would be really hard to miss, and even then, they dealt one of those players after three seasons.
Other Bruins drafts were highlighted by Subban (#24, 2012), a goalie drafted by a team that didn't need a goalie, Jordan Caron (#25, 2009), Jared Knight (#32, 2010) and Ryan Spooner (#45, 2010), who have not been able to establish themselves at the NHL level, and Zach Hamill (#8, 2007) who was drafted ahead of Logan Couture, Brandon Sutter, Ryan McDonagh, Lars Eller, Kevin Shattenkirk, and Max Paccioretty, all of whom have become productive NHL players while Hamill washed out of the Bruins' organization, was traded to Washington for Chris Bourque (Ray's kid), and now plays professional hockey for the hockey club HPK in Finland. There is still hope for 18 year old Czech prospect David Pastrnak (#25, 2014), but he will not be able to help the Bruins turn their fortunes around this season.
Normally, it would be natural to blame the coach for a roster with a history of success to not be as motivated as they used to be, but it's hard to blame Claude Julien for this. I've been critical of Julien before, and I think his system has its flaws, but you can't put this season all on him. Claude didn't trade Johnny Boychuk. Claude didn't let Shawn Thornton take his talents to South Beach. Claude didn't let Jarome Iginla leave and try to replace his production with minor league talent. Claude may have been frustrated with Seguin's inconsistency on offense and liability on defense, but he wasn't the one who thought Loui Eriksson, Reilly Smith, Matt Fraser, and Joe Morrow were a satisfactory return for a 21 year old sniper, either. Claude Julien may be on the hot seat in my mind someday, but it will not be this day. The B's have bigger problems than the coach.
Right now, the Bruins are a mess, and Chiarelli, Julien, and Team President Cam Neely have their work cut out for them. Trades need to be made, and draft picks are not a good enough return. Players who can put the puck in the net should get a higher priority than they have been getting. If they can put more skill around the solid foundation of Chara, Bergeron, Hamilton, and Krejci, good things will happen, and Julien's system is such that with good defensemen, either Rask or Subban can thrive. They might be able to turn it around this year, but I'm not holding my breath.
Every great team has to move on from the past. Tom Brady and Vince Wilfork are the only players that remain from the last Patriots team to win the Super Bowl. The Celtics just traded away the last remaining player from their championship contending days from 2008 to 2012, and are looking ahead to the future. David Ortiz is the last player remaining from the 2004 Red Sox, and they have been moving on from players from the 2007 and 2013 World Series squads left and right. Peter Chiarelli can fix this. He was captain of the hockey team at some school called Harvard, and is highly though of enough from his peers to be named to the front office of Team Canada in the 2014 Winter Olympics, and now he has to use his Ivy League intelligence and hockey IQ to fix the Bruins team he built into a champion once already. The questions that remain are "when?" and "how?"
With the head scratching news that the New Jersey Devils have hired two co-head coaches, or something like that, in the form of Scott Stevens and Adam Oates, this headline is what I've been asking myself all day. Usually the Jets are the team in the Garden State that leaves us with more questions than answers when it comes to personnel moves (and as a Patriots fan, I am forever thankful for their ineptitude), but this time it's the Devils, a hockey club that has won three Stanley Cups in my lifetime, second only behind the Detroit Red Wings in that duration, that has everyone confused. This could be another stroke of brilliance for longtime Devils general manager Lou Lamoriello, or it could mean the beginning of the end. Nothing lasts forever, not even Martin Brodeur's career between the New Jersey pipes, and maybe not even the Lamoriello era in New Jersey.
Stevens and Oates are replacing Peter DeBoer, who was hired in 2011 as the successor to Jacques Lemaire, who retired after his third stint with New Jersey, but let the team to its first Stanley Cup championship in 1995. In DeBoer's first season, he led the Devils to the Stanley Cup Finals, defeating the hated rival New York Rangers in the Eastern Conference Finals. They caught lightning in a bottle, with Martin Brodeur turning the clocks back in a goalie showdown for the ages against New York's Henrik Lundqvist. The magic ran out in the Finals against the Los Angeles Kings, however, as young American goaltender Jonathan Quick carried the eighth best team from the West to its first ever Stanley Cup.
After that, things went south for New Jersey, losing captain Zach Parise in free agency to the Minnesota Wild in the lockout-extended 2012 offseason, losing sniper Ilya Kovalchuk (who had been under contract for the next decade) to the temptation to play professional hockey in his native Russia, and having to part ways with Brodeur, who was so synonymous with the New Jersey Devils uniform, that his jersey appears on an episode of Seinfeld from 20 years ago (Brodeur now plays for the St. Louis Blues, and this just looks weird after seeing him in red and black for so long). Sure, they signed an all time great like Jaromir Jagr, and he is still able to produce at a high level at the age of 42, but the Devils have struggled in close games, and have been dreadful in shootouts ever since losing Kovalchuk (who was in Russia's shortened shootout rotation against T.J. Oshie and Team USA in the 2014 Olympics). Shootout losses cost New Jersey a shot at the playoffs in what was a wide-open Eastern Conference last season, and they were off to another bad start this year.
Scott Stevens and Adam Oates have both been inducted into the Hockey Hall of Fame. Stevens was the fifth overall pick, selected by the Washington Capitals, in 1982, and was the Devils' captain for their Stanley Cup championships in 1995, 2000, and 2003, and his #4 now resides in the rafters of Prudential Center. He is one of the elite defensive defensemen in the history of the game. Oates, a center, was on the losing end of the 2003 Stanley Cup Finals with the Mighty Ducks of Anaheim, and also played for the Detroit Red Wings, St. Louis Blues (where he and Stevens were teammates), Boston Bruins, Edmonton Oilers, Philadelphia Flyers, and Washington Capitals (whom he coached from 2012 to 2014). Oates went undrafted, but after a standout career at RPI, Oates would eventually become the NHL's all time leader in points among former college hockey players. Both have impressive achievements to their names, but neither has gotten a head coaching chance where they were in a good position to succeed, and I'm not sure this is a great chance, either.
Lamoriello's idea is to have Stevens coach the defensemen and Oates coach the forwards, like defensive and offensive coordinators in football, except in hockey d-men and forwards have to be on the ice together and work as a cohesive unit. it makes sense to have offense and defense run by different coaches in football because Tom Brady and Vince Wilfork never have to be on the field at the same time, but this seems crazy. Stevens and Oates will both have the opportunity to prove themselves worthy of sole possession of head coaching responsibilities, which provides us with ample opportunity to observe potential House of Cards-esque scheming and backstabbing in this quest for power. If Adam Oates starts having weird asides with an audience that isn't really there during press conferences (even though Oates looks more like Ray Liotta than Kevin Spacey), then fan favorite Stevens had better watch his back.
As I was writing this, another report came out that in addition to Oates and Stevens, Lamoriello will be coaching as well, creating an unprecedented head coach triumvirate. Lamoriello has gone behind the Devils bench on an interim basis before, and it could be a great way to evaluate a team that needs to make moves to rebuild and get younger (their two best players are Jaromir Jagr, 42, and Patrik Elias, 38). It also provides him with a more hands-on chance to observe Stevens and Oates' head coaching styles. Lamoriello has been running the hockey operations for the Devils since 1987, is the longest tenured GM in the NHL, and has had great success. He has lasted ownership changes, and his success has carried over into other sports (he owns a minority stake in the New York Yankees), and his job is probably safe as long as he wants it. It's not the conventional way of doing things, but conventional doesn't keep things fresh when the losses pile up and a fanbase that is used to winning hockey hasn't been getting any for the last three years. To make matters worse for New Jersey fans, the rival New York Rangers and Islanders remain competitive throughout the Devils' struggles. They don't have to be good this year, but drafting well and coaching well is crucial in this transition phase. This could go really well, or really poorly, but either way, Lou Lamoriello and the Devils have my attention.