Last month, a football analytics article took the Boston Sports Media by storm… in July. I was personally caught off guard, as I was still focused on NBA and NHL free agency, and immersed in the heart of baseball season, but the NFL has a way of dominating the local and national sports culture at will. 
The article, by Cian Fahey of presnapreads.com, was about the challenges aging quarterbacks face, highlighted by Tom Brady, Drew Brees, Philip Rivers, and Eli Manning, and provided detailed breakdowns of their performances in 2016.
The parts about Brady were the highlight of the discussion on Boston radio, of course. Over the course of a week, I heard at least three different pronunciations of Fahey's first name as hosts and callers reacted to Fahey's analysis. Brady has won five Super Bowls and played in seven, and just came off the best age 39 season by a quarterback in NFL history. The article was presented as a hot take, that Brady might already be in decline, and Patriots fans have heard people in the national media proclaiming Brady's decline for nearly a decade now. It still has not happened.
Tom Brady turns 40 today (and I encourage everyone to read the stories Mike Reiss of ESPN compiled to celebrate the milestone), but, without sounding like too much of a homer, I need to see Brady decline before I believe he is actually declining at this point. I have counted him out personally too many times, and I have scoffed at too many pundits and analysts who counted him out even if deep down I had my doubts–with Super Bowl LI being the most obvious and recent example–to go down that road before Bill Belichick starts Jimmy Garoppolo over a healthy Brady in a meaningful game.
The point about arm strength is a fair concern, and missing the first four games of the season had to help him hold up, as outraged about the Deflategate nightmare as Patriots fans were. But arm strength is less of a concern for Brady than a lot of other quarterbacks because of the way he plays and the way Josh McDaniels orchestrates the New England offense to play to Brady's strengths. He doesn't rely on the deep ball. He's not the Justin Verlander of QBs. That's Aaron Rodgers. Brady is Dallas Keuchel. If arm strength were everything, Jay Cutler (who I guess would be Aroldis Chapman if we're going to keep comparing quarterbacks to pitchers) would still be in the NFL and not in the Fox broadcast booth.
Even if his skills have declined, there are only a handful of teams that could take advantage of this 40 year old superstar. Houston's defense gave the Patriots fits in the playoffs for sure, but their quarterback was Brock Osweiler. This year, Osweiler is out of the picture and the effectiveness of Tom Savage and rookie Deshaun Watson remains to be seen. Derek Carr and the Exiting Oakland Raiders could make a formidable foe, but their defense was nowhere near Houston's last year and has a lot of room for improvement. The Baltimore Ravens and Denver Broncos have historically given Brady trouble, but Denver's quarterback situation is unproven at best, and the injury to Joe Flacco could leave the Baltimore with more uncertainty than a team that has only made the playoffs once since winning the Super Bowl in 2013 would like.
The Falcons are clearly a team that can hang with the Patriots on both sides of the ball, but they are in the NFC, where the road to the Super Bowl is much tougher year in and year out. Also, given the way they imploded in a game they were so sure they had won that owner Arthur Blank was standing on the sideline preparing to celebrate as he instead watched his team lose, they might be damaged for 2017. The Pats had their share of struggles in the years that followed their 18-1 2008 campaign, and the decision to throw instead of hand off to Marshawn Lynch still haunts the Seattle Seahawks two and a half years later.
The best thing Brady has going for him late in his prime is a league that mostly does not have an answer for him, much like LeBron James in basketball. The only difference is there is no juggernaut on par with the Warriors that are definitively better than Brady's team. Not only is Brady the greatest QB, but Bill Belichick is the greatest coach, and Rob Gronkowski is the greatest tight end. It's like if LeBron was on the Warriors. Okay, maybe I am a homer.
My belief in Brady at 40 is as much about the results on the field as the stories Reiss highlighted about his insane level of competitiveness at every stage in his adult life. From pickup basketball games when he was at Michigan to chugging beer at a bar in Rochester to refusing to give an inch to any backup, even if he knew he wasn't going to start the September games in 2016, Brady is as dialed in now as he was when he was taken 199th by a team that already had a franchise QB. If Jimmy Garoppolo's entire career as an NFL starter is just those six magnificent quarters last fall, he will go down as one of the greatest draft picks in the Belichick Era because of the level his presence made Brady reach late in his career. Then again, that narrative might not be entirely fair to Brady.
Tom Brady's career has been a joy to watch. It wasn't all great, but the struggles in 2009 and 2010 only made what he accomplished these last few seasons even more impressive. At 40 one would think he is nearing the end, but Brady keeps moving the figurative goal posts for himself as efficiently as he moves the literal chains on the field. Take that for data!
The following post contains spoilers from fifth season of Orange Is the New Black.
My Netflix viewing habits are weird. When I first subscribed, I was fully subscribed to the idea of "binge watching" that has been made popular by the increased accessibility of TV shows in the Internet Age, but I drifted away from that method and made a conscious effort to savor watch shows more often. Save some for later, I thought. I did not want to burn through a season in a weekend and then have to wait a year for more.
In the age of Peak TV, or more aptly, the Age of So Much TV Compared to So Few Hours in the Day, there is no right or wrong way to watch. The shows you like will always be there, unless they leave your preferred platform and you find yourself racing against the clock like I currently am with Futurama. Last year, I had a bachelor party to go to in Maine the weekend Netflix dropped Season Four of Orange Is the New Black, so the pressure to finish it was off to finish it right away, and I took my time with the season.
I did not end up finishing Season Four of OITNB until the week before the fifth season dropped on Netflix, and I am glad I did not have to wait a year based on the way the fourth season ended. After the COs, under the command of captain of the guard Desi Piscatella (played by former Denver Broncos defensive lineman Brad William Henke), reacted violently to a peaceful protest, and killing Poussey Washington (played by Samira Wiley), a nonviolent and universally liked inmate, in the process. Had I binged Season Four, I would be waiting a year with the prison on the verge of riot, with an inmate pointing a gun at a corrections officer.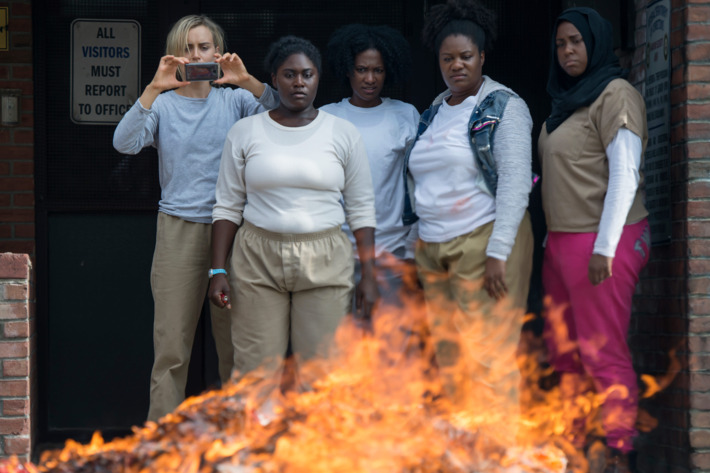 The events that concluded Season Four set up a Season Five that spanned only a couple of days, as the inmates rose up, took the COs as their hostages and in an effort led by Tasha "Taystee" Jefferson (Danielle Brooks), attempted to negotiate for justice and better living conditions at Litchfield. After eight or nine episodes, I had a warm fuzzy feeling that change might actually get accomplished. Things were looking up, but then I remembered: Wait, there are still five episodes left. This won't end well. There was too much time left on the clock and Taystee was playing the negotiations as aggressively as the Atlanta Falcons in the second half of Super Bowl LI. Also this show is grounded in reality, and in this reality, there has never been a prison riot that changed the world for the better.
One peculiar thing about the way we watch TV these days is that it's hard to tell when to talk about it. When there were only three networks, everyone was watching at the same time. In my early college years, you had to give 12 hours to allow people to catch up on Hulu in case they went out the night before and missed Community, or The Office, or 30 Rock, or Parks and Recreation (RIP NBC's last great Thursday night comedy lineup). My friends and I would usually make a point to watch the Thursday night NBC shows online between classes Friday morning so we could talk about them at lunch. Now, it's chaos. There are network shows, cable shows, Netflix, Hulu, Amazon Prime, Seeso, and probably a dozen other platforms I've never heard of. All of it is available at the same time, and if you do have friends or co-workers who watch the same shows as you, they're probably not on the same viewing schedule as you. Stay off Twitter. Stay off Reddit. Stay off everything until you finish.
My favorite dramatic television series of all time is HBO's The Wire. For better or for worse, I use The Wire as context in my head for pretty much any drama show I watch. Game of Thrones is basically The Wire, but in a realm with dragons and magic. The moral ambiguity and lack of a true protagonist also helps my case against accusations of oversimplification. OITNB is a lot closer to The Wire because it takes place in the present in the United States of America, was inspired by a bestselling work of nonfiction, and both shows say a lot about the country as a whole, not just one prison or city. What The Wire did for illustrating the problems with the War on Drugs from all the points of view involved, OITNB is doing now for one of its byproducts, the Prison Industrial Complex. 
What impressed me about The Wire is that there were no wasted characters, and at the end of the final season, the viewer had closure–not satisfaction, but closure–with every interesting personality who came on screen, and it felt like a good stopping place, even though the world did not end and nothing really got fixed. It all came full circle, and that was the point. 
As I was watching Season Five, I was talking about it with my friend Ally via Facebook Chat. We went back and forth exchanging comments about the show, frequently announcing how many episodes we had seen, in an attempt to not spoil anything. At one point, Ally expressed how upsetting it was that Poussey was the one to die. Why couldn't it have been Brooke? Poussey was a universally liked character within the walls of the prison, and made a star out of Samira Wiley. Even characters like Kate Mulgrew's Galina "Red" Reznikov and Dale Soules' Frieda Berlin, two of the toughest, most cunning inmates on the show, were visually broken up about Poussey's death. That was the point.
Unlike Game of Thrones, OITNB does not kill of most of its characters–at least not yet–but the system of narrative justice is every bit as cruel as what George R.R. Martin might have written. While not as heavy-handed as valuing honor more than life itself, compromising honor to save your daughter's life, only to be executed with your own sword for confessing to a crime you did not commit, Poussey's story is written in a similar spirit. Any inmate could have been killed in the peaceful protest, but the fact that it was Poussey made it particularly tragic. She was too violent for West Point, yet too peaceful for prison. On top of all that, Poussey was the prison's librarian. Nobody would have gotten a bigger kick out of this terrible tragedy than Poussey Washington the literary buff.
On the other side of the coin, the brand of justice that is served to Piscatella is not nearly as satisfying as I would have hoped. It seemed that the same judicial system that came down hard on the inmates would also go out of its way to protect Piscatella. He was protected by his uniform, but he was just as bad as, if not worse than, any inmate in that prison. Instead, before he could be investigated, before he had to answer for the revelations of torture and draconian disciplinary measures, he was shot by a trigger-happy squad clearing out the prison at the end of the riot. It goes both ways. I wanted justice for the inmates, but I also wanted Piscatella to get what was coming to him, but the irony of reality would not allow for it, and that was the point.
I don't know what the show does going forward. I am sure Season Six will be really good, but I don't know how it can top what happened in Season Five. This was the most impressive season of Netflix-original television, and I did not think I would feel that way about a fifth season of any show. Now the long wait begins.
The Denver Broncos are not going back to the playoffs this January after they kicked off 2016 by winning Super Bowl 50. Looking back on the Golden Anniversary Super Bowl not even a full year later, the Big Game of 2016, much like everything about that year, already feels really weird and out of character with the rest of reality. That Super Bowl was the Super Weird Bowl. The Carolina Panthers got there after going 15-1 in the regular season, and Cam Newton was the league's MVP, and they lost. I would say Peyton Manning was a shell of his former self, but that would be unfair to other shells of former selves. In an era when offense reigns supreme and scoring records are broken they way every meaningful baseball was getting broken in the late 1990s and early 2000s, it was a stifling defense that ruled the day, in spite of Manning's poor play. Perhaps the weirdest about this Super Bowl is the fact that neither the Carolina Panthers nor the Denver Broncos made the playoffs the following year.
Carolina's struggles can be explained a little more easily. The defense took some steps backward with Jared Allen retiring, Josh Norman signing with Washington, and Luke Kuechly missing time due to injury. Also, Cam Newton gets hit like no other quarterback does. People seem to think that since he is so big and so strong that he can get wrecked like QBs did before the NFL cared about player safety. Repeating the kind of results the Panthers got in 2015 was never going to be easy, but I am not ready to write them off for the rest of the decade.
The Broncos' struggles in 2016 can also be easily identified, but are harder to justify when you realize that they could have been avoided. Denver was lucky to get as far as they did–not just lucky to win the Super Bowl, but lucky to beat the Patriots in the AFC Championship Game, and lucky to beat the Steelers in the Divisional Round–with a so-far-past-his-prime-he-should-have-changed-his-name-to-not-confuse-people-Peyton Manning under center and shouting "Omaha," but incapable of throwing the ball downfield at all. Attempting to do the same thing a second straight year, not measurably upgrading a quarterback position that could not get much worse, and expecting to get the same kind of game in and game out dominating defensive performance in an offense-driven modern NFL is playing with some serious fire. But that's exactly what the Broncos did.
Broncos president John Elway has earned a significant amount of trust with Broncos fans, having led the team to seven Super Bowls (five as a quarterback, two as an executive), and winning a championship can buy you goodwill for at least a year or two, no matter how badly the year that follow go (the only time I know of when a fan base turned on a team's management less than a year after winning a title was the Red Sox in 2014, and some of my posts on this blog are reflective of that), but he is pushing it with the way the Broncos went into the 2016 season. By replacing the retired Manning not with Brock Osweiler (who signed a free agent contract with the Houston Texans), but with Trevor Siemian, a 2015 7th round draft pick out of Northwestern, Elway placed lofty expectations on a Denver defense. The 2016 NFL Draft produced multiple quarterbacks that won games as rookies despite being picked outside the top two. I cannot help but wonder what Denver's record would have been had Elway taken a chance on Dak Prescott or Jacoby Brissett, who appear poised to be the replacements to Tony Romo in Dallas and Tom Brady in New England, respectively.
While able to throw out incredible talent in pass rushers DeMarcus Ware and Von Miller, as well as with Chris Harris Jr. and Aqib Talib in the defensive backfield, that defense deserves a better offense. The Broncos have been irresponsible in the way they built their offense, particularly the quarterback position, the same way the New Orleans Saints have squandered Drew Brees' offensive brilliance for most of his prime by not building a good defense for him. That said, if for some stupid reason, the NFL decided to cut down to 31 franchises and merge two existing teams for the 2017 season, if the Saints' offense merged with the Broncos' defense, they would be the prohibitive favorites to win Super Bowl LII in Minneapolis.
The Broncos need to do something about the QB position, but right now, that is not even their most pressing matter. This week, head coach Gary Kubiak resigned due to health concerns after just two years on the job. Kubiak played his entire NFL career for the Broncos, as Elway's backup, and served as quarterbacks coach and offensive coordinator for Denver when they won those two Super Bowls in the late 1990s. In his first year back in Denver, he led the Broncos to their third Super Bowl victory, and less than a year later he is retiring. Denver should, in theory, have no trouble finding a replacement, given how good their defense is and the fact that there should be more NFL quarterbacks available this offseason than most years, from Romo to Jimmy Garoppolo to Tyrod Taylor to Sam Bradford to Kirk Cousins. 
The issue with Denver as a coaching spot may very well be John Elway's ego. He is a top five or top ten quarterback in the Super Bowl Era and has enjoyed a good deal of success as an executive, but he is also the guy who ran Tim Tebow out of Denver when after getting the Broncos to the playoffs, and clashed with John Fox, who like Kubiak, left the Broncos a year after getting them to the Super Bowl, but not for health reasons. Sure, he brought in Peyton Manning, one of the handful of quarterbacks higher up than him on the all time list, but when Manning was at a point of desperation in his career, coming off a potentially career ending neck injury, and the coach he brought in to replace Fox was literally his former backup. I would not be surprised if Elway went with either defensive coordinator Wade Phillips, who was previously Denver's head coach in 1993 and 1994, or one of the Shanahans, whom Elway has a working relationship with from his playing days, but I do not know how many coaching prospects from outside Elway's past work history would want to take this job. One person who will not be considered is New England offensive coordinator Josh McDaniels, this year's most sought after offensive-minded coach, whose only head coaching job was in Denver, and who was run out of town in his second season.
Regardless of what happens with the coaching vacancy, the Broncos need a quarterback, and if they do not get one, John Elway could be torn down as a fool just as quickly as he was built up as a genius.