One of my biggest regrets as a writer is the two years or so I took off from writing about sports on the Internet from the spring of 2011 to the spring of 2013. On the one hand, I absolutely needed to reset and refocus as a writer, and I had other things going on and some perspective would have done me a lot of good. If I continued writing the way I had been, in the style I had been, on the blog I had been, I would have burnt out sooner or later, and I would not be writing here for you today in 2017. On the other hand, there is no written evidence, no previous article I wrote that I can link to, that can prove how right I was about Kirk Cousins.
We sports writers, amateur and professional alike, we sports enthusiasts who call and email talk radio shows and fill Reddit threads with opinions and analysis, we love making predictions, and we love being able to go back and prove we were right when our opinion in the moment was not the consensus or the prevailing opinion. Now that Washington Redskins quarterback Kirk Cousins has been franchised for the second straight year, and now that he is set to be one of the most interesting and in-demand assets in the NFL, I wish I had been maintaining a blog in the spring of 2012, when the Redskins took two quarterbacks, so I could have written that Cousins was a real NFL QB, that having a guy like Cousins drafted alongside Robert Griffin III would not end well for Washington, and the overlooked Cousins would be itching to prove himself. Five years later, the Washington football team that had two rookie quarterbacks may very well lose them both, with nothing but a couple of one-and-done playoff appearances to show for it.
Last offseason, the Redskins placed the franchise tag on Kirk Cousins, rather than signing him to a contract extension, after a 2015 season in which he won the starting job away from Griffin for good and led Washington to an NFC East division title. The Skins cut RGIII (who signed with the Cleveland Browns and subsequently got injured in the first game of the regular season), but were not ready to commit to Cousins long-term. That line of thinking is entirely defensible on its own. Cousins had one good season as a starter under his belt, and it would be reasonable for a team to want to see more before committing top dollar and many years to a relatively unproven player, but then Cousins had another good season in 2016. Sure, the Redskins struggled down the stretch and missed the playoffs, but they had also not put in place a backup plan.
The only quarterback to play on the franchise tag twice was Drew Brees with the San Diego Chargers, who eventually walked in free agency and signed with the New Orleans Saints, where he has been such a great face of the franchise that I often forget he was in San Diego and get caught off guard when scrolling through Google Images for pictures for articles I am writing. The difference between what the Chargers were doing a decade ago with Brees and what the Redskins are doing now with Cousins is that San Diego drafted Philip Rivers during that time (well, actually they drafted Eli Manning, but traded him for Rivers when the Mannings made it clear Eli did not want to be in San Diego), and gave Rivers a couple years in the system to develop before Brees left to go get paid by the Saints. I thought back in 2012 that Cousins, like Brees, would leave Washington to go get paid by another franchise, and eventually be synonymous with that second franchise the way Brees is with New Orleans, but I thought that would be because of the flashes he showed backing up RGIII, not because he proved himself as the starter in Washington like he ended up doing.
Rather than sign him to an extension, the Redskins placed a second franchise tag on Cousins. If they do not sign him to an extension, Cousins will most certainly leave Washington. Why would he stay with an organization that has been so hesitant to believe in him? That has forced him to bet on himself season after season? Cousins has been well compensated by the Redskins, thanks to the franchise tag, yet they are still finding ways to alienate their franchise QB. Why would he stay in Washington when there are two NFL franchises now coached by former offensive coordinators of his (Kyle Shanahan in San Francisco, and Sean McVay in Los Angeles), who would take him over their current quarterback situations, even if it means waiting another year.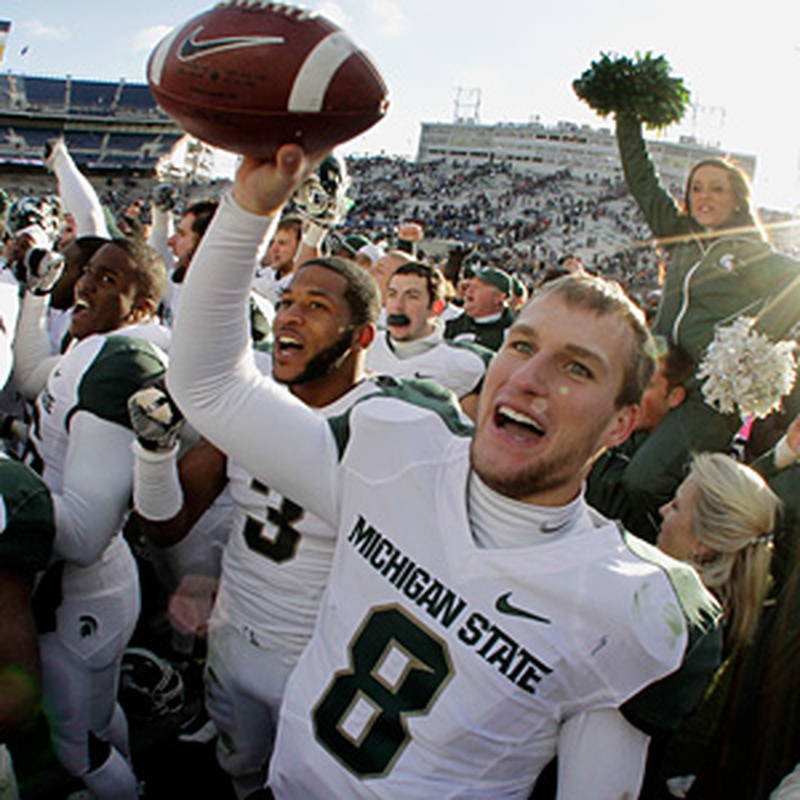 The Rams and 49ers should not be the only teams interested in Cousins' services. He has a lot going for him, even compared to the other highly regarded NFL quarterbacks being talked about as trade chips right now. Cousins is eight years younger, and far less injury-prone, than Dallas Cowboys quarterback Tony Romo, and has a far greater sample size for teams to look at than New England Patriots backup QB Jimmy Garoppolo (who started five quarters during Tom Brady's suspension before getting hurt), but no matter what happens, I cannot shake the feeling that the Redskins will mess this up. That's what they are known for in the Dan Snyder Era.
Since Snyder bought the team in 1999, the Redskins have had a high amount of turnover at the head coach and quarterback positions, not as high as the Cleveland Browns, but certainly not a model for consistency and continuity in professional sports, either. Head coach Jay Gruden is going into his fourth year of a five year contract the same year that Kirk Cousins is poised to play on a second straight franchise season. Why would Cousins want to sign an extension with a team that might be on the verge of turning over its coaching staff yet again? By Snyder's own reputation, they are due.
When they quarterback draft class of 2012 was in college, Cousins was the one I saw the most on TV. I knew about Andrew Luck at Stanford and Robert Griffin III at Baylor, as they were the Heisman favorites all season, but for whatever reason, Cousins' Michigan State team was on TV all the time in Massachusetts, it seemed, and I was in the habit of watching a lot more college football than I have in the years since (spoiler alert: I was in college, living in the dorms), so I was impressed with Cousins' play at the time, and was particularly baffled when Washington decided to trade up in the draft to #2 overall to take Griffin, and then also take Cousins in the 4th round. How could that possibly end well?
While I prided myself on picking up on Cousins getting overlooked, and that driving him to improve the way he did, I was, of course, also guilty of overlooking Wisconsin's Russell Wilson, who was taken by the Seattle Seahawks the round before Cousins, and who has played in two Super Bowls and has had the best career of the four quarterbacks to this point. As disappointed as I am in not having proof that I was bullish on Cousins in 2012, I am also thankful I don't have written proof like that about how wrong I was about Russell Wilson. I guess it was all for the best I took those two years off and I am here now to write about it.
My readers may have noticed over the years that even though the NFL is a juggernaut of a league, and even though my favorite team in said league is the most consistently competitive, I write about the Patriots less than I do the Red Sox, Bruins, or Celtics. This is partly due to my disillusionment with the NFL. Since Roger Goodell took over a decade ago, football, which was my favorite sport as a kid and the mechanism with which I impressed a bunch of strangers in my college dorm suite as a freshman at UMass Dartmouth with my knowledge of every NFL roster in 2008, has fallen out of favor with me due to their disregard for player safety and livelihood, and bad priorities when it comes to real world issues like domestic violence.
It is also partly due to my inherent superstition. As an aspiring sports writer, I want to be objective. I want to be able to be critical, to see the bigger picture, with regard to the team and the rest of the league. It's much easier to be critical of the Bruins or the Celtics because in the years I have been following them, they have never had the best player in the league, let alone all time, nor the best coach in the league, let alone of all time. Ever since this run began for the New England Patriots in 2002–with the Tuck Rule, and the Steelers booking their flight to New Orleans for the Super Bowl before they played the AFC Championship Game, and Ty Law's momentum-swinging pick-six, and Tom Brady's drive down the field to set up one more game-winning kick for Adam Vinatieri (seriously, I watch the America's Game documentary on the Super Bowl XXXVI team at least once a year and it never gets old)–the Patriots have been the standard bearers of the NFL, and Brady and Bill Belichick have been consistently making their case for greatest QB and greatest coach of all time, and as someone with a rooting interest in that happening, I do not want that to end.
Now it's 2017, and before the start of next season, Brady will turn 40, and Belichick will turn 65. Any rational, reasonable Patriots fan has to think there are fewer of these days ahead of them than behind them, or if this run does continue, it would eventually be with someone like Jacoby Brissett at quarterback and someone like Matt Patricia as head coach. If this year is then end, it's been an incredible run.
The numbers are staggering. With their upcoming game next week against the Pittsburgh Steelers, Brady and Belichick have been to 11 AFC Championship Games in 16 seasons, including each of the last six. Brady and Belichick have more 10 win seasons together than the Detroit Lions have in their 80 plus year history. Bill Belichick has not had a losing season since Bill Clinton was president.
The Pats' divisional round game against the Houston Texans was not pretty, but they still won by a larger margin than the historically high spread Vegas set for this playoff game. In some respects, the game was only tight, and only had Patriots fans worried because of the standard of excellence we have set for the team. This Houston team is littered with ex-Patriots from Bill O'Brien to Romeo Crennel to Mike Vrabel to Larry Izzo to Vince Wilfork, but with a quarterback as not-ready-for-primetime as Brock Osweiler, none of that institutional knowledge could make a difference. Sure, they fared better than they did in the regular season, when they were shut out 27-0 without even having to deal with New England's first or second choice QB, but even with Brady throwing as many interceptions in that game as he did the whole season, and Dion Lewis putting the ball on the ground twice (Houston recovered one, New England kept the other), it was still a two-score game at the end. Even when they are bad, they are better than most, and that is special.
Next week, the Patriots will have their hands full with a better Steelers team, but the Steelers seem to find new and creative ways to generate bulletin board material for Belichick. In 2002, it was the confidence and the audacity to book a flight to New Orleans before even playing the game, but now they're broadcasting their true feelings about the NFL's scheduling policy, albeit inadvertently, on Facebook Live, complete with Mike Tomlin simultaneously warning the players to not do anything stupid on social media. The Steelers, like the Patriots, are one of the NFL's model franchises, and have been since the 1970s. When the San Francisco 49ers hire their next coach, they will have had more head coaches in four years than the Steelers have had since Watergate. But things like this, broadcasting their own trivial locker room talk to the world through Antonio Brown's phone, is what keeps them a notch below the Patriots in the Belichick Era.
My biggest takeaway from the Divisional Round Weekend is just how scary good Aaron Rodgers is right now. I already knew that, but the end of yesterday's game in Dallas reinforced that. This is a quarterback who has not been afforded the luxury of playing for a coach of Bill Belichick's caliber. Mike McCarthy is a solid NFL coach, but had the Green Bay Packers not run the table, as Rodgers declared they would after starting the season 4-6, the Packers may very well be waiting for the Patriots' season to end to introduce Josh McDaniels as their new head coach. Rodgers is the most talented person to play the QB position ever, and has not had the kind of running game Elway, Aikman, or Peyton Manning had in their best years, nor the superstar receivers of any other superstar QB. He is doing it all himself and making the players and coaches around him better in a way I have never seen, and oh, by the way, he regularly completes Hail Mary passes.
All of that I knew going into the Packers' Divisional Round match up against the Dallas Cowboys, but then after rookie QB Dak Prescott rallied back to tie the game for Dallas, Rodgers had just enough time to get Green Bay into field goal range, with an incredible throw downfield to Jared Cook, who made a great dance move to keep his toes in bounds. Just like that, the Packers were kicking a field goal and getting ready to face the Atlanta Falcons in the Georgia Dome next week in the NFC Championship Game.
Some may say Brady has nothing left to prove to anyone. He won more games than Peyton Manning in 30 fewer games, he played in more Super Bowls than any other QB and won as many as Joe Montana and Terry Bradshaw. But the NFL dragged his name through the mud over air pressure in a football and suspended him for as many games as they suspended Greg Hardy for something that should have put him in prison. And already, despite only playing in one Super Bowl, talk of Aaron Rodgers being the greatest ever is picking up steam. The thing that makes Tom Brady great is that at age 39, when he should not have to prove anything to anyone in the game of football, he is burning to prove the haters wrong just as intensely as he was when he was picked 199th overall. Brady is at his best when he is overlooked, and that is what makes him the best.