Good football teams lose their coaching talent as the seasons go on. It's a part of life. But the New England Patriots are able to hold things together remarkably well despite winning two of the last three Super Bowls. And even when they do lose their assistants to greener pastures of head coaching jobs elsewhere, the infrastructure with Bill Belichick at the top of the football operation must be trusted until further notice.
Before the Super Bowl was even played and regardless of the big game's outcome Atlanta Falcons offensive coordinator Kyle Shanahan was going to be the next head coach of the San Francisco 49ers, and even though the hire was not officially announced, everybody knew it. Kyle is Mike Shanahan's son, he is 39 years old, and he has been one of the rising coaching stars on the offensive side of the ball. In his various stops, he has gotten quarterbacks of varying talent levels to realize their potential. Working under his dad in Washington, Robert Griffin III was the rookie of the year ahead of Andrew Luck and Russell Wilson, in Cleveland, former Tom Brady backup Brian Hoyer looked like a competent NFL starter before getting hurt, and in Atlanta, Pro Bowl QB Matt Ryan won the MVP and did not trail in the Super Bowl until the moment the game ended. Given his reputation, it is fair to assume that San Francisco's next starting QB whether they stick with Colin Kaepernick, or they trade for Jimmy Garoppolo, Kirk Cousins, or they make a less exciting stopgap signing like Matt Schaub or Brian Hoyer, or start from scratch with a kid from the draft, that QB will enjoy an uptick in production from this past year.
Regardless of the second guessing of Shanahan's overly aggressive play calling in the second half that gave the Patriots enough clock to work with to make their historic comeback, there is a lot of hope surrounding the downtrodden 49ers and also a lot of uncertainty for the Falcons because of Shanahan. Before Kyle Shanahan, the Falcons were a good offense and Matt Ryan was a good quarterback, but with him they were a great offense with an MVP quarterback. When the Patriots experienced a period of significant turnover after their Super Bowl XXXIX win over the Philadelphia Eagles, when offensive coordinator Charlie Weis took the head coaching job at Notre Dame and defensive coordinator Romeo Crennel left New England to be the head coach of the Cleveland Browns, Belichick promoted from within, making Eric Mangini the defensive coordinator and assuming the offensive coordinator duties himself, even though he is best known as a defensive mastermind, before eventually handing over the keys to Brady's offense to Josh McDaniels when McDaniels was ready for the responsibility. Years later, when Dean Pees left the Patriots, Belichick assumed defensive coordinator duties until he felt Matt Patricia was ready for it.
Most coaches are not Bill Belichick, however, and Falcons head coach Dan Quinn, a defensive coach, did not go this way. Instead the Falcons hired former Washington and USC head coach Steve Sarkisian to run their offense in 2017. Sarkisian was most recently the offensive coordinator at the University of Alabama for one game, replacing Lane Kiffin for the National Championship Game against Clemson, which Alabama lost. Sark may not be the best college head coach ever, but he does have a good reputation as an offensive play caller. The problem for Atlanta is that they are bringing in a new voice with a new philosophy when they thing they were doing was working perfectly fine. It is hard to come back from losing the Super Bowl. Most teams struggle in the following year, and the 2016 Carolina Panthers are a perfect example, and changing more than you have to certainly cannot help.
The Patriots could have just as easily been the team that lost the Super Bowl instead of the Falcons, and the last two years both offensive coordinator Josh McDaniels and defensive coordinator Matt Patricia have gotten head coaching interviews. McDaniels, in fact, was in direct competition with Shanahan for the Niners job. McDaniels, who first joined the Patriots as a personnel assistant in 2001, left to become head coach of the Denver Broncos in 2009, got fired, worked for the St. Louis Rams for a season before getting his old job back in New England when offensive coordinator Bill O'Brien left to take the head coaching job at Penn State in 2012, has been careful in his pursuit for his second head coaching job to say the least. Many coaches get a second chance if they fail as a head coach once, but if you fail twice, the odds of a third head coaching job are very slim.
Two years ago, Chip Kelly was still believed to be a football genius, but a bad third season in Philadelphia followed by the awful football situation he inherited in San Francisco leaves his future as an NFL head coach very much in doubt. McDaniels wants both a good quarterback situation and a good ownership situation, as those are the two factors the best determine head coaching success. If the Colts job opened up, Andrew Luck is a very good quarterback, but Jim Irsay is not a great owner to work for. Bill Belichick even failed on the first try in Cleveland, and when he was given a second chance with the New York Jets, he famously resigned as "HC of the NYJ" after a day when the more appealing offer came from the New England Patriots. McDaniels has the luxury of waiting, as he is still only 40, and being Tom Brady's offensive coordinator and working for Bill Belichick is by no means a bad gig.
The Patriots did lose a key member of the coaching staff, as tight ends coach Brian Daboll was hired by Nick Saban to replace Sarkisian as offensive coordinator at Alabama, of all things. Daboll, like McDaniels, left New England before, but they were the only two prominent assistants to come back for a second stint, unlike Weis, Crennel, Pees, O'Brien, or Rob Ryan. With McDaniels staying put in New England, Bama was Daboll's best opportunity to be an offensive coordinator again, and it's a winning program. The more head coaching jobs McDaniels turns down, the more likely it seems that he sees himself as Belichick's eventual successor as HC of NE.
When McDaniels first came back to the Patriots, I wanted nothing to do with him as a candidate to be the Pats' next head coach. His terrible two seasons in Denver that included the (even then) head-scratching decision to draft Tim Tebow in the 1st round was still fresh in my memory, and I thought he was just another Belichick assistant who was doomed to be a bad head coach. But as the years go by, and it becomes more and more apparent that the operation Bill Belichick has built is superior to every other in the game of football (I mean, seriously, the Pittsburgh Steelers are a model of consistency and continuity and have had the same number of head coaches since Watergate as the 49ers had in Barack Obama's second term, and even they are nothing more than the Generals to New England's Globetrotters, going 0-3 in AFC Championship Games against Belichick and Brady with none of those games being particularly competitive.), and the list of coaches I would rather have than Josh McDaniels to come in and try to tinker with it dwindles every year. At this point, I would have to think about Michigan head coach Jim Harbaugh, and that's about it. I would rather have McDaniels than just about anyone else.
For now, the Patriots are going about their business, doing their jobs, but Brady will be 40 next season, and Belichick is probably closer to his last game as a head coach than his first, so as effective Belichick and Brady still are, a little continuity on the coaching staff certainly goes a long way.
Warning: the following post contains spoilers from Rogue One: A Star Wars Story, so if you have not seen the movie and care about what happens in it, proceed with caution. I have also placed a warning before the spoiler paragraphs.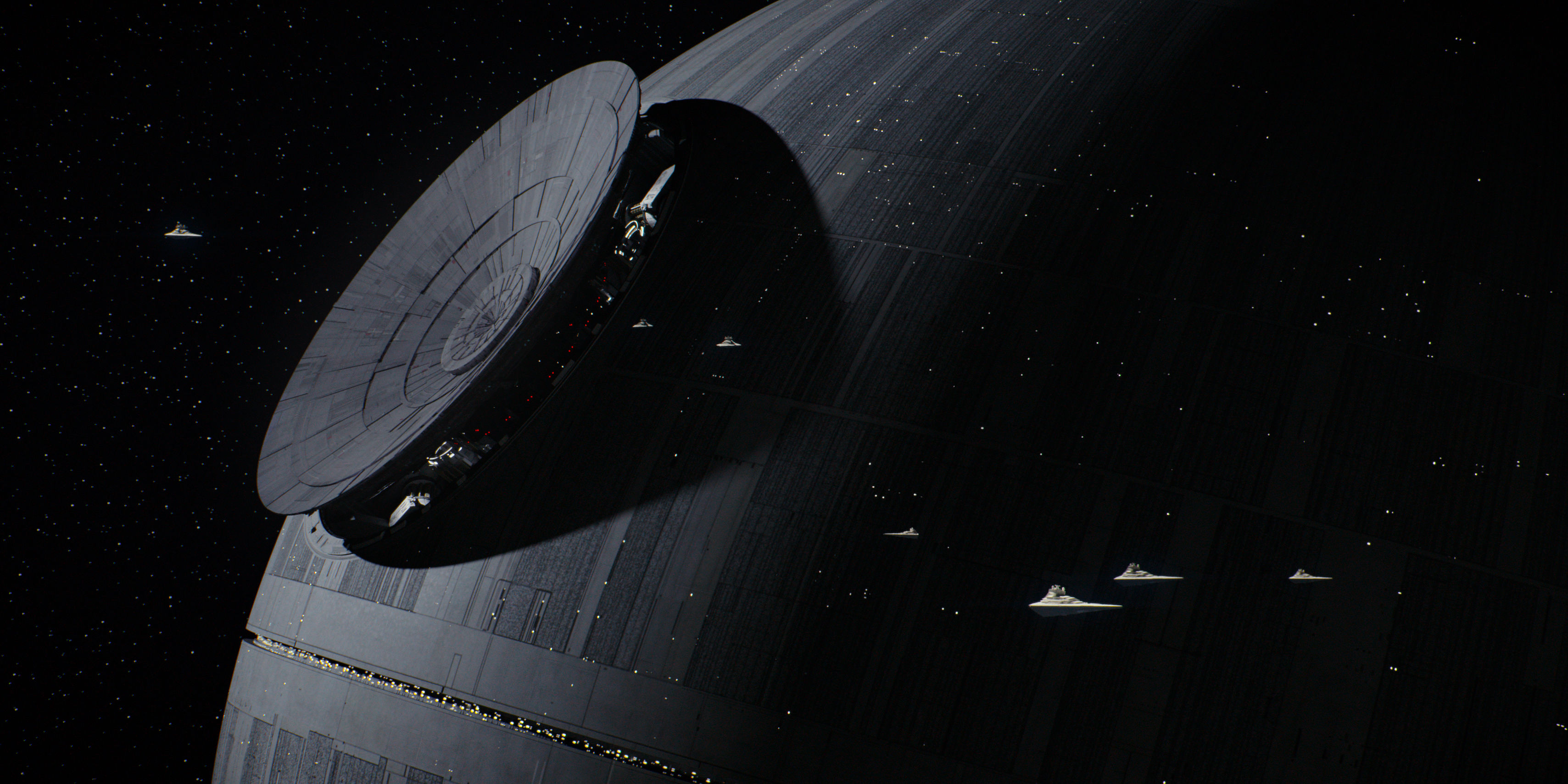 The Star Wars franchise is one of the few certainties in life anymore. The Original Trilogy, might not be the greatest films ever made, but they probably matter the most to the greatest number of people. Even with the Prequel Trilogy that George Lucas released to the world from 1999 to 2005, for all their flaws, I still find myself going back to them. The Phantom Menace came out when I was in 3rd grade, Attack of the Clones was in 6th grade, and Revenge of the Sith was in 9th grade, and by the time they came out, I was already so in love with the originals that I wanted more than anything for the prequels to also be good. In my early 20s, I experienced a similar feeling with the fourth season of Community, when NBC fired Dan Harmon and you could really feel a change in tone on the show without its creator in the writers' room.
The big difference between Star Wars and Community is that while Community needed to bring its creator back to get good again, Star Wars needed its creator to leave in order to move forward. George Lucas built two generations of great childhoods with the Star Wars trilogy, and subsequently ruined them by building another trilogy around the greatest villain in the history of cinema as a whiny kid turned angsty teenager, by showing us that the legendary Jedi Knights of which Obi-Wan Kenobi and Master Yoda were the last, were nothing more than glorified tax collection agents, and by adding unnecessary editing to the old movies we loved so much.
When Lucas sold the rights to the franchise to Disney in 2012, it meant that this beloved intellectual property was going to be worked on by a fresh set of eyes, and by a company that had already injected new life into Marvel Comics with unprecedented success. One of the more overlooked signs that things have been pretty good the last few years is that if someone told me in 2011 that two more Star Wars movies would be made before Barack Obama leaves office, and that they would be the two best Star Wars movies of my lifetime, I would not have believed them, but it happened.
With Star Wars Episode VII: The Force Awakens, it was refreshing in its familiarity. J.J. Abrams' reboot followed the beats of the original 1977 film, and put my mind at ease that the movie series I cared so much about was in good hands. At the same time, the movie I was really looking forward to was Rogue One: A Star Wars Story. This was the first of a few anthology movies, separate from the main Star Wars episodes. There is already a young Han Solo movie in the works, but like the Marvel Cinematic Universe that Disney has built into a formidable empire, in order for more of these movies to get made, the initial ventures need to be successful. The next paragraphs are where the spoiler disclaimers up top come into play.
Rogue One begins in a way different from any Star Wars film to date. Sure, it begins with "A long time ago in a galaxy far, far away…" but there is not opening crawl to follow. This is a Star Wars story, not a Star Wars episode. Already, the difference is felt. The movie focuses on characters we have never met before, and will never meet again, because everybody dies. Every other Star Wars movie before this one had character shields. You knew the Millennium Falcon was going to get through the asteroid field in The Empire Strikes Back because Han, Leia, Chewie, and C-3PO were on board. The ship was going to be fine.
Even the characters we had met before had mostly known fates. Jimmy Smits reprises his role from Revenge of the Sith as Senator Organa of Alderaan, and he leaves the Rebel base on Yavin IV and sends his daughter to retrieve the plans to the Death Star to go back home to Alderaan… and die when that planet is destroyed by the Death Star, as first seen in 1977. Grand Moff Tarkin, played by the likeness of Peter Cushing, who died in 1994 but was reanimated by the magic of computers, dies when the Death Star is destroyed later on in the same movie. Darth Vader dies in Return of the Jedi, but his descendants continue to be the central focus of the Star Wars episodes. The only characters from Rogue One who are still alive at the end of The Force Awakens are Princess Leia (who was also given the Peter Cushing treatment to make Carrie Fisher 19 again), C-3PO, and R2-D2, who appear onscreen for less than a minute combined, and considering the 2016 deaths of Carrie Fisher and Kenny Baker, two of the three may have uncertain futures in the series beyond Episode VIII.
This kind of mortality in a gritty war movie take on the Star Wars universe is a game-changer. Finally, after waiting 17 years since The Phantom Menace, fans finally got the prequel we deserved. It opens the door for different kinds of stories to be told with the backdrop of a universe I have still yet to tire of exploring. Rogue One was not without flaws, and the first hour of the movie was a little messy, but the final battle was legit, and I came away invested in a bunch of one-off characters once their ship was destroyed and it was clear that their rogue mission was a one-way trip. I went in with high expectations, and still got my mind blown. Well done.
On Patriot's Day last year, the Red Sox won their game in walkoff fashion courtesy of their new slugging first baseman Mike Napoli, beginning a dramatic trend that would be the trademark of their World Series winning season, but that was not the top story of the day. Later that afternoon, the city of Boston was shaken to its core when two brothers bombed the finish line of the Boston Marathon. They killed three people and injured many more, and they ruined one of the best days of the year to live in Massachusetts. A year later the Marathon is back, and more people are running than ever before. Boston pride was in full force over the last year, and today was about running forward, but never forgetting.
Because of last year's tragedy, we now have "Boston Strong." That's a slogan that isn't going away. Boston is a city that identifies with its professional sports teams, all four of them, as closely as any city in the country. We used the Red Sox and the Bruins as a rallying cry, bringing people together. The Bruins ended their 2013 campaign a game short of the Stanley Cup, and the Red Sox ended their season with a parade down Boylston Street, just as President Obama had predicted. It wasn't just the fans that took on the Boston Strong mentality, either. David Ortiz, Shane Victorino, Jonny Gomes, Andrew Ference, Shawn Thornton, Johnny Boychuk, Claude Julien, Joe Andruzzi, Doc Rivers. I got the impression that the Red Sox and Bruins were playing for Boston as much as their own team achievement. That's not something you'd see in every city.
The 2013 Boston Marathon was a shock to everyone's system. A day of celebration, a state holiday, was ruined by a couple of terrorist punks. It's terrifying to think about. The Bruins played a game at the TD Garden on the Wednesday after Marathon Monday, but it still felt weird. In the grand scheme of things, sports don't usually matter, but this was one of the times that it did. Tragedy occurred at one of Boston's great sporting events, and non-sports fans missed out on this great moment where the city showed their spirit on national television. On the Friday of that week, the city was locked down as police pursued the living bomber, making for one of the strangest days I can remember. I live out in the suburbs, and I've never been to the Boston Marathon, but Eastern Massachusetts so small that it's impossible to not know somebody who was connected to the events of that week.
Plenty of better writers and more closely connected sources have written about last year's Boston Marathon, but I guess the biggest takeaway I've had from it all was the way such a tragedy brought on by such evil people could bring a region together the way it did. The rest of the country rallied around Boston, as well.  "Sweet Caroline" was played at opposing ballparks, and Stephen Colbert (who it was announced last week will be replacing David Letterman on CBS next year) gave this great heartfelt tribute to the city.
It was time to run again, and an American man won the Boston Marathon for the first time in 1983. Boston showed that it's as resilient a city as its baseball team and its hockey team. It's important to keep running, but to never forget what happened in 2013. I'm not very good at writing about serious issues, but this was one I felt I had to write. The aftermath of the Boston Marathon was fresh in my mind when I started this blog a year ago this Saturday. I'm normally sarcastic, and cynical, but while the tragedy of last year was horrible, it helped me realize just how many good people there are in the world as well.