The Boston Red Sox have designated third baseman Pablo Sandoval for assignment, ending a tumultuous tenure for one of the greatest free agent busts in baseball history. Sandoval, the overweight, oft-injured former World Series MVP was a fan favorite with the endearing"Kung Fu Panda" nickname in another life, but the Red Sox never got any of what made him so popular in San Francisco. The team is willing to eat the rest of his salary (pun intended, but almost too easy to acknowledge), and were willing to make him go away without getting anything in return, which speaks to just how bad he has been. Hopefully, the Red Sox will recognize what went wrong so the do not repeat the mistakes of this signing.
The blame game is never simple when evaluating acquisitions in Major League Baseball. Ben Cherington was the GM of the Red Sox in the 2014-15 offseason, when the Sox signed Sandoval and Hanley Ramirez, and traded Yoenis Cespedes in exchange for Rick Porcello. But in order to cough up that kind of money, Cherington had to have the blessing of ownership, and former team president Larry Lucchino was still in the picture at the time. Lucchino was a great baseball executive, an inevitable and deserving Hall of Famer–from overseeing the building of two beautiful modern ballparks in Baltimore and San Diego to the renovation and revitalization of Fenway Park–but his track record of meddling in Boston's baseball operation, particularly this decade, was not a great one.
Lucchino clashed with Theo Epstein, who left the Red Sox for the Chicago Cubs in 2011, and who will go down as baseball's greatest executive since Branch Rickey. He brought in Bobby Valentine to replace Terry Francona, going from the best manager in Red Sox history to maybe the worst to manage a full season. He lowballed Jon Lester in contract extension negotiations, which set off a series of events that led to a player who never wanted to leave getting traded to Oakland at the 2014 trade deadline, signing with Epstein's Cubs that winter, and being Chicago's go-to big game pitcher in their 2016 World Series run.
The Sandoval signing had all the markings of a Lucchino move. He was a big name, one of of the most recognizable characters on a Giants team that had won the World Series three times in five years, including in 2014. Surely, he'd be just as marketable in Boston, right? Wrong. As it turns out, past success on a west coast team in the other league combined with never being able to stay on the field, and being absolutely terrible when you do play does not make for a marketable star in Boston. 
Cherington left the Red Sox in 2015 and now works for the Toronto Blue Jays. He was replaced by Dave Dombrowski, the former Detroit Tigers GM with whom he made the Porcello trade. Lucchino retired in 2015, and now runs the Pawtucket Red Sox. Dombrowski inherited the Sandoval problem, but he did not make the third base situation any better by trading Travis Shaw for Tyler Thornburg, who still has not pitched for the Red Sox.
Nobody is innocent in this mess. Sandoval himself should have a better work ethic when it comes to keeping himself in shape. I'm not usually one for body shaming, but he's a professional athlete. His job is to play baseball, and he has been well compensated for the poor job he did in Boston. San Francisco offered him a similar contract but with weight and health clauses written into it. The Red Sox did not hold him to that, and they got the player. It's hard to feel sorry for the Red Sox as an organization when they sign a fat guy, and then are mad that he's fat. Same thing when you sign an ace pitcher who has never won a start in the playoffs and is prone to social media meltdowns, and then are mad when he chokes in the playoffs and loses his cool with the media, social or otherwise. 
For all their success this century, this is what the Red Sox are: constantly straddling the line between competence and dysfunction, between baseball decisions and marketing decisions, between joy and despair. This is what the Red Sox have been for a hundred years. They were the first dynasty of the 20th century, then they traded a young pitcher to New York, and he became the greatest power hitter of all time. John Henry is no Harry Frazee, and he may be one of the better owners in the game today, but he has had his share of slip ups to go along with his success.
The Red Sox may have broken through and broken the Curse, but they still have the DNA of the franchise that lost Game 7 of the World Series four times in 40 years. As great as David Ortiz was, and Pedro Martinez was, and Chris Sale is, and Mookie Betts is, they are always a couple of bad signings, or a couple of terrible trades away from it all falling apart. Such is baseball. Such is life.
The Boston Red Sox formally closed the door on the David Ortiz Era this weekend by retiring. No Red Sox player will ever again wear #34. Maybe JetBlue overdid it by dedicating Gate 34 at Terminal C of Logan Airport for him, and maybe the City of Boston overdid it by also renaming part of Yawkey Way "David Ortiz Drive," and maybe they rushed into things by waiting less than a year after Big Papi played his last game before retiring his number–they waited until induction into the Baseball Hall of Fame to honor Carlton Fisk, Jim Rice, Pedro Martinez in this way–but there is no one like David Ortiz in Red Sox history. The team's and the city's reaction was to be expected.
From a numbers standpoint, David Ortiz was not the best player in Red Sox history. For position players, Ted Williams, Wade Boggs, Carl Yastrzemski, and Carlton Fisk all had more career WAR by the Baseball Reference calculation (Ortiz is #231 all time, which is still impressive for a guy who was mostly a designated hitter and could not contribute in the field), and Williams and Yaz racked up all their Major League numbers with the Red Sox. But before David Ortiz, every great Red Sox player post-Babe Ruth was defined, fairly or unfairly, by not getting it done in October. Ted Williams was one of the greatest hitters ever, but only made the postseason once in his career. The signature moment of Carlton Fisk's career was his walk-off home run off Fenway's left field foul pole in the 1975 World Series… but that was in Game 6, and Cincinnati's Big Red Machine won Game 7.
David Ortiz was one of many stars on the 2004 team, but it always seemed like he was in the batter's box when it mattered most. Cast off by the Minnesota Twins, it's almost as if David Ortiz' MLB career did not really begin until he joined the Red Sox in 2003, one of the first of many moves that gave Theo Epstein the baseball genius reputation he enjoys today. Ortiz was the only member of the 2004 World Series Champions who was also on the team when they won it all in 2013, and he was the World Series MVP.
Ortiz had too many clutch moments for their to be a singular career defining moment. I keep going back and forth between his walk-off against the New York Yankees in the 2004 ALCS and his grand slam that turned the Fenway Park bullpen cop into a folk hero in the 2013 ALCS against the Detroit Tigers. Then again, there is also his "This is our f*cking city" moment after the Boston Marathon bombing. On and off the field, no player meant more to Boston than David Ortiz.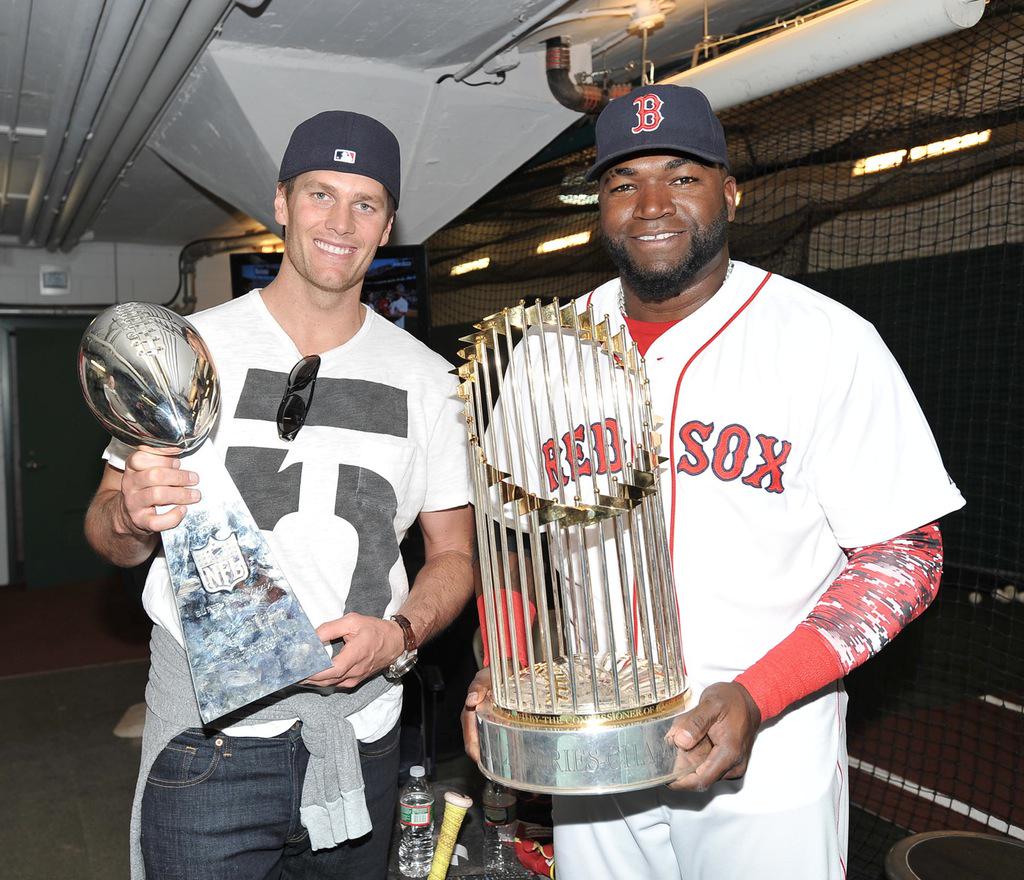 Ortiz' accomplishments in Boston sports this century are matched only by Tom Brady. Like Ortiz, Brady turned the fortunes of a long-downtrodden franchise almost as soon as he arrived. Together, they transformed the Boston teams from ones devoid of titles to ones defined by them. The success of the Red Sox and Patriots was so infectious that even the post-Larry Bird Celtics and Jeremy Jacobs-owned Bruins followed suit.
Like Ortiz, Brady is as good as ever as he enters his 40s. He was already firmly in the Greatest Of All Time discussion before he won two of the last three Super Bowls. The comeback he orchestrated against the Falcons this February is one I still stop and think about in semi-disbelief that it really happened, and may be the best game he's ever played. Both Ortiz and Brady proved themselves time and again after most had written them off. Obviously–purely based on the impact of an NFL quarterback compared to that of a MLB designated hitter–Brady is the more important player in the overall history of his sport, but given the historical importance of the Red Sox in Boston (their World Series drought predated the Patriots' inaugural season by 42 years) makes the Ortiz vs. Brady discussion a debate.
As crazy as the David Ortiz farewell tour of 2016 that spilled into 2017 may have been, don't be surprised if it's even crazier if Brady ever retires. Then again, Brady's end might come in another Super Bowl, which was the only thing missing from the end of the Ortiz Era. The 2016 World Series was the Series That Boston Built. It validated so much of what I have believed about baseball for years. If I wanted to build a title contender from scratch, I would want Theo Epstein running my front office. Even though his team lost, Terry Francona out-managed Joe Maddon, and Tito is the guy I would want managing my team. I would want Jon Lester starting the biggest game of the year, and Andrew Miller pitching the innings of highest leverage. The Red Sox had all of those guys on the payroll as recently as 2011. If that wasn't enough, former Boston World Series champions John Lackey, David Ross, Mike Napoli, and Coco Crisp also played in the World Series.
David Ortiz went into his last postseason with a cast that was not good enough, and got swept in the ALDS Francona's Cleveland Indians. The only thing missing from the Series That Boston Built was Boston, and by extension, David Ortiz. David Ortiz was Boston baseball. Boston celebrated him the way they did because he was the best we ever had when the games mattered most.
I wrote a couple of weeks ago about baseball's uncertain future, about baseball's success as a regional sport may leave it in the dust behind football and basketball on the national stage. I cited my own fandom and the way my friends follow baseball. I am a bigger fan of baseball than most people in their mid-20s, and even though one of my closest friends is named Daniel Murphy (and it's worth noting that MLB's Daniel Murphy has followed up his incredible postseason with the New York Mets by leaving for the Washington Nationals and having a career year in D.C.), compelling playoff stories like the Mets or the Cubs or the Royals or the Blue Jays last year just don't move the needle out of their local markets the way they would in other sports. In my observations of the declining relevance of baseball, I neglected to mention the demise of Boston's most hated rival and the dull irrelevance of the New York Yankees.
Red Sox vs. Yankees used to be one of the best rivalries in sports, for decades. It was a lopsided rivalry, for sure, and having grown up on the losing end of the rivalry, it mattered that much more. For 86 years, the Red Sox had to measure themselves against the Yankees, after giving up arguably the greatest baseball player ever to New York before his potential was fully realized. The Yankees were a nothing franchise before Babe Ruth, like the New England Patriots before Tom  Brady, or the Pittsburgh Steelers before Terry Bradshaw, or the Dallas Mavericks before Dirk Nowitzki, except magnified by nearly a century long sample size. Babe Ruth made the Yankees the Bronx Bombers, and ever since they had been baseball's perfect villain. 27 World Series titles, 40 American League Pennants, and a meddling billionaire owner who was basically a more impressive version of Donald Trump. They were the perfect team to hate, and not just for Boston. That was what made October of 2004 as sweet as it was. The Red Sox did not just win the World Series. The Red Sox did not just vanquish their greatest foe. The Red Sox did not just vanquish their demons from 2003. It vanquished 1999 and 1978, and all the other years of "good, but not good enough" that defined Red Sox Baseball from Prohibition to Mission Accomplished. We had just gotten the upper hand over Yankees fans in the rivalry, and then it faded into obscurity.
We're now in our third Presidential Election year since the Red Sox defeated the Yankees in the most thrilling seven game series (or at least the most thrilling comeback) in the history of baseball, and the Red Sox and Yankees have not met in the playoffs since. The Sox won the World Series two more times in 2007 and 2013, and the Yankees won it all in 2009, but the rivalry just isn't what it was. If baseball can't matter to New Englanders as much as it did before 2004, that is especially true of their most hated rival.
In 2016, the Yankees are in a position they are not used to being in at the trade deadline: sell mode. Money cannot fix all their problems. The enormous contracts they gave out to C.C. Sabathia and Mark Teixeira before the 2009 season (which seemed like great deals at the time as New York would not have won the World Series that year without those two players) have hindered their ability to retool on the fly. Baseball has no salary cap, but it has implemented a luxury tax system that when a team like the Yankees or Dodgers cross that threshold, spending more becomes prohibitive. After the 2013 World Series, the Yankees paid top dollar for the dynamic, but oft-injured Red Sox outfielder Jacoby Ellsbury, and Red Sox fans weren't even mad, for the most part. The following winter, when former Red Sox lefty ace Jon Lester was available in free agency, the Yankees were not even in the mix for his services. The Yankees were not dominating in the standings or in hot stove headlines, and it was weird.
This week, Yankees GM Brian Cashman sent controversial closer Aroldis Chapman (who was suspended for domestic violence after the Yankees traded for him from Cincinnati last winter and whose presence will no doubt complicate the feelings of Cubs fans as their highly anticipated 2016 postseason run approaches) to the Chicago Cubs for a haul of prospects, and today sent hard throwing lefty (and 2013 World Series Champion with Boston) Andrew Miller to the Cleveland Indians for even more prospects. Gutting New York's stout bullpen like this is essentially waiving the white flag on the 2016 season, but it could set the Yankees up for a brighter future when Teixeira's and Alex Rodriguez' contracts come off the books in the coming years. At the same time it raises the stakes even more for a Chicago team that has not won the World Series since 1908 and a Cleveland team that last won it in 1948.
Now Cashman has a chance to show that he's the talented GM I believe he is. Since he became GM in 1998, inheriting a team that was already really good and had the spending power to add and add and add, his reputation has been just that. I thought that when Theo Epstein left Boston for the Cubs after the 2011 season, that Cashman might try to do something similar. While Theo has the distinction already of being the executive who built a championship team in Boston when no one had been able to since 1918, and now is trying to do that for the lowly Cubbies, I thought Cashman might find another midwestern National League team with over a century of history of his own, perhaps the Cincinnati Reds, to forge a second chapter of his legacy in a smaller market.
If Cashman can make the Yankees great again (gulp!), in this new competitive landscape, then he will deserve a lot more credit than he will likely get. No other team's fans have any love for the New York Yankees, but there is something missing from baseball season when they are not in the mix. I hate to say this, but for Major League Baseball to be a national sport like the NFL or NBA, maybe it needs the Yankees. And I say that as a fourth generation Red Sox fan (gulp! again).