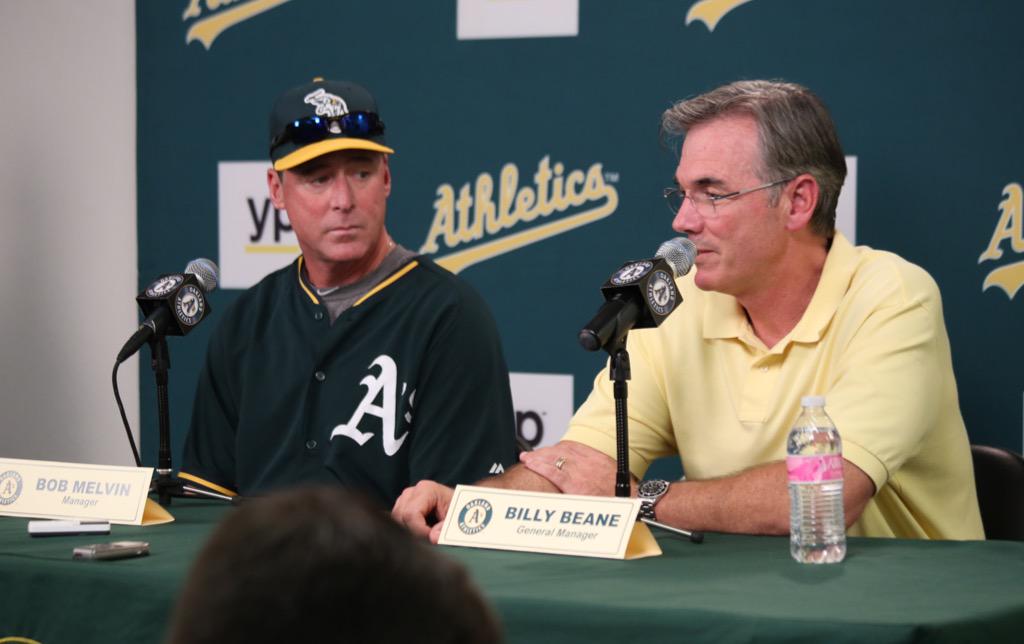 In the late 1990s and early 2000s, the Oakland Athletics earned critical acclaim and notoriety for fielding competitive baseball teams in spite of their noncompetitive payrolls. The success with the deck stacked against them made Billy Beane the poster boy of the baseball analytics movement and Michael Lewis' 2003 book Moneyball: The Art of Winning an Unfair Game spawned a genre of outside-the-box-front-office-strategy books from Jonah Keri's The Extra 2% about the Tampa Bay Rays, to Molly Knight's The Best Team Money Can Buy about the Los Angeles Dodgers, to Travis Sawchik's Big Data Baseball about the Pittsburgh Pirates, to Steve Kettmann's Baseball Maverick about Beane's mentor Sandy Alderson and the job he rebuilding the New York Mets into a contender. Fast-forward to 2016, and the A's still have not reached the World Series since 1990, yet they still have the reputation of baseball intellect that has carried them through the lean years as The Ringer's Claire McNear so aptly pointed out earlier this week.
The landscape of Major League Baseball has changed since 2002, with revenue sharing and even a change in ownership in Oakland, yet the A's are still content to act poor to show the world how smart they are. They found themselves as sellers at the trade deadline for the second straight year, which to be fair, is something big budget teams like the Red Sox are more than capable of doing as well, and there are more than a couple of former Oakland A's making meaningful contributions to contenders in 2016. A popular move in the Billy Beane playbook has been to trade away a star player for prospects before he has to pay them like a star. Josh Donaldson being dealt to the Toronto Blue Jays the winter before his 2015 American League MVP season was just the most recent in a long line of stars Oakland fans got attached to even though they knew they should not have. In 2014, they traded Yoenis Cespedes to the Red Sox at the deadline for Jon Lester, who was set to become a free agent at the end of the season. Before them, it was Mark Mulder, Tim Hudson, Barry Zito, Nick Swisher, Johnny Damon and Jason Giambi. In Oakland, there will always be good players, but the front office does not want to invest enough in them for fans to justify investing in that specific star's jersey.
In my opinion, the Lester/Cespedes Trade was the one the A's missed on the most, even more than the Donaldson Trade. As a Red Sox fan, it's not like I'm over the moon about the way that whole situation played out (The Sox had low-balled Lester in contract extension negotiations after he had led them to the 2013 World Series, then traded him and John Lackey away at the deadline with no immediate solution to replace them. They ended up flipping Cespedes that winter to Detroit for Rick Porcello, and while Porcello has been Boston's most consistent pitcher this year, he's no Jon Lester.), the A's gutted the heart of their lineup during a pennant race for a pitcher they were not going to be able to re-sign. Had they stood pat with Cespedes, their rotation was already pretty good with Sonny Gray, Jeff Samardzija, and Scott Kazmir. Maybe they aren't playing in the play-in Wild Card game against Kansas City, and their postseason doesn't end after one game. The failure of the 2014 Jon Lester Era A's ultimately led to Beane blowing up the team with the Donaldson Trade. Sure, Toronto gave up a fan favorite in the form of Brett Lawrie, but like everyone else, Lawrie did not stick in Oakland, while Donaldson has thrived with the Blue Jays. Not only was he the 2015 American League MVP, but he helped end a playoff drought that had been going on since the Jays won the 1993 World Series. If the result of the Lester/Cespedes Trade was a wash, the Donaldson/Lawrie Trade was a clear win for Toronto.
There is something to be said about being on the cutting edge of your industry. There are different metrics to measure success. Is it better to be more popular, or be recognized for doing what you do smarter? Jay Leno consistently had higher ratings, but David Letterman made a bigger cultural impact. Billy Beane and the Oakland A's fancy themselves as Letterman, if Letterman was doing his show in his mom's basement on a cable access channel like Wayne Campbell, when the reality is he's on CBS. Other small market teams have broken through and won the World Series, with the 2015 Kansas City Royals being the most recent example. Other executives have applied analytical practices and won at a high level, perhaps most notably Theo Epstein with the Red Sox and Cubs, and yet a common perception that analytics are synonymous with Beane and the Athletics still persists. Billy Beane does not have a monopoly on smart ideas in baseball, and his teams have not even won an American League Pennant, but he's the one who gets to be played by Brad Pitt in an Oscar-nominated movie. How is that fair?
I subscribe to the idea of critically acclaimed teams. When people look back at the champions in any sport fifty years from now, that will not tell the whole story. The Steve Nash Era Phoenix Suns, for example, never won a title, or even made the NBA Finals, but they were a fun and exciting foil to the Lakers and Spurs of the mid-2000s, and paved the way for a team like the Golden State Warriors of the last two years to exist and thrive. They never won themselves, but they were a game changer. The A's of the early 2000s were a game changer, but they're still clinging onto an identity that made them innovative over a decade ago, but now they're just another team that hasn't won anything while others have.
No baseball fan sheds a tear for Brian Cashman, the GM of the New York Yankees who inherited a team that already had the infrastructure of Joe Torre, Derek Jeter, Andy Pettite, Mariano Rivera, Jorge Posada, and Bernie Williams when he got the job in 1998, and kept that train rolling for a solid fifteen years with the benefit of one of the most free-spending ownership groups in all of baseball. Cashman's Yankees were sellers at the deadline for the first time in his tenure, and while it was very strange, he will not get the amount of credit he deserves for the haul he got back for the players he traded away, and the praise for inevitably turning the Yankees around will be muted compared to other teams. On the other side of that coin, nobody should shed a tear for Billy Beane and his predicament in Oakland at this point. He doesn't have the spending power of the Yankees or the Red Sox or the Dodgers, but he likes the position he's in. If he wins, he's a genius. If he loses, he's a genius in a really tough situation. He cannot lose. It's good to be smart, but it's better to win, and if I were a fan of the A's, I'd be tired of the Moneyball routine by now. It never ends, does it?
As fans, we always want more of what we love. More Star Wars. More Star Trek. More Indiana Jones. More Ghostbusters. More Breaking Bad (Better call Saul!). More Arrested Development (which Netflix actually delivered last year!). More Community (which Yahoo Screen is actually delivering this fall!). We want more of everything even if we know we will be disappointed more often than not.
This week, a new Harry Potter story was published, and it made waves in the pool that is the Internet. Everyone was talking about it. Harry Potter was trending like it was 2007, and you had to avoid the Web until you finished Harry Potter and the Deathly Hallows so nobody could spoil it for you. Well, maybe not quite on that level, but more that you'd expect a book series that concluded in 2007 and a movie franchise that rolled the end credits in 2011 to at any time later on. I was intrigued, but nervous. The ending to the Harry Potter books was second only to the ending of Breaking Bad as far as satisfying endings to things are concerned (the 1998 ending of Michael Jordan's basketball career would be at the top of the list had he not ruined it by coming out of retirement with the Washington Wizards a few years later), and I was perfectly content with J.K. Rowling leaving that universe alone. I've seen it go wrong too many times.
Truth be told, I still haven't gotten around to reading J.K. Rowling's new story. I searched for it on Google, and found article after article linking to article after article and providing spoilers before finally finding one that said it was available on Pottermore. I needed to create an account to read it. Along the way, I found out the story was an article by Rita Skeeter that was published in 2014, when Harry is now 34 years of age. The last time I checked, Rita Skeeter had been found out to be an unregistered animagus (J.K. Rowling must have disabled spell check over a decade ago or all the red underlines would have driven her mad by now) transforming into an insect, and secured in a magically unbreakable glass jar, effectively ending her career as the beat reporter for Gryffindor common room gossip. So now 20 years later she's back? How does that happen? The very premise was enough to make me think I wouldn't like it.
I do have some hope for the upcoming Fantastic Beasts and Where to Find Them adaptation, though. It'll be another movie in Harry's universe, but it's based on a Hogwarts textbook, and shouldn't open any new doors into Harry's life or effect the canon of the existing books and movies. It can be independent, the way Alien, Blade Runner, Predator, and Firefly all are, but exist in the same universe without bumping into each other too much.
With Star Wars, it was Jar Jar Binks and the unnecessary edits to the Original Trilogy that made fans turn on George Lucas. With Indiana Jones, it was the 2008 alien-infested Kingdom of Crystal Skull installment that made George Lucas a bad guy again with Steven Spielberg as his guilty accomplice. Dan Aykroyd has been teasing us with the possibility of a third Ghostbusters movie, but if it ever gets made, it will now be without the late great Harold Ramis to reprise his role as Dr. Egon Spengler, so how good could Ghostbusters 3 possibly be? Sometimes it's better to be satisfied with what we already have, but at the same time, I still cannot wait for Star Wars Episode VII or Better Call Saul and any more of the franchises I love. I just can't look away.