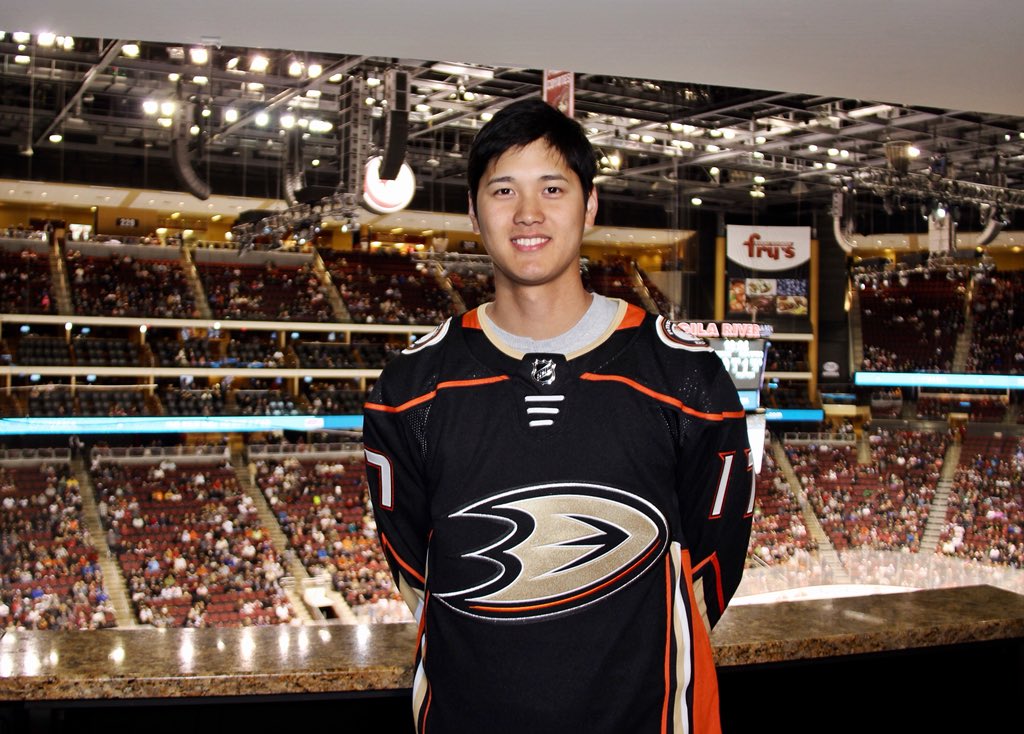 ANAHEIM – Following their demoralizing sweep at the hands of the San Jose Sharks in the opening round of the Stanley Cup Playoffs, the Anaheim Ducks won the Shohei Ohtani sweepstakes, signing the Japanese-born pitcher and designated hitter to an entry level contract. In addition to anchoring the Angels' rotation and bolstering a batting order that also includes Mike Trout, Ohtani is now expected to provide goaltending depth for Anaheim's hockey team and play a pivotal role in the power play unit as well.
"We are excited to have Ohtie on board. Also, we're calling him Ohtie now, because that's how we do nicknames in the great game of hockey." Ducks GM Bob Murray said in the introductory press conference. "It will certainly be a major culture shock for him, playing in the NHL, but at least he already knows his way around Anaheim."
"I don't even know if he can skate." said Ducks head coach Randy Carlyle. "But pitchers aren't supposed to his home runs, so it's worth a shot."
Ohtani carried himself with a quiet confidence when addressing the hockey media for the first time. "Am I an expert skater?" Ohtani asked through his interpreter. "Who knows? But if hockey is like baseball–and I believe that it is in the sense that it is a thing people focus on way too much and I now get paid to do–it shouldn't be that hard. I would have gotten bored playing just one position." Yes, he even had the dashes when speaking aloud.
While Ohtani lived up to the hype immediately, scoring four top-shelf goals on John Gibson, each one more beautiful and effortless as the one before, in his first inter-squad scrimmage–reinforcing why the Ducks felt compelled to sign him in the first place–his goaltending debut will have to wait a little longer as he developed blisters on his glove hand.