The following post contains spoilers from fifth season of Orange Is the New Black.
My Netflix viewing habits are weird. When I first subscribed, I was fully subscribed to the idea of "binge watching" that has been made popular by the increased accessibility of TV shows in the Internet Age, but I drifted away from that method and made a conscious effort to savor watch shows more often. Save some for later, I thought. I did not want to burn through a season in a weekend and then have to wait a year for more.
In the age of Peak TV, or more aptly, the Age of So Much TV Compared to So Few Hours in the Day, there is no right or wrong way to watch. The shows you like will always be there, unless they leave your preferred platform and you find yourself racing against the clock like I currently am with Futurama. Last year, I had a bachelor party to go to in Maine the weekend Netflix dropped Season Four of Orange Is the New Black, so the pressure to finish it was off to finish it right away, and I took my time with the season.
I did not end up finishing Season Four of OITNB until the week before the fifth season dropped on Netflix, and I am glad I did not have to wait a year based on the way the fourth season ended. After the COs, under the command of captain of the guard Desi Piscatella (played by former Denver Broncos defensive lineman Brad William Henke), reacted violently to a peaceful protest, and killing Poussey Washington (played by Samira Wiley), a nonviolent and universally liked inmate, in the process. Had I binged Season Four, I would be waiting a year with the prison on the verge of riot, with an inmate pointing a gun at a corrections officer.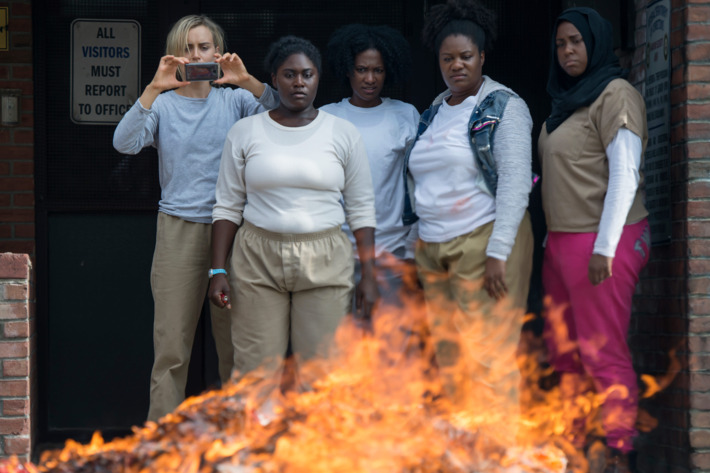 The events that concluded Season Four set up a Season Five that spanned only a couple of days, as the inmates rose up, took the COs as their hostages and in an effort led by Tasha "Taystee" Jefferson (Danielle Brooks), attempted to negotiate for justice and better living conditions at Litchfield. After eight or nine episodes, I had a warm fuzzy feeling that change might actually get accomplished. Things were looking up, but then I remembered: Wait, there are still five episodes left. This won't end well. There was too much time left on the clock and Taystee was playing the negotiations as aggressively as the Atlanta Falcons in the second half of Super Bowl LI. Also this show is grounded in reality, and in this reality, there has never been a prison riot that changed the world for the better.
One peculiar thing about the way we watch TV these days is that it's hard to tell when to talk about it. When there were only three networks, everyone was watching at the same time. In my early college years, you had to give 12 hours to allow people to catch up on Hulu in case they went out the night before and missed Community, or The Office, or 30 Rock, or Parks and Recreation (RIP NBC's last great Thursday night comedy lineup). My friends and I would usually make a point to watch the Thursday night NBC shows online between classes Friday morning so we could talk about them at lunch. Now, it's chaos. There are network shows, cable shows, Netflix, Hulu, Amazon Prime, Seeso, and probably a dozen other platforms I've never heard of. All of it is available at the same time, and if you do have friends or co-workers who watch the same shows as you, they're probably not on the same viewing schedule as you. Stay off Twitter. Stay off Reddit. Stay off everything until you finish.
My favorite dramatic television series of all time is HBO's The Wire. For better or for worse, I use The Wire as context in my head for pretty much any drama show I watch. Game of Thrones is basically The Wire, but in a realm with dragons and magic. The moral ambiguity and lack of a true protagonist also helps my case against accusations of oversimplification. OITNB is a lot closer to The Wire because it takes place in the present in the United States of America, was inspired by a bestselling work of nonfiction, and both shows say a lot about the country as a whole, not just one prison or city. What The Wire did for illustrating the problems with the War on Drugs from all the points of view involved, OITNB is doing now for one of its byproducts, the Prison Industrial Complex. 
What impressed me about The Wire is that there were no wasted characters, and at the end of the final season, the viewer had closure–not satisfaction, but closure–with every interesting personality who came on screen, and it felt like a good stopping place, even though the world did not end and nothing really got fixed. It all came full circle, and that was the point. 
As I was watching Season Five, I was talking about it with my friend Ally via Facebook Chat. We went back and forth exchanging comments about the show, frequently announcing how many episodes we had seen, in an attempt to not spoil anything. At one point, Ally expressed how upsetting it was that Poussey was the one to die. Why couldn't it have been Brooke? Poussey was a universally liked character within the walls of the prison, and made a star out of Samira Wiley. Even characters like Kate Mulgrew's Galina "Red" Reznikov and Dale Soules' Frieda Berlin, two of the toughest, most cunning inmates on the show, were visually broken up about Poussey's death. That was the point.
Unlike Game of Thrones, OITNB does not kill of most of its characters–at least not yet–but the system of narrative justice is every bit as cruel as what George R.R. Martin might have written. While not as heavy-handed as valuing honor more than life itself, compromising honor to save your daughter's life, only to be executed with your own sword for confessing to a crime you did not commit, Poussey's story is written in a similar spirit. Any inmate could have been killed in the peaceful protest, but the fact that it was Poussey made it particularly tragic. She was too violent for West Point, yet too peaceful for prison. On top of all that, Poussey was the prison's librarian. Nobody would have gotten a bigger kick out of this terrible tragedy than Poussey Washington the literary buff.
On the other side of the coin, the brand of justice that is served to Piscatella is not nearly as satisfying as I would have hoped. It seemed that the same judicial system that came down hard on the inmates would also go out of its way to protect Piscatella. He was protected by his uniform, but he was just as bad as, if not worse than, any inmate in that prison. Instead, before he could be investigated, before he had to answer for the revelations of torture and draconian disciplinary measures, he was shot by a trigger-happy squad clearing out the prison at the end of the riot. It goes both ways. I wanted justice for the inmates, but I also wanted Piscatella to get what was coming to him, but the irony of reality would not allow for it, and that was the point.
I don't know what the show does going forward. I am sure Season Six will be really good, but I don't know how it can top what happened in Season Five. This was the most impressive season of Netflix-original television, and I did not think I would feel that way about a fifth season of any show. Now the long wait begins.