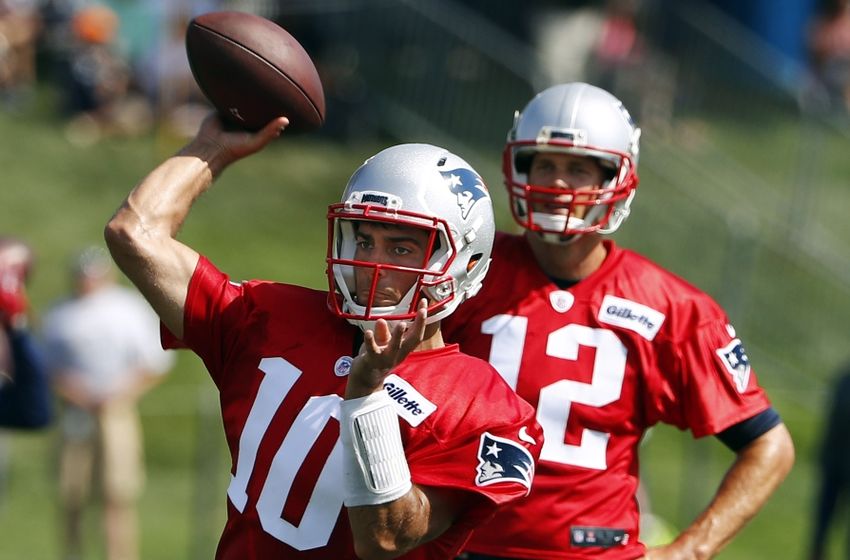 I have been privileged to be a fan of the best, most consistently competitive franchise in the National Football League just because of where I grew up. The New England Patriots have been the San Antonio Spurs of the NFL, if there were no Lakers, Heat or Warriors in the league who could hang with them for more than three of four years before having to rebuild. Tom Brady and Bill Belichick, by working together since 2000, have firmly cemented themselves in the "Greatest QB of All Time" and "Greatest Head Coach of All Time" discussions, respectively, winning four Super Bowls in six trips, reaching the AFC Championship Game each of the last five seasons, missing the playoffs only three times (including Brady's rookie year when he was still Drew Bledsoe's backup and the 2008 season when Bernard Pollard wrecked Brady's knee in the first quarter of the first game), and last had a losing season when Bill Clinton was still President (again, Brady's rookie year). With great success comes a lack of excitement until the Patriots inevitably get to the games in January, however, but this season is shaping up to be more interesting than usual, and it's not even August yet.
For other teams, for lesser teams, NFL training camp is a fresh start. It's a time to see if the new young quarterback is ready for the big stage. It's a time to see if the expensive free agent acquisitions can be the missing piece the team needed, and if they have what it takes to put them over the top (spoiler alert: they aren't and don't). The Patriots have been so good for so long that they are boring in the summer. It's not a bad thing, but it's true. Rather spend big on top tier free agents, the Pats will take chances on cheaper, big name players past their prime, and they usually seem to get cut or have little impact. Adrian Wilson. Leon Washington. Joey Galloway. Torry Holt. Reggie Wayne. Chad Ochocinco Johnson. Free agent misses are an afterthought when they do not cost much and you draft as well and in volume as the Patriots do. There are dozens of personnel second guesses that can be made about the Patriots in the Bill Belichick Era, but it's hard to argue with the year in and year out results.
Bill Belichick has the Patriots so well coached, that it's actually made it harder for me to enjoy NFL games in which I have no rooting interest, which used to be my favorite way to spend my Sundays. Even the other good teams can be frustrating because they make the kind of mistakes that the Patriots so rarely make. The 2011 Super Bowl between the Pittsburgh Steelers and the Green Bay Packers, two of the more successful franchises of the last ten years, and two of the ultimate "well coordinated, but poorly coached" teams in any given year, was a sloppily played game, ultimately won by Aaron Rodgers and the Packers, where I felt like the Pats missed out. Had they beaten the Jets at home in the Divisional Round that year, they could have beaten either of those teams. Last year's Thanksgiving game between the Detroit Lions and the Philadelphia Eagles was another classic example. To be fair, these were two bad teams, but they were both projected to be better than they were last season. It was just a game of mistakes. Then-Eagles head coach Chip Kelly (who has since been fired by Philly and hired as the head coach of the San Francisco 49ers) was supposed to be a football innovator, and one of the smart, up-and-coming coaches who would be challenging Belichick for the "Best Coach" belt, but his team all last year was painful to watch, and I say that as someone who has been a Chip Kelly fan since he took over at the University of Oregon in 2009.
Even this season, with Tom Brady having to serve a four game suspension to start the regular season, Belichick has made is clear to almost everyone that there is no quarterback controversy between Brady and third year backup Jimmy Garoppolo. Jimmy G will be the starter the first four games, but Brady will be back for Week Five game against the Browns. Watch out, Cleveland. In the meantime, offensive players have to develop timing and chemistry with two QBs, but that's nothing New England newcomer Martellus Bennett can't handle.
While things didn't go the Patriots' way in the national nightmare that was Deflategate, with the NFL winning their appeal of the ruling from a lower court that got Brady's suspension overturned last summer, at least now we never have to argue about air pressure in a football ever again. After the first four games of the season, Brady will be back, and we will be witness to his greatness once again. The preseason and the first four weeks of the regular season will be an interesting glimpse into what life after Brady will look like for the Patriots. Is Jimmy G the long-term answer? How does he stack up against the other QBs in the AFC? Will this be Steve Young replacing Joe Montana or Aaron Rodgers replacing Brett Favre, or will it be a more underwhelming succession plan like Brian Griese replacing John Elway? The core of the team, with the exception of Brady and Belichick, is young, and the future is bright in that regard, but if you don't have a great quarterback or a great head coach, what do you really have in the modern NFL?
As usual, it's still just August and September. The Patriots have had slow starts before, and that's okay because they're always there in January. The Patriots fan experience is hardly a joyful one. With expectations as high as they set for themselves every year, it was a tense ten years between Super Bowl wins. In 2015, being a Patriots fan was a joyous experience for the longest stretch since I was in high school. From Malcolm Butler's Super Bowl clinching interception, until last May when Roger Goodell suspended Brady for four games for the stupidest controversy in the history of sports, it was actually fun to be a Pats fan (and it's worth noting that no games were played during that time). When you win, it's because you were supposed to, and when you lose the whole world wants to watch you suffer. The Pats were the first NFL dynasty in the age of Reddit threads and comments at the bottom of articles from ESPN or ProFootballTalk, so Patriots fans, like Spurs fans or Warriors fans or Blackhawks fans or Duke fans, get to see what everyone else thinks about them all the time. Steelers fans of the 70s and Niners fans of the 80s and even Cowboys fans of the 90s didn't have to deal with that side of their team's success. None of this is really changing with this Patriots season, but the new wrinkles in the annual storylines going into football season at least have me intrigued.