Somewhere, Aaron Sorkin is probably going to town on an early draft of a sequel to the hit movie Moneyball, but one that has an ending like Rocky II. He's probably feverishly typing away at different ways Brad Pitt can have his "Yo Adrian! I did it!" moment on the big screen in anticipation of what could happen in this year's Fall Classic. Billy Beane has received all kinds of praise for running the Oakland Athletics and keeping them in playoff contention with a fair amount of consistency despite having a much tighter budget than the New York Yankees, Los Angeles Dodgers, Boston Red Sox, or Detroit Tigers, and it has earned him fame outside the baseball diamond in the form of a bestselling book and Academy Award nominated film. He has drafted well, been fearless at the trade deadline, and has led a revolution in the way baseball players are evaluated, but he still has yet to guide the A's to the World Series. Baseball is a gamble. Risks have to be taken, and the margin for error for a club like Oakland is much smaller than New York or Boston (who has won three World Series titles since the 2002 season chronicled in Moneyball using player evaluation strategies made popular by the Athletics), and while what Beane has done in Oakland is incredible, he needs to win a World Series to validate his reputation at this point, and he knows it.
Flipping your best hitter in a trade for another pitcher is a huge risk on Oakland's part, especially when Jon Lester is due to become one of the top pitchers in the free agent market this winter and out of Oakland's price range in the future, but the A's are really close this year. Billy Beane is a smart man. He saw Lester pitch for the Red Sox in the World Series last October. The guy has been an elite playoff performer his entire career. The 2007 World Series was just the tip of the iceberg. Lester is a good pitcher in the regular season, but not on the level of Clayton Kershaw or Justin Verlander, but he has proven time and again that he has the ability to step it up that much more and do his best pitching in the month where every pitch is exponentially more important than they were in the previous six. With Lester set to hit the open market at the end of the season, and the Red Sox playing hardball in contract extension negotiations with their ace, every general manager in the playoff hunt from New York to Detroit to Seattle was salivating over the possibility of acquiring his services, even if it was just as a three month rental.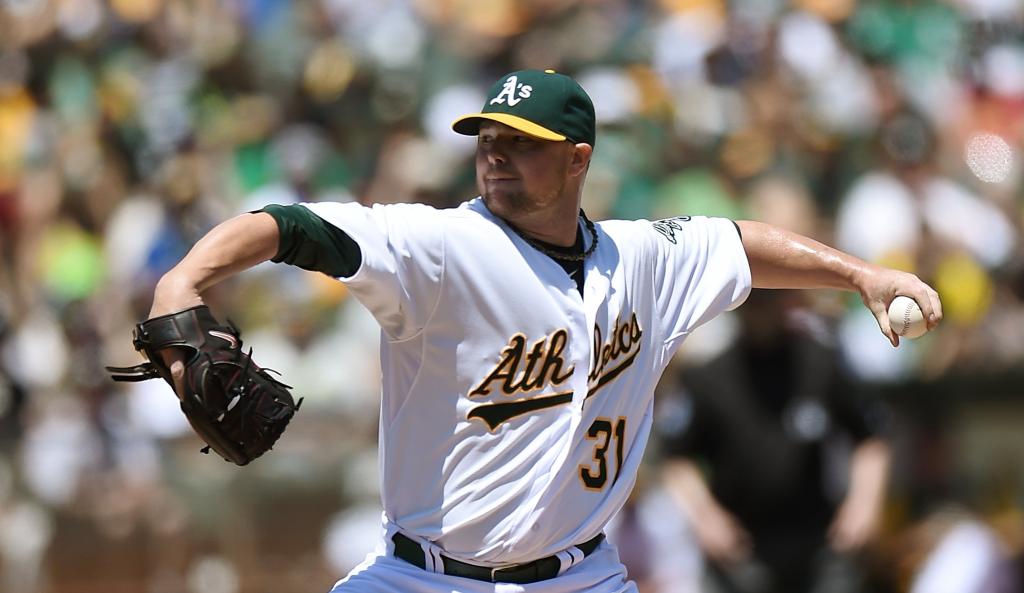 Beane needed to blow Boston's doors off with an offer for Jon Lester. The uncertainty of minor league prospects is always something to be wary about, but the Red Sox would also have to deal with the public relations backlash of trading their ace pitcher (and arguably best player on the roster) for players nobody has ever heard of while plummeting towards a second last place finish in three years, just ten months after winning fans' hearts back with an improbable (and in hindsight, miraculous) World Series title. Acquiring Lester was a priority for the A's, even if it meant giving up Yoenis Cespedes.
The Lester/Cespedes trade was a bold move by Billy Beane. That's why he was played by Brad Pitt in Hollywood and not Rick Moranis, even if the Athletics haven't won anything since Beane took over the baseball operations department. He's embraced his status as the celebrity sports executive, with a movie that promoted his philosophy and his transformation of the way baseball clubs build their rosters, but he knows if it doesn't happen this year, the critics will come out in droves to try and take him down. In a year, the A's would likely lose Cespedes in free agency (and I'm worried I might be writing another "Pay this Man" article about Boston's newly acquired Cuban slugger this time next year), and they will most certainly lose Lester to one of the rich teams, or poor teams, or fifty feet of crap ahead of them on the MLB payroll rankings, but it will have all been worth it if they win the American League Pennant, or better yet, the World Series.
My Red Sox are more or less out of the playoff picture here in the first weekend of August, so I have no problem being excited about this potential Moneyball sequel in the making. I would love to see Jon Lester carry the Oakland A's on his back and take them to the same level of baseball glory he took the Red Sox to in 2007 and 2013. I would love to see Billy Beane get the validation he deserves, and prove that his system works and you don't need lots of money to make Moneyball work (like the Sox already have three times). I would also love to see Lester leave Oakland with this winter and re-sign with the Red Sox, but that's probably a pipe dream at this point. Time will tell. The law of averages has the A's going all the way at some point, but regardless of what it says on paper, you still need to play the games. It should be fun.